ICC Champions Trophy: India beat Pakistan by 124 runs

Hindustan Times
04-06-2017
Welcome to the live coverage of India vs Pakistan ICC Champions Trophy 2017 clash here.
Full scorecard: India vs Pakistan

11:34 hrs IST: Yuvraj: The openers gave us a good start, Virat finished well, and it gave me the opportunity to go and attack. You just have to go and back yourself, and tell the opposition that you're here to attack. I was lucky I was dropped, but I capitalised and I was hitting it well. I finished well. Hopefully we'll take this confidence into the next game against Sri Lanka.
11:33 hrs IST: Yuvraj Singh is the Man of the Match for his amazing 32-ball 53.
11:30 hrs IST: Game, set and match! Umesh Yadav picks up two wickets. Wahab Riaz will not come out to bat and Pakistan have suffered a crushing 124-run loss via Duckworth-Lewis method. This will be a massive blow for Pakistan as they suffer their second loss in ICC Champions Trophy encounters.
11:23 hrs IST: Pakistan will be hoping to not get bowled out so that their net run-rate does not take a beating.

11:16 hrs IST: Catch dropped! Kedar Jadhav the culprit. Shadab looks to launch it over mid wicket and gets a big top edge but Kedar drops it at mid wicket. Poor stuff.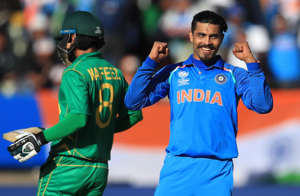 © Getty Images

11:09 hrs IST: WICKET! That should be it for Pakistan. Sarfraz looks to guide a short ball from Pandya but gets an edge that is taken by Dhoni. India closing in on a victory.
Also read: Fakebook wall — Indian AI vs Pakistan
11:06 hrs IST: Shadab Khan gets going with a four and a six off Jadeja. He is going to fight but Pakistan are in dire straits.

11:03 hrs IST: WICKET! Tame dismissal. Imad Wasim loosely drives Hardik Pandya to short cover where Kedar Jadhav takes the catch.
11:03 hrs IST: WICKET! Tame dismissal. Imad Wasim loosely drives Hardik Pandya to short cover where Kedar Jadhav takes the catch.

10:54 hrs IST: Only eight runs in the 26th over. Pakistan need 158 runs off 90 balls. Advantage firmly with India.

10:48 hrs IST: Sarfraz Ahmed gets going with a boundary off Jadeja. He is actually the last of Pakistan's recognised batsmen. Pakistan are 123/4 after 25 overs.

10:45 hrs IST: WICKET! Brilliant fielding from Jadeja. Malik taps it to backward point but Jadeja swoops in and the batsman is sent back, Jadeja on the run scores a direct hit at the striker's end and Malik is run-out.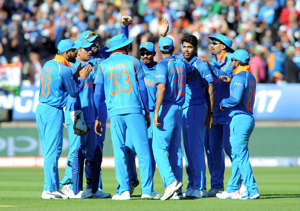 © AP Images

10:39 hrs IST: BOOM! First six of the Pakistan innings and Shoaib Malik launches Jadeja down the ground. Slight delay as the ball gets lost in the covers under the sightscreen but it is found. 

10:37 hrs IST: Shoaib Malik gets going with a couple of boundaries off Hardik Pandya while Hafeez strikes a boundary off Jadeja. But, the asking rate is just mounting.
10:30 hrs IST: WICKET! Azhar Ali aims to slog sweep as he gets a top edge and Hardik Pandya takes it at deep square leg. More trouble for Pakistan. Azhar Ali c Hardik Pandya b Ravindra Jadeja 50 (65).
10:23 hrs IST: Azhar Ali is nearing a fifty while Mohammad Hafeez slams a boundary off Jadeja. But, Pakistan need a lot more.
10:14 hrs IST: India are doing a Pakistan in the field. Two dropped chances and a misfield. This might be a cause for concern as the tournament progresses.

10:11 hrs IST: Since the dismissal of Babar Azam, Pakistan have been unable to find the boundary. The run-rate is approaching nine.
10:03 hrs IST: Catch dropped! Bhuvneshwar Kumar again. He is having a torrid time in the field. Azhar charges out to Pandya and mistimes the lofted shot to long on, Bhuvi runs in but drops the catch. 

10:01 hrs IST: Pakistan could effectively be four down, with injuries to Wahab and Amir. Will they bat? Hardik Pandya into the attack.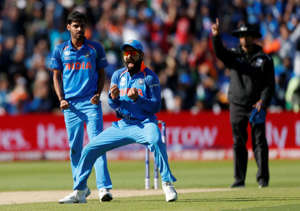 9:57 hrs IST: WICKET! Short and wide from Umesh Yadav and Babar Azam hits it straight to point where Ravindra Jadeja takes the catch. Pakistan slipping up. 

9:52 hrs IST: The run-rate has gone up to over eight. Pakistan are really struggling. Bumrah misses a run-out of Azhar Ali at the striker's end.
9:49 hrs IST: Bhuvneshwar bowls a maiden over. It seems like Pakistan just do not want to go after the target. 
9:45 hrs IST: The team fifty is up in 10 overs but Pakistan just have 31 overs remaining and they need to score 238 runs. 

9:42 hrs IST: WICKET! Bhuvneshwar Kumar strikes as he removes Ahmed Shehzad with a short ball that skidded on and the batsman missed the slog. Ahmed Shehzad LBW Bhuvneshwar 12 (22).
9:36 hrs IST: Pakistan find yet another boundary but they are not getting singles and twos. In the last ball of the eighth over, Hardik Pandya misses a run-out of Azhar Ali. That would have made it even harder for Pakistan.

9:32 hrs IST: After seven overs, Pakistan are 32/0. The run-rate is mounting and India are just not getting hassled.
9:28 hrs IST: Jasprit Bumrah spoils a steady over as he concedes a boundary off the last ball to Azhar Ali. The ball was short and wide and Azhar cut it neatly to the deep backward point fence.
9:24 hrs IST: So the equation for Pakistan is 267 runs in 36.1 overs at a run-rate of over seven. Big task ahead.

9:20 hrs IST: This is the beauty of England's weather. Bleak and gloomy for most part, but suddenly, bright skies greet you. What a sight now in Edgbaston. Hope no further rain interruptions. 
9:17 hrs IST: Hold on, the game is starting in nine minutes time. Restart at 9:25 PM IST. Revised target for Pakistan is 289 from 41 overs.

9:07 hrs IST: The rain seems to have stopped. But, there are dark clouds still hovering around. Not sure the covers will come off any time soon.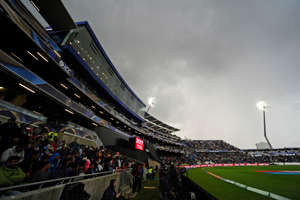 9:04 hrs IST: The rain has reduced in intensity but it is a drizzle and a persistent one that too. 

8:56 hrs IST: In every four minutes, we will lose one over. So technically, the cut-off time for a 20-over game, I feel is 10:30 PM IST.
8:55 hrs IST: With DLS playing a part, the revised target for Pakistan, should it be a 20-over game, will be 173.
8:53 hrs IST: Aargh, here comes the rain again. This time, overs will start reducing immediately and Pakistan's target will be revised again. Remember, for a result, 20 overs have to be bowled. All the covers are coming back on. 

8:49 hrs IST: Azhar Ali gets going with a boundary off Umesh. The bowler just floated on the pads and the batsman hoicked it to the deep mid wicket fence. Pakistan 21/0 in four overs.
8:45 hrs IST: For Pakistan fans, this could be of vital importance to you. However, I get a feeling that they might be praying mighty hard for the rains to come.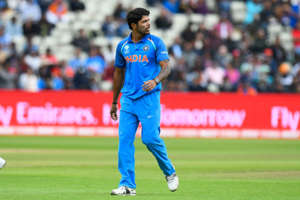 8:43 hrs IST: According to accuweather rain forecast, it seems that the dreaded rain is just seven minutes away. This is the big band of rain which was forecast. One can only hope it stays away. 

8:41 hrs IST: Dark clouds forming once again in the backdrop. India need to get to the 20-over mark very soon.
8:37 hrs IST: Poor ball from Umesh Yadav and Ahmed Shehzad, Pakistan's Virat Kohli, neatly glides the cut to the deep backward point fence. First boundary of the Pakistan innings.
8:35 hrs IST: Steady start for Bhuvneshwar as Pakistan reach 4/0 in the first over. 
8:31 hrs IST: Bhuvneshwar Kumar will open the bowling. Azhar Ali on strike. Ahmed Shehzad at the non-striker's end. Two slips in place. 

8:28 hrs IST: The players back on the field. No rain luckily. Lets hope it stays that way.
8:18 PM IST: This is what Yuvraj Singh had to say after his innings:"Delivering in a big game, lucky, got dropped, but capitalised in the end. The partnership between Rohit and Shikhar allowed us to bat deep. It's a very good batting wicket. Because of the rain interruptions, you have to give yourself time. Hopefully we can get some wickets with the new ball."

8:13 PM IST: Target has been revised to 324 off 48 overs for Pakistan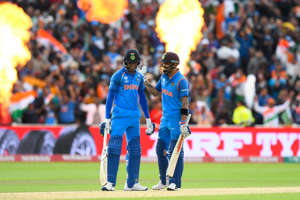 © Rex Images

8:05 PM IST: India score 319/3 in their 48 overs!

7:59 PM IST: Three back to back sixes from the willow of Hardik Pandya!
7:57 PM IST: SIX! And India cross 300!
7:56 PM IST: Four and then a six! Two magnificent strokes from Kohli, who is now batting on 77 
7:55 PM IST: Hardik Pandya has come out to bat for India

7:53 PM IST: OUT! Yuvraj Singh is lbw for 53 by the same guy who dropped him earlier - Hasan Ali

7:50 PM IST: 21 runs in the last over! Wow, some hitting! 
7:48 PM IST: Wahab Riaz is off! Two bowlers back in the pavilion for Pakistan. Big blow!

7:46 PM IST: Wahab Riaz is down! Looks like he twisted his right ankle!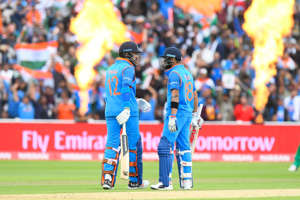 © Rex Images
7:45 PM IST: This is some serious bashing by India as Yuvraj also brings up half-century 

7:44 PM IST: India are dealing in fours and sixes at present! 7:42 PM IST: 17 off Hasan Ali's over! This was much needed for India!
7:41 PM IST: SIX and Virat Kohli brings up his 50!
7:40 PM IST: Low full toss and four down the ground from the willow of Yuvraj!
7:39 PM IST: Dropped! This time it is Virat Kohli! 7:38 PM IST: Wahab Riaz will finish Ami's over 

7:37 PM IST: And Mohammad Amir is walking off! His figures read 8.1-1-32-0
7:36 PM IST: Amir is lying on the field. Seems to have an issue with his leg. A physio attending to him

7:32 PM IST: This is huge! 6 from the willow of Yuvraj
7:29 PM IST: This is classic Yuvraj. Solid, flamboyant and classy! 

7:25 PM IST: Virat Kohli is into the 40s now
7:23 PM IST: India need to up the ante now if they want to put up a big score. They need 2-3 big overs and Virat and Yuvraj to fire

7:21 PM IST: Hasan Ali, who dropped Yuvraj's catch, is back into the attack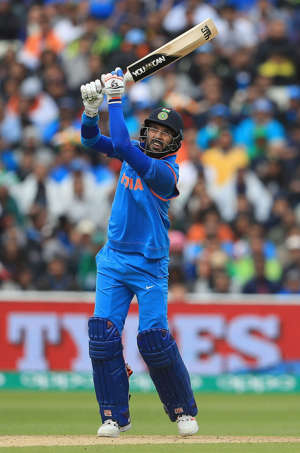 7:20 PM IST: FOUR! This is becoming regular now. Wahab bowls a sharp one and Yuvraj responds with a boundary

7:19 PM IST: That is real sting in Wahab Riaz's bowling!
7:17 PM IST: India now have only nine overs to pile on as many runs as they can
7:15 PM IST: Hasan Ali was the man who dropped Yuvraj
7:13 PM IST: Dropped! Yuvraj tried to go for the big one and was dropped at long off! 

7:10 PM IST: Oh that was a fiery delivery from Wahab Riaz. But wait, next ball Yuvraj puts it away for four!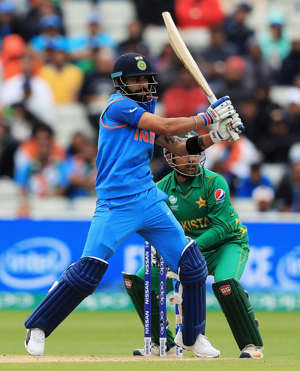 7:09 PM IST: Two big players - Virat Kohli and Yuvraj Singh - out there in the middle!

7:07 PM IST: Yuvraj Singh has come in to bat
7:06 PM IST: Oh what a heart break! Rohit Sharma has been run out for 91! 

7:04 PM IST: Oh! Looks like Rohit Sharma has been run out! Third umpire in action!
7:02 PM IST: India are 189/1 after 36 overs
7:00 PM IST: Four and a six! Fantastic from Rohit Sharma!
6:58 PM IST: A risky and flashy stroke from Rohit, take a thick edge and runs towards thirdman. He should be a little more careful. The rain could have affected his flow

6:56 PM IST: After 35 overs, India are 176/1 

6:54 PM IST: More rain has been predicted. It is one of those days when rain will play a bigger role than the pitch or players
6:50 PM IST: Play resumes!
6:48 PM IST: Rohit Sharma and Virat Kohli are back out there!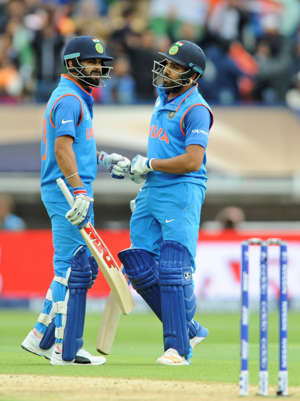 6:46 PM IST: Play to resume at 6:50 PM IST and it will be a 48 overs per side game!

6:42 PM IST: And the covers have returned on to the pitch! 
6:41 PM IST: It has started to drizzle again!
6:40 PM IST: Match should resume in some time
6:42 PM IST: And the covers have returned on to the pitch! 

6:41 PM IST: It has started to drizzle again!
6:40 PM IST: Match should resume in some time
6:37 PM IST: We will lose more overs if there are more interruptions 
6:31 PM IST: Despite the two stoppages, India are in a commanding position at the moment
6:25 PM IST: So the match will begin at 6:40 PM IST and it will be a 49 overs per side match!
6:19 PM IST: The rain has stopped at Edgbaston and the umpires are having a look 

6:15 PM IST: We will start losing overs if play does not resume by 6:30 PM IST
6:12 PM IST: It looks quite grim out there in Edgbaston
6:06 PM IST: India are 173/1 after 33.1 overs with Rohit Sharma and Virat Kohli batting on 77 and 24 respectively
6:04 PM IST: Rain has stopped play again! It is drizzling right now at Edgbaston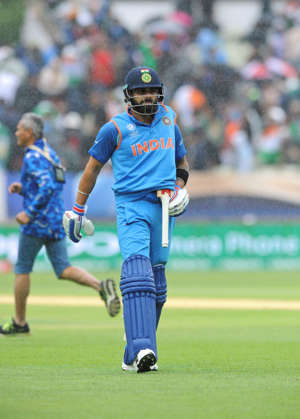 5:56 PM IST: Lovely shot off a rising Amir delivery for four! Kohli looks good at the crease. 

5:54 PM IST: With a good total already on board and with wickets in hand, even if it rains again, India should have the upper hand. One has to keep in mind that the Pakistani batting line-up is not so strong, at least on paper.
5:50 PM IST: After 30 overs, India are 162/1! 

5:45 PM IST: This is Rohit Sharma's highest score against Pakistan in One-Day Internationals. His previous best was 68.
5:41 PM IST: After 28 overs, India are 157/1 

5:39 PM IST: Deft touch and a lovely shot for four through thirdman! That is Virat Kohli for you!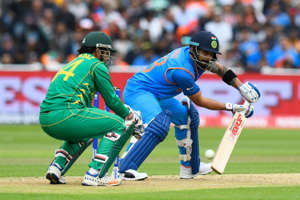 5:37 PM IST: The innings has slowed down a bit! Three overs and no boundary!
5:34 PM IST: After 26 overs, India are 141/1 
5:32 PM IST: Big man walks in! India captain Virat Kohli has walked on to the pitch to join Rohit Sharma in the middle!
5:30 PM IST: Dhawan tried to go for the big one and in turn got out caught in the deep as Shadab Khan gave Pakistan the first breakthrough
5:28 PM IST: OUT! The first wicket for Pakistan! Shikhar Dhawan gets out for 68! What a knock for the left-hander! 
Also see: 25 thrilling India-Pakistan matches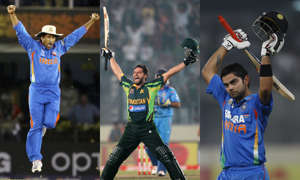 5:26 PM IST: Both Rohit Sharma and Shikhar Dhawan are in 60s
5:24 PM IST: Pakistan have tried six bowlers so far and all of them have gone wicket-less. Are the Indian batsmen doing too well, are Pakistan bowlers not doing enough or both?
5:18 PM IST: India are 121/0 after 21 overs

5:15 PM IST: This is Rohit Sharma and Shikhar Dhawan's third opening partnership in Champions Trophy, most by any pair!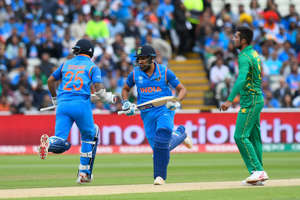 5:12 PM IST: What an over for India! Three consecutive boundaries and a double to bring up the half-century for Shikhar Dhawan! What a start India have got!

5:08 PM IST: End of 19 overs, India are 95/0

5:03 PM IST: India are 84/0 after 17 overs! 
5:00 PM IST:Shikhar Dhawan also gets into the act and 2 boundaries from the 16th over!
4:57 PM IST: Beautiful cover drive takes Rohit Sharma into the 40s! 

4:56 PM IST: After 15 overs India are 66/0
4:54 PM IST: The last time Pakistan defeated India in an ICC tournament was in the ICC Champions Trophy in Centurion in 2009. Since then, India have won all the six encounters.
4:52 PM IST: India are 62/2 after 14 overs with openers Rohit Sharma and Shikhar Dhawan at the crease!
4:50 PM IST: Did you know Shikhar Dhawan was the highest-scorer against Pakistan in the last Champions Trophy game between the 2 sides four years ago? He had scored 48 then. Will he do well again today? 

4:47 PM IST: Lethal pacer Wahab Riaz comes into the attack
4:45 PM IST: This is only the second 50 plus opening stand for India against Pakistan in the last 11 ODIs. The other one also came from the same pair at the same venue four years ago.
4:41 PM IST:India are 55/0 after 12 overs! No wickets lost, that is a real bonus! 

4:38 PM IST: And India have crossed the first hurdle! 50 runs up for India
4:35 hrs IST: Rohit Sharma puts another one over the boundary line for his fifth four! 

4:34 PM IST: Rohit Sharma and Shikhar Dhawan are both in their 20s and have hit 5 boundaries together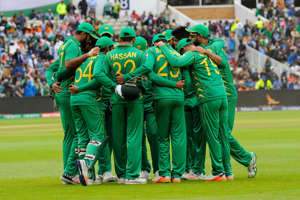 4:31 PM IST: One ball bowled and India are 46 for no loss after 10 overs! 

4:30 PM IST: Play has resumed!
4:27 PM IST: The Pakistan players are back in the middle and are warming up!
4:23 PM IST: Play to resume in 10 minutes! No overs lost!

4:15 PM IST: Covers have come off and umpires Kumar Dharmasena and Marais Erasmus make their way out to the middle with umbrellas

4:10 PM IST: Another interesting statistic: MS Dhoni has averaged 58.4 across his 29 ODI innings against Pakistan, only one man - AB de Villiers - has a better rate against them (20+ innings). 

4:06 PM IST: India have won their last three matches at Edgbaston, twice against England and once against Pakistan; their last defeat at the Birmingham venue coming in 2007.
Also see: Fascinating India-Pakistan cricket facts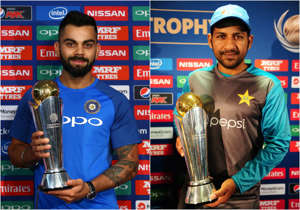 4:05 PM IST: Meanwhile, June 3 was the death anniversary of possibly the greatest boxing star Muhammad Ali
4:00 PM IST: Rain has intensified at Edgbaston.

3:50 PM IST: They have covered up the main part of the ground

3:44 PM IST: And it has started raining quite heavily! The umbrellas are out and so are the covers. The players are running back to the pavilion!
3:43 PM IST: Overthrows! Poor fielding from Pakistan! 
3:42 PM IST: First boundary for Shikhar Dhawan! 

3:41 PM IST:After 9 overs, India 37/0
3:34 PM IST: It is very dark and gloomy in Birmingham. Any chance of rain?

3:33 PM IST: Six runs from the over and India are 27/0 after 7 overs! 

3:32 PM IST: Both Mohammad Amir and Imad Wasim have both bowled well so far for Pakistan
3:30 PM IST: At the end of 6 overs, India are 21 for no loss!
3:28 PM IST: Another boundary comes up for India, again from Rohit's bat
3:27 PM IST: India are 15/0 after 5 overs! 

3:25 PM IST:And thefirst boundary comes up for India from the bat of Rohit Sharma!
3:20 PM IST: India are 9/0 in four overs
3:15 PM IST: This This has been a slow start for India so far
3:11 PM IST: What are the Pakistan players falling down? There is a terrible mix-up in the middle. But Shikhar takes only one run. No boundaries so far. IND 5/0 in 3 overs 

3:08 PM IST: Poor fielding! Shahzad misses the ball completely at backward point. India open account. Wasim follows it with a wide. IND 3/0 in 2 overs
3:07 PM IST: Imad Wasim bowls the second over.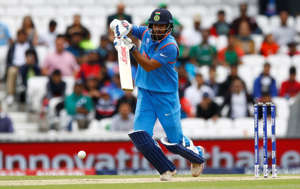 © Reuters
3:04 PM IST: Amir is breathing fire here. His pace and line is troubling Rohit. He is clueless as the ball whizzes past him. A maiden over. IND 0/0 in 1 over
3:00 PM IST: Mohammad Amir to bowl the first over!
2:55 PM IST: The teams are here for the national anthems. Action will begin in five minutes. 

2:52 PM IST: India last won when the two teams last played at Edgbaston. Good stat for Kohli's men.
2:50 PM IST: India (Playing XI): Rohit Sharma, Shikhar Dhawan, Virat Kohli(c), Yuvraj Singh, MS Dhoni(w), Kedar Jadhav, Hardik Pandya, Ravindra Jadeja, Bhuvneshwar Kumar, Umesh Yadav, Jasprit Bumrah
2:42 PM IST: I think the side batting second will have pressure. Pretty good wicket, so will stay even throughout. The wicket is nice and hard, so the fast bowlers can come in at any time of the day. Will look to use our main strength, that is batting: Virat Kohli
2:40 PM IST: Jasprit Bumrah, Bhuveshwar Kumar, Umesh Yadav, Hardik Pandya and Ravindra Jadeja are India's five bowlers
2:38 PM IST: BIG NEWS! Ravichandran Ashwin and Mohammed Shami have been left out of India's playing XI
2:36 PM IST: Pakistan playing XI: Azhar Ali, Ahmed Shehzad, Mohammad Hafeez, Babar Azam, Shoaib Malik, Sarfraz Ahmed(w/c), Imad Wasim, Shadab Khan, Mohammad Amir, Wahab Riaz, Hasan Ali
2:35 PM IST: Good pitch, won't change in the second innings as well. As a team, we will hopefully do well. I think India-Pakistan is a special game. Our batting is very much better, so hopefully we will do well. Shadab is in: Sarfraz Ahmed
2:33 PM IST: Pakistan captain Sarfraz Ahmed won the toss and have chosen to bowl against India.
2:20 PM IST: Sourav Ganguly says whoever wins toss should bat first. "It is a very good surface, it is getting orange-ish, which says the moisture content is not much. It is hard and overall good for batting. Whoever wins the toss will look to bat first," he said.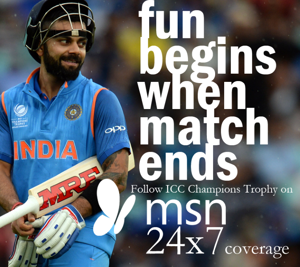 2:15 PM IST: This encounter will be the 128th between the two teams in one day international cricket and fourth in Champions Trophy. Pakistan lead India 2-1 in head to head in Champions Trophy.
2:11 PM IST: Pakistan had announced their 12 on Saturday: Sarfraz Ahmed, Ahmed Shehzad, Azhar Ali, Babar Azam, Faheem Ashraf, Hasan Ali,Imad Wasim, Mohammad Amir, Mohammad Hafeez, Shadab Khan, Shoaib Malik, Wahab Riaz. Who will miss out?
2:08 PM IST: Meanwhile, big news coming up. Steven Finn to replace injured Chris Woakes in England squad.
2:05 PM IST: Jasprit Bumrah, Hardik Patel, Bhuvneshwar Kumar are the likely pacers for India in the playing XI. They are warming up.
1:56 PM IST: The toss is only half an hour away. The players are warming up for the big match, which for many is more than just a game
1:40 PM IST: The teams have already arrived at the stadium as fans greet them with flags and banners. Are you ready for the big clash. Find out all ICC Champions Trophy related news here
1:30 PM IST: All eyes will be on Virat Kohli today. In 10 ODIs, he has two tons vs Pakistan, averaging 41.44. But a win in an ICC event will add another feather to his captaincy crown.
1:05 PM IST: Meanwhile, there is a rain threat looming over the mega-clash. With 80 per cent of cloud cover, a shower or thunderstorm is expected in the afternoon and a possibility of a shower in the evening
12:50 PM IST: India and Pakistan have three wins apiece in their last six ODI encounters, with their last meeting coming at the 2015 World Cup (India won by 76 runs)
12:15 PM IST: Going in to this event, India had a 71% win rate in the Champions Trophy, the best of any side, this despite making it out of the group stage just once in their last four attempts
12:01 PM IST: This will be the fourth Champions Trophy game between these two, with Pakistan winning two of the previous three.
11:45 AM IST: India have won their last three matches at Edgbaston, twice against England and once against Pakistan; their last defeat at the Birmingham venue coming in 2007