ICC World Twenty20 2016 semi-final scenario: What India, others need to do to qualify?

The Indian Express
24-03-2016
New Zealand clinched their third win out of three matches in the Super-10 of World T20 and thus ensured themselves a place in the semi-final. They still have a match left – against Bangladesh. The other four teams in Group 2 – India, Pakistan, Australia and Bangladesh – still have a chance to join them in the semis. How can they do so:
India (NRR: -0.55)
India are now at four points after their two wins from three games. Bangladesh have been knocked out. If Australia beat Pakistan, then India vs Australia will be a virtual quarter-final. That will give the winner six points and a place in semi-final. But if India lose Australia, then they have to depend on the net run-rate and have to fight on it with the winner of Australia vs Pakistan. There is one more way. If India lose to Australia and Pakistan beat Australia, then India, Pakistan and Australia will be left on four points each and better NRR will decide the semi-finalist.
Pakistan (NRR: +0.25)
Having lost two matches out of three, Pakistan are in a bit of a tricky situation but are still eligible to qualify. Their 55-run win over Bangladesh has helped them as their NRR is second best in the group. If they beat Australia and other results go their way, they have a good chance to qualify. If India manages to lose to Australia will leave Pakistan, India and Australia with four points each and the team with better NRR will go through. Their good NRR may prove to be a blessing for them in that scenario.
Australia (NRR: +0.11)
Like India, Australia qualify if they win their remaining two matches with the match against India being a virtual quarter-final. If Pakistan beat Australia but they go on to beat India, they will have four points. If India beat Bangladesh then all three teams will have four points each. NRR once again will come into play.
Bangladesh
Bangladesh have been knocked out after they lost their third consecutive game.
Slideshow: 25 cricket world records you must know about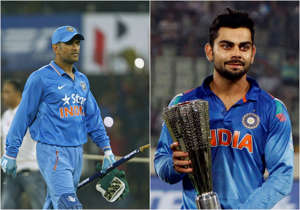 Watch: India beat Bangladesh by one run in WT20