ICC World Twenty20: Virat Kohli a tragic hero like Jon Snow

India Today
03-04-2016
With the ICC World Twenty20 upon us and the whole country holding on to the edge of their sofas and biting their nails with every match that passes by, we bring to you a list of cricketers and famous characters as well as actors who we love and adore. We are all very well aware of what makes them stand apart, but have you ever wondered what makes them similar, apart from their obvious charisma?
Never ventured down that lane of thought, have you? Let's begin that journey together then, shall we?
Jon Snow vs Virat Kohli
The sudden wave of sadness that was felt last year was incomparable when Jon Snow was stabbed to his death. It was almost similar to the one that Indian mothers felt when Mihir in Kyunki Saas Bhi Kabhi Bahu Thi was killed.
It felt as if that feeling will never be matched. That changed with yesterday's match when West Indies won against India in World T20 semi-final, with the haunting image being that of Virat Kohli on his hunches looking forlorn and distraught.
Be it the Knight of the Knights Watch, or the master of curses and cover drives, both of them are characters that make you gravitate towards them.
They have their fair shares of fans and detractors. They both have a running joke on Schrodinger. But in the end, more than anything else, they know, along with the world, they are their shows' rockstars.
Harvey Specter vs MS Dhoni
"I don't play the odds, I play the man" - one of the many famous quotes by the best closer in New York City. The impossibly slick, impeccably tailored and humorously witty character can possibly be named the heart of the prime-time series 'Suits'. Just as our man Dhoni, can very well be one of the best candidates to be voted as the heart of the Men in Blue. But is that the only thing he has in common with Harvey?
Captain cool has revolutionised the approach to chasing and has surpassed many with his remarkable feats.
Also named the best finisher in the world by Virat Kohli recently, following the Asia cup, Dhoni has given us an array of best finishes to cherish in the past few years. Be it the 85 not out vs. Zimbabwe at Auckland in 2005 or the 91 not out against Sri Lanka in the ICC World Cup 2011 finals, the captain has never let us down.
And who can forget the most recent win against Bangladesh at the T20 World Cup 2016. Guess the good looks are not the only thing that Dhoni and Specter have in common.
Slideshow: 25 things you should know about Virat Kohli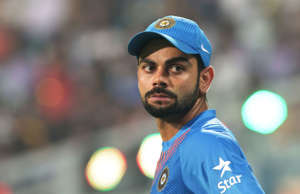 Watch: Virat Kohli, Nehra stood out in Team India: Sangakkara