If cricketers played other sports

Wisden India
06-12-2016
What if we could have cricketers take part in sports other than cricket? Sounds confusing? Fret not, we drew up a list for you. Here are a few players who could well have excelled in other disciplines, had they not picked up a bat or ball when young.

MS Dhoni – Judo
The Indian limited-overs captain would have been a natural at the rough and tumble stuff. His strength is unmatched, his street-smarts have no equal. But what clinches it for us is the new karate kick he unfurled as part of his wicketkeeping repertoire. A man who can do that with gloves and pads on and with such poised anticipation is a man who can take on the likes of Teddy Riner and Naohisa Takato.

AB de Villiers – 100m, 200m, Long Jump, 4X100m relay
He's got to be the star of the show. Technically, he doesn't bowl regularly, so that puts him out of contention for the decathlon, but that doesn't mean he can't take part in multiple disciplines. And if it's AB de Villiers, it has to be the most eye-catching ones. So he's going to emulate Carl Lewis and take part in 100 metres, 200 metres, long jump and the 100m relay. Imagine the South African superman against Usain Bolt on the track. Before you run out to purchase flight tickets to Rio, remind yourself that it's just in your imagination. For now.
Rahul Dravid – Marathon
If facing the most number of balls ever in Test cricket, the game's most demanding format, doesn't qualify you to run a marathon, then we don't know what does. Plus, how many times have Dravid's innings been described as batathons? Reason enough for India's Marathon Man in cricket to be able to do the job across 42.14 kilometres too.

Lasith Malinga – Javelin
All you need to do is replace the cricket ball in his hand with a javelin. Some minor modifications of the action may be required if you don't want the javelin to spear down on someone's toe, but the natural Slinga Malinga action lends itself admirably to launching a javelin.
VVS Laxman – Fencing
He won't even need any formal training with this one. Just do what he did with the bat and he'll be fine.

Garry Sobers – Decathlon
The man who could do it all on the cricket field will naturally be the man who does it all in the Olympics. Sir Garry Sobers would have lorded over the decathlon, of that there's little doubt.
Kevin Pietersen – Golf
It's the newest event in the Olympics, many top stars are behaving as if they don't think having it around is a good idea (with the zika virus a convenient scapegoat), and we're not sure how long it will stay. Sounds like an ideal combination for Pietersen. It helps that KP has been appearing regularly at Pro-Am events, and his cricket board don't require him to swing a bat. Might as well swing a golf club instead.

Ravindra Jadeja – Equestrian
If you're going to have a cricketer mucking about with horses, you can't go too far wrong with Ravindra Jadeja. The Rajput blood and the stable at home mean he has the genes and the practice. If he's not picked for the third and fourth Tests against West Indies, he can hop across and ride to glory.
Arjuna Ranatunga, Dwayne Leverock, Mike Gatting – Heavyweight boxing team
Most people would say a heavyweight boxer requires agility and power. But if you pack a mean enough punch to knock someone out with one blow, why bother with agility. Ranatunga made umpires keel over with merely a poke of his finger, and Gatting wasn't too far behind. Leverock never did that but if you can fly through the air – as he did to catch Robin Uthappa in the 2007 World Cup – why bother about anything else?

Ashok Dinda – High Jump
Just mark a run-up for him with the high-jump bar as the bowling crease. He'll jump over it.
Photos: 25 world records held by Indians in Test cricket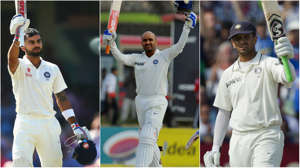 Watch: When Sachin made his first run in ODIs