If you can't get enough of Murali, here's Yasir

Wisden India
21-10-2016
What's the first thing that comes to mind when you think Muttiah Muralitharan? 800 Test wickets? Sure. Called on the field several times during an international game for chucking? Of course. International cricket's most prolific wicket-taker? Goes without saying.
To me though, and I say this not with any disrespect to his extraordinary accomplishments or with any insensitivity to his action-related travails, Murali will always be synonymous with toothy grin. An ear-to-ear smile that lit up the gloomiest of days, the darkest of hours, the most demanding of situations. He didn't only smile when he picked up a wicket. Or when he unconventionally belted the cricket ball to unlikely parts of the park. He smiled when he beat a batsman. He smiled when he got into a tangle against a wicked fast bowler targeting limb more than wicket. He smiled when he was hit for a six. And he smiled when he was dismissed in most embarrassing fashion too.
Too much of Murali, we have been told far too often, isn't necessarily a good thing. He has been told the same, too, and with neither diplomacy nor tact. A little over a week after he called it quits from Test cricket in July 2010, as we sat down for an interview during the second Sri-Lanka India Test at the SSC ground, television cameras zeroed in on a massive banner that hung outside the Sri Lankan dressing room. It went something along the lines of 'Thanks for retiring, Murali. The dressing room is very peaceful now'.
Also read: R Ashwin's rich form decoded
After a quick glance at the TV screen, the gaze shifted to Murali as you felt, 'Ah, there goes the chance of a good interview'. Instead, and characteristically, he burst out laughing. "These guys! I know how much they miss me. I know who the mastermind behind this is, and I know how to make him pay for it."
Too much of Murali can't ever be a bad thing. Just like too much of a smile can't be, either. Especially in a day and age where a smile is considered a sign of weakness, where snarls and frowns and growls and verbal assaults are the in-thing. Where shoulder-charging occasionally rears its ugly head, where clapping in the face of the dismissed batsman is considered macho.
The million-watt Murali smile is hard to replicate. As hard as it is to replicate his extraordinary numbers with a cricket ball, red or white. But watching Yasir Shah at work the other night in Dubai, and on various preceding nights in England earlier in the summer, you couldn't help but notice that there is a striking similarity between the stocky Pakistani and the effervescent Sri Lankan that extends beyond giving the ball a mighty rip.
Yasir is almost an anachronism in the largely cricket-without-a-smile atmosphere that is prevalent today. He is more Murali than Peter Siddle, more Virender Sehwag than David Warner, more Desmond Haynes than Javed Miandad, more Darren Gough than Stuart Broad. He smiles. And not maliciously or with ulterior motives suitably couched. Like several of his illustrious 'smiling-assassin' predecessors, his smile is reflective of his disposition and his admirable ability to see a ray of light in an overwhelming sea of darkness and negativity.
Also read: He could break Sachin's record
That is not to say that Yasir is any less of a competitor than, say, a Wahab Riaz. Wahab is a wonderful if somewhat moody practitioner of left-arm furious. He can be almost anonymous for four full hours but in four short deliveries, he can whip up a storm – Shane Watson in Adelaide, anyone? – and give the best in the world a working over that is at once exhilarating and frightening. As he gets into the zone, Wahab looks as if he is going through an out-of-body experience. No pleasantries, no sympathies, no punches pulled. 'Come batsman, go batsman' could well be his mantra.
Slideshow: Most controversial statements by cricketers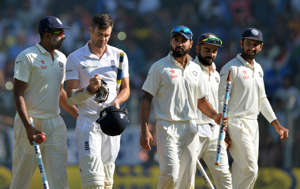 Yasir is the antithesis of Wahab not just in the practice of the craft with which he goes after batsmen, with guile and turn as opposed to naked aggression and raw pace, but also in the manner in which he does so. I am not sure if having arrived late at the highest level is a factor; Yasir is no spring chicken with a decade at the top flight ahead of him. Perhaps he is grateful that the whole world is a stage and that, for whatever length of time, he has got the chance to not just write his own script but also act it out. Perhaps he is just naturally a freak without a negative, bitter bone in his body. Whatever the reason, he is an ornament to the game – and not just because is the joint second-fastest to 100 Test wickets.

Murali, his mates have told us in confidence and in public, was a genuine pest. Legend has it that batsmen padded up and waiting to go out to bat wouldn't want to be within a kilometre of the offspinning great. He would talk about everything, it seems – world peace, global warming, politics, movies, soap operas, finance, even the art of batting – with the greatest of authority and with utter disregard to whether anyone was paying attention to him or not. He would pull legs, play the prankster, advise Sangakkara and Jayawardene on how to construct an innings… And yet, he was loved to a fault by his mates. A loveable irritant who lived life to the fullest, on the cricket field and in the changing room.

"Murali is a man who never stops talking. If you're unsure or arguing about anything, Murali's the go-to man. For any scenario," Chris Gayle has written of his former Royal Challengers Bangalore teammate in Six Machine. "Every time I see him, always a smile on his face. I love to be around him, because he makes me laugh. I'll take Murali any day, anywhere." Endorsement from the World Boss too, not that Murali really needed it.
Yasir isn't yet in the same league – perhaps never will be because they don't make 'em like Murali more than once – but he is a worthy successor to the man from Kandy who just won't stop smiling in all ways imaginable.

I have for long held the belief that the way someone bats is the key to his personality too – though this notion has been shot down as fanciful by some of the giants I have discussed this with. Like Rahul Dravid, organised and meticulous. Sehwag, free-spirited and entertaining. Lara, awesome when in the mood but also remarkably indifferent when not. The sunny disposition on the cricket field even when things aren't going your way, by extension, has to be a reflection too of the kind of individual you are, hasn't it? Otherwise, how else can you sing songs when taking the bowling apart? Or send the opposition rolling on the floor when you ask a fast bowler repeatedly imploring you to pull during your triple-hundred in Multan: "Bowling kar raha hai ya bheek maang raha hai?"