India Become World No. 1 in Test Cricket Again, Virat Kohli Praises Man of The Match Saha

NDTV
04-10-2016
India's longest reign as No. 1 in Tests was 614 days in 2009-2011 under Mahendra Singh Dhoni. New Test captain Virat Kohli sees a great opportunity for his young team to come close to that mark again.
On Monday at Kolkata's Eden Gardens, India won their 89th Test match at home in great style. The home team thrashed New Zealand by 178 runs to take an unbeatable 2-0 lead in the three-match series and win back the No. 1 Test ranking from Pakistan.
Kohli set a new benchmark for his team. Having started in the West Indies in July, India will play 17 Tests, 13 of them at home.
"Our objective is to play consistent cricket... having rankings and getting to number one and dropping it is not in our hands, but with this long season, it's in our control in my opinion," Kohli said at the post-match chat at Eden Gardens.
With two big wins under their belt - India beat New Zealand by 197 runs in the first Test at Kanpur - Kohli's Team India have shown the character to bounce back from odds.
Photos: 25 world records held by Indians in Test cricket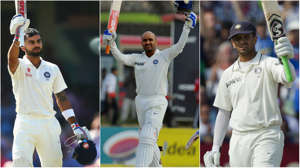 Wriddhiman Saha, Man of the Match In Kolkata, Man of the Match
Wriddhiman Saha bailed the team out twice. Apart from his brilliant glovework on a two-paced, dual-bounce track, Saha's gritty batting - 54 not out and 58 not out - have India a healthy edge in a Test where the Kiwis also had their chances.
"Saha is the best keeper in the world and understands how to bat with the tail," said Kohli, who termed India's win "a complete all-round show."
Kohli did identify the team's low moments at Eden. "In the first innings, we threw it away with a few loose shots, second innings the New Zealand bowlers really put us under pressure.
"Really happy for Rohit (sharma) as well. He stuck it out, handled the pressure really well, and you know his love affair with Eden. 

"More than anything, the crowd helped us pick up those wickets today (Monday). Especially someone like (Mohammed) Shami, running in, it makes a big difference to a bowler's mindset," said Kohli.
Monday's win was India's 131st and it could not have come at a better time.