India bulldoze ahead after spin suckerpunch

Wisden India
24-09-2016
"You wait for ages for a bus and then two come along at once." If the nationality of the wit that thought this up was Indian rather than British, the saying would have involved wickets on spinning pitches, rather than buses. And it wouldn't have been just two either.
The 'one wicket will bring many' truism was brought to life spectacularly by the Indian spin duo of Ravindra Jadeja and R Ashwin on Saturday (September 24) in Kanpur, where India seized control of the first Test against New Zealand. The visiting side had begun the third day trailing by 166 runs. They would end it with India 215 ahead, and having nine second-innings wickets standing. M Vijay (64 not out) and Cheteshwar Pujara (50 not out) were holding firm just like they had done in the first innings for India, putting on 107 unbroken runs to take India to stumps at 159 for 1.
Both batsmen had dealt with a wearing pitch with high-quality batting, using a position of advantage to play doubt-free cricket. Thanks to Jadeja's fifth five-wicket haul (5 for 73) and Ashwin's own contribution (4 for 93), New Zealand had conceded a 56-run lead to India. Vijay and Pujara amplified that advantage into an almost impregnable position.
Slideshow: 27 cricket world records you must know about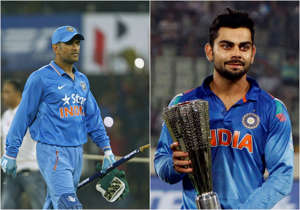 New Zealand's discipline in bowling and batting had kept the contest even on the first two and a half days, but as soon as they slipped in either department, India pounced. Much was expected of the overnight pair of Tom Latham and Kane Williamson, who had batted with great nous against the spinners on Friday, but it took just five overs in the morning to break the partnership. Ashwin and Jadeja had both begun to find their groove when play ended prematurely on Friday thanks to a brief shower, and a night's sleep hadn't affected it any. First Ashwin had Latham struck on the pads, the perfect length accounting for the left-hander from around the stumps. Latham went for 58 after a 151-ball vigil and a 124-run stand, and New Zealand were 159 for 2. India had lost their second wicket at 154 in their first innings, and New Zealand's innings followed that template. Ross Taylor lasted two balls before Jadeja won a marginal leg-before decision, and Ashwin bowled a delivery fitting the occasion and the batsman, knocking over Williamson's stumps with one that spun back in so sharply from outside the fifth stump, that even the New Zealand skipper's mastery was not enough to cover it. Suddenly, New Zealand had lost three wickets in 23 balls and were in danger of collapsing.
Scores (Day 3): India: 318 & 159/1 against New Zealand: 262
Luke Ronchi and Mitchell Santner averted that possibility, mixing enterprise with putting their heads down to build a 49-run stand. Ronchi was the more aggressive of the two, using his feet to the spinners and keeping his intent positive. Santner wasn't always reading the ball well, but was stout-hearted and willing to stick through the tough periods. A bad decision ended the partnership, Ronchi given lbw when Jadeja's ball would have spun past offstump after the batsman had missed a sweep shot. It was a crucial decision in the context of the match, halting New Zealand's fight back and ending the innings of the man who had looked the most comfortable against India's spinners following the dismissals of Latham and Williamson.
BJ Watling joined Santner and the last recognised batting pair for New Zealand also stuck it out, resisting gamely. But Ashwin's first ball after lunch had Santner reaching and poking through to Wriddhiman Saha, and that opened the sluice gates. New Zealand went from 255 for 5 in 91 overs to 262 all out in 95.5, the Ashwin-Jadeja combination running through the tail. Jadeja had a triple-wicket maiden – though Ish Sodhi's scalp was again a tad fortuitous with the ball possibly sliding down legside – and Ashwin ended things when Watling was caught and bowled trying to chip and charge.
© BCCI Photo

To pull things back after their rapid collapse, New Zealand needed to make early inroads into the Indian batting line-up. Instead, they ran into KL Rahul continuing his good form, and Vijay and Pujara batting as if they were merely starting from where they had left off in the first innings.

Rahul took on the New Zealand bowlers early, as India ran with the momentum they had gathered with New Zealand's quick collapse. After taking a few overs to get his eye in on a pitch that was already very different to the one he had batted on almost three days back, Rahul unfurled the full limited-overs repertoire. There were lofted shots down the ground, inside out cover drives, and even a reverse-sweep and an upper-cut. While there were a few balls where the batsmen were not in total control, Rahul's impetus at the start meant that India's advantage only increased, with no pressure and the space to build a total. Rahul though, squandered a start once again, cutting Sodhi straight to Taylor in the slips to signal tea with India 52 for 1, effectively 108 for 1.
The opening partnership had tilted the game India's way, but the phase after tea seemed to decisively swing it. Pujara's intent was even more aggressive than Rahul's, though both he and Vijay were helped along by New Zealand's bowlers losing the plot. A succession of long hops and short balls found the fence with regularity, as the first 2.5 overs after tea brought 30 runs. Any thoughts the New Zealanders had of regrouping during the break and grabbing quick wickets were negated by the fluency Vijay and Pujara showed.
It will need an Indian collapse that outdoes all the mini-ones seen so far in this match, and an exceptional New Zealand batting performance in the fourth innings on a pitch whose turn has begun to hiss and spit, for the visitors to still dream of pulling ahead in the three-Test series.