India in Australia: Top 10 Memorable One-Day International Contests

NDTV
07-01-2016
India will be touring Australia for the second time in less than a year. In their previous visit in 2014/15, India spent five months, playing four Tests, a tri-series involving England and the 2015 World Cup. In that summer, India failed to register a win over Australia in both Tests and one-day internationals.
This time, India are heading to Australia for five one-day internationals and three Twenty20 internationals. Their ODI record in Australia is appalling, having won just 10 out of the 43 ODIs played against Australia at a win-loss ratio of 0.322, with only Bangladesh and Zimbabwe faring worse. India will be hoping to put up a better show in the upcoming series.
India have put up some memorable limited overs performances against world No. 1 Australia . Here is a look at the top 10 memorable contests in Australia between these two world champion teams.
1. Krishnamachari Srikkanth dazzles at MCG (Result: India won by eight wickets; Melbourne, March 1985)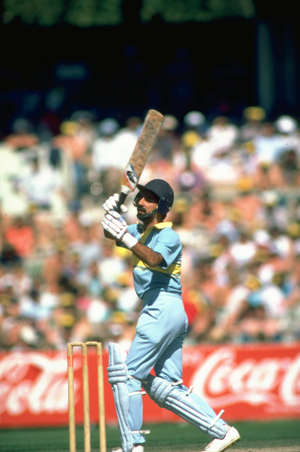 The 1985 Benson and Hedges World Championships of Cricket league game at the MCG had plenty at stake for both India and Australia. The hosts needed to score 223 and restrict India to 160 in order to knock them out. They managed neither and a spirited performance from the Indian bowlers, led by Roger Binny's 3/27, bowled Australia out for 163. In stepped Krishnamachari Srikkanth and he blasted the Australian bowlers to all parts of the 'G'. His unbeaten 93 included 12 fours and India won by a thumping eight-wicket margin to qualify. India would achieve glory a week later when they clinched the Benson and Hedges World Championship trophy by defeating Pakistan in the final by eight wickets.
2. Ravi Shastri spins a web at WACA (Result: India won by 107 runs; Perth, December 1991)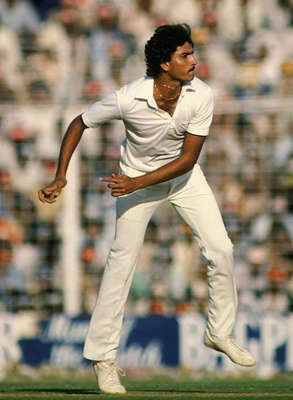 Think of WACA in Perth and images of fast bowlers terrorising batsmen with pace and bounce crop up. However, on freakish days, spin would also play a part as Australia found out on a December day. India reached 208/7 in their allotted 50 overs but the bowlers found enough purchase to trouble the hosts. Manoj Prabhakar and Javagal Srinath sent the top order packing but it was Ravi Shastri's left-arm orthodox that decimated Australia. Shastri ran through the lower-middle order and finished with match figures of 6.5-1.15-5, his best figures in ODIs. Australia were bundled out for 101 to lose by 107 runs, their worst defeat against India in terms of runs in Australia.
3. Mohammad Azharuddin shines, but India fall agonisingly short (Result: India lost by one run; Brisbane, March 1992)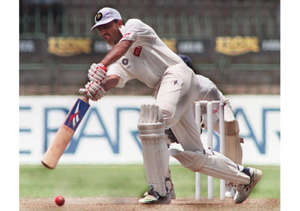 Both India and Australia had struggled in the league stages of the 1992 World Cup hosted in Australia-New Zealand. A magnificent 90 from Dean Jones helped Australia to 237 in 50 overs. The Indian chase was curtailed by rain and the equation boiled down to 236 from 47 overs. India lost wickets at regular intervals and it needed a brilliant 93 from skipper Mohammad Azharuddin to get them close to the target. The game looked all but lost when Sanjay Manjrekar fell for an attacking 42-ball 47. India needed 13 runs off the final over bowled by Tom Moody and wicketkeeper Kiran More got them within striking distance with two boundaries. He was dismissed off the third ball and Prabhakar took a single. He was run-out on the fifth ball with India needing four runs to win. Javagal Srinath launched Moody to deep midwicket where Steve Waugh dropped the catch but he managed to get the batsman run-out while going for the third. Thus, India lost a thriller at the Gabba. It was India's second one-run loss against Australia in World Cups, the previous being in 1987 in Chennai.
4. India falter despite Sourav Ganguly century (Result: India lost by 28 runs; Melbourne, January 2000)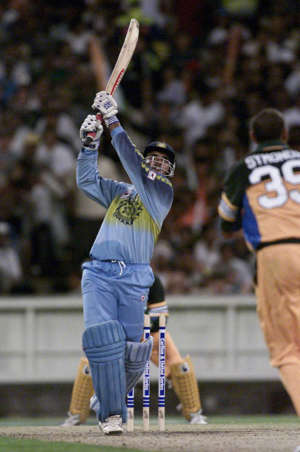 It was a horrible tour of Australia in the summer of 1999/2000. They were whitewashed 3-0 in the Tests by an Australian team that destroyed everybody in their track. India lost a thriller in the opening match of the Carlton and United Limited-Overs Series to Pakistan in Brisbane. In Melbourne, they contained Australia for most part but Ricky Ponting's sixth ODI century helped them to 269/7. After a slow start, the match sprung to life, thanks to a sublime century from Sourav Ganguly and a 109-run stand with Rahul Dravid. Ganguly notched up a magnificent hundred while Dravid scored a gritty 60. However, Ganguly's run-out saw some irate Indian fans hold up play at MCG for 17 minutes. The incident did not affect Australia as they sealed an 28-run win.
5. So near, yet so far for India (Result: India lost by 18 Runs; Melbourne, January 2004)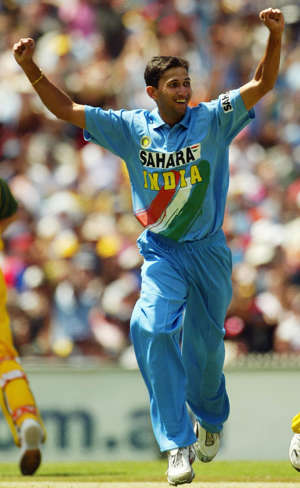 Compared to their previous visit in 1999/2000, India enjoyed great success in the 2003/04 season. They had won a Test in Australia after 22 years thanks to Dravid's brilliant 233 and 72* in Adelaide. They drew the Tests 1-1 and they were high on confidence. Ajit Agarkar, the other hero of the Adelaide win, picked up 6/42, his best haul in ODIs as they restricted Australia to under 300. It took a gutsy 88 from Andrew Symonds and 63 from Michael Clarke to help the hosts reach 288 in 48.3 overs. India responded with 257/4 and were poised for victory with Ganguly batting brilliantly on 82. However, Yuvraj Singh's dismissal and Ganguly's run-out triggered a collapse which saw India lose six wickets for 13 runs to lose the match by 18 runs.
6. A Very Very Special Laxman breaks the Jinx (Result: India won by 19 Runs; Brisbane, January 2004)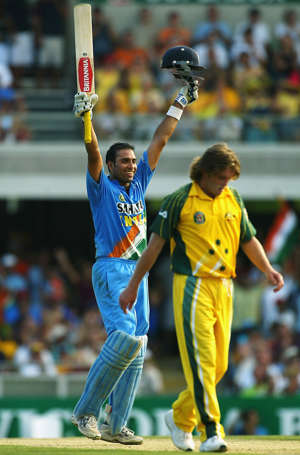 India came out all guns blazing in Brisbane with Sachin Tendulkar scoring a majestic 86. The surprise package was Dravid, who found the gaps clinically to race to 74 off 64 balls. However, it was Australia's prime nemesis, VVS Laxman who continued his glorious form. He shared a 133-run stand with Dravid and he notched up his century when he smashed an Ian Harvey full toss to deep midwicket. The boundary not only brought up Laxman's ton but also helped India get past 300 for the first time in Australia. Irfan Pathan and Laxmipathy Balaji capitalised on the good work by the batsmen and they never allowed Australia to settle. Pathan finished with 3/64 while Balaji picked up 4/48 to give India a 19-run win. This was India's first win against Australia after 11 ODIs. India's score of 303/4 remains their highest ODI score in Australia.
7. Sachin Tendulkar wizardry in the land of Oz (Result: India won by six wickets; Sydney, March 2008)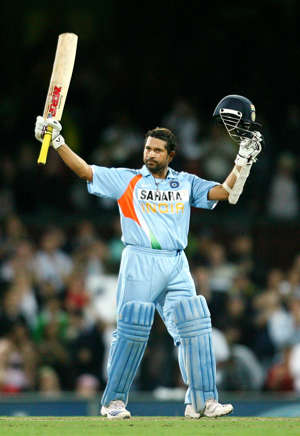 It seemed strange that the wizard of batting had not touched magical heights in the land of Oz. However, cometh the big occasion, cometh the man and Sachin Tendulkar responded in grand style. After India restricted Australia to 239/8 in the first final of the Commonwealth Bank tri-series, Tendulkar punished the Australian bowlers at the SCG. With India in trouble at 87/3, Tendulkar joined Rohit Sharma and they shared a 123-run stand for the fourth wicket. When he knocked James Hopes to point in the 42nd over, Tendulkar finally broke the jinx and registered his first hundred in Australia. His unbeaten 117 helped India win the first final and build a base for bigger glory.

8. India finally achieve glory in Australia (Result: India won by nine runs; Brisbane, March 2008)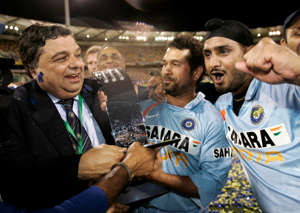 Following their victory in Sydney, India were a step away from glory in the second Commonwealth Bank semi-final in Brisbane. Once again, Tendulkar came to the fore with a magnificent 91 and India finished on 258/9. Praveen Kumar proved to be wonderful with the ball again and he ran through the top order by taking three quick wickets of Adam Gilchrist, Ricky Ponting and Michael Clarke. Matthew Hayden's 55 and Symonds solid 44 kept them in the hunt but once Harbhajan Singh claimed Symonds' wicket and Hayden was run-out by Harbhajan, India sensed victory. James Hopes' valiant 63 kept Australia in the hunt but they fell short by nine runs to gift India their first victory in a tri-series tournament in Australia.
9. MS Dhoni's 112-metre monster hit sinks Australia (Result: India won by four wickets; Adelaide, February 2012)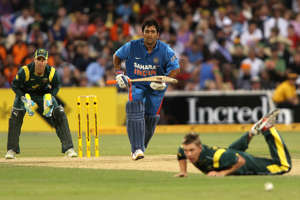 David Hussey's 72 and Peter Forrest's 66 helped Australia to 269/8 on a placid Adelaide Oval track. Gautam Gambhir's 92 kept India in the hunt and some valuable knocks from Rohit Sharma (33) and Suresh Raina (38) ensured the run-rate never got out of hand. However, it was left to Mahendra Singh Dhoni and his finishing prowess on that night in Adelaide were special. With 12 runs needed off the last four balls bowled by Clint McKay, Dhoni seized the initiative by launching a length ball way back into the stands at wide long on. The distance of the six was 112 metres and Australia never recovered from that telling blow. McKay bowled a waist-high full toss next ball which Dhoni thumped to the on side for a couple. Three runs were needed off three balls. Dhoni calmly pulled the next ball to deep square leg to seal a great win.
10. India feel Mitchell Starc fury in Melbourne (India lost by four wickets; Melbourne, January 2015)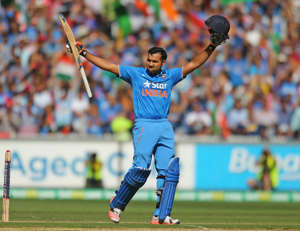 Rohit Sharma was playing on a different pitch as India looked to seize the initiative. Mitchell Starc was in the form of his life with the ball. Both these players tried hard to give their team the upper hand. Rohit blasted 138, only the second Indian in history to score a hundred at the MCG, and it included nine fours and four sixes. India managed only 267/8 due a magnificent haul of 6/43 by Starc, which was his best haul in ODIs at that time. Aaron Finch's 96 never gave India a chance and they lost the match by four wickets. India never managed to defeat Australia in the whole summer, going down even in the World Cup semi-final in Sydney by 95 runs to the eventual five-time world champions.
Slideshow: India's sport stars who might retire in 2016