India lead by 403 after Kohli, Rahane fifties

Wisden India
05-12-2015
South Africa's batsmen may have had thoughts of home and hearth on their minds as they hurtled to 121 all out on the second day's play, but the bowlers showed they were here to fight the good fight, making India work for each of the 190 runs they scored on Day 3 of the final Test at the Ferozeshah Kotla in Delhi, as the lead swelled to 403. Four wickets were blasted out, and another would have fallen had Imran Tahir only kept his landing foot behind the crease as he won an appeal for caught behind against the hero of the day, Virat Kohli.
India began the day in a position of supreme comfort, their healthy first-innings lead ensuring they began the day virtually on 213 for no loss. But, South Africa were in no mood to let India motor, or the match meander. Morne Morkel and Kyle Abbot had their tails up, and both bowled their hearts out and appealed their lungs out in a fiery spell that embodied all that is good about Test cricket.
M Vijay was the first to suffer, an extreme effort ball from Morkel lifting prodigiously to clip something on the ducking and bobbing batsman on the way to the keeper. Vijay thought the ball had gone off his forearm protector – and in indicating as much may have earned himself an invitation to tea with the match referee – but the umpire adjudged that the ball had gone off glove.
Rohit Sharma was promoted to No. 3 on a day when the brief was just to go out there and bat. The stage was perfectly set for Rohit to enjoy a lazy batting day, no pressure from the scoreboard, no hindrance from the match situation to play one way or another. Unfortunately for Rohit, though, Morkel was not in the most accommodating frame of mind and sent down a rocket first up. The ball, delivered at pace, slanted in, pitched and straightened just enough to detonate the off stump. If he needed one, here was a cruel reminder to Rohit that cricket is essentially a one-ball game if you're a batsmen. When he had the chance in the first innings, he threw his wicket away with a mindless stroke, when he desperately wanted to make up for it, he got a ball that would have defeated almost any right-hand batsman to play the game.
The hat-trick ball was safely negotiated, and Cheteshwar Pujara began repair operations with Shikhar Dhawan at 8 for 2. The two stuck it out, seeing off 22.5 overs for only 45 runs, negotiating reverse swing, meeting discipline with stout bats and making no mistakes against spin. But, just as the Indians have shown all series, South Africa's bowlers proved that the feeling of getting your eye in or being set was a fleeting, illusory one in these conditions. When pressure builds, it's only a matter of time before an unanswerable question is asked.
It was Dhawan (21) who received the thunderbolt, in the form of a yorker that crashed into the base of leg stump, tailing in late and giving the batsman no chance to bring his bat down in time to keep out the red cherry. Morkel initially believed the ball had struck Dhawan's boot – a broken toe would have most certainly resulted had this happened, forget about the lbw – and when he realised that the stumps had been discovered, went from appealing to a satisfied smile that would have done any cat licking the cream off his whiskers proud.
As is so often the case, when two bowlers strangle the batsmen, a third walks away with a wicket. Pujara (28), pushed onto the back foot by Morkel and Abbott, stayed there to Imran Tahir, a brisk non-turning legbreak delivered at 94 kmh skidding off the surface and sliding past the outside edge to disturb the furniture.
Ajinkya Rahane and Kohli, the two form batsmen from the first innings, continued from where they left off, completely at ease against the bowling when Tahir won a confident appeal from Bruce Oxenford. Kohli shaped to cut, the South Africans were sure they had their man and when the finger went up Kohli gave the umpire the kind of stare that would have reduced him to ashes if looks could kill. After what felt like an eternity, Kohli abdicated his crease, only to have his walk to the dressing-room halted by the umpire checking for the no-ball. To Kohli's relief and South Africa's lasting dismay, Tahir had overstretched.
From that moment on, however, Kohli was on song: not in the manner of a full-throated nightingale but like a bard at the top of his powers, in total control of tone, tune, rhythm, meter and phrase. There was a degree of control to Kohli's batting that gave the bowlers no chance at all, that negated whatever variable bounce there was on offer and dictated terms ruthlessly.
After 115 pairs had tried and failed in this series, the first century partnership came up, Rahane sealing up his end as Kohli cut, drove, pulled and punched his way to an unbeaten 83 that took India's lead to a mammoth 403 on a ground where nothing larger than 276 has ever been successfully chased. Rahane, a touch slower, having scored only five boundaries to Kohli's 10 off nearly an identical number of deliveries, reached 52 as India ended the day on 190 for 4. In cricket, only the most ambitious attempt to foretell how things might unfold, but there was an air of inevitability that hung over the Kotla much like the soupy smog that blankets Delhi at this time of the year: Kohli looked good for a hundred, and India for a big win.
Slideshow: Virat Kohli: Rare and unseen images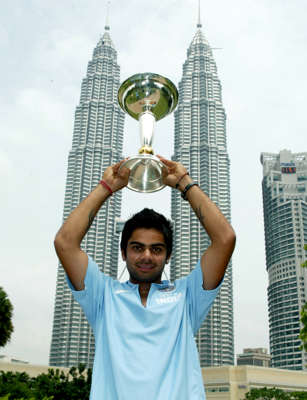 Virat Kohli: Rare and unseen images