India remain solid after Smith masterclass

Wisden India
17-03-2017
For a tick over eight and a half hours, India just couldn't dislodge Steven Smith. Two captains had a go at him, with express pacemen and the quality spinners jointly occupying the No. 1 slot among Test bowlers. New ball and old were employed, but Australia's skipper remained unmoved.
Full scorecard: India vs Australia, 3rd Test
Batting with the patience of Job and the poise of a Zen master, Smith defied India for 361 deliveries in making the highest individual score by an Australian captain in this country. Along the way, he had stirring support from various quarters, none more so than Glenn Maxwell, who celebrated his return to Test cricket after two and a half years with his maiden century.
The only time Smith showed any urgency was when Josh Hazlewood, the last man, was run out through slick work from the fielder-bowler combination of KL Rahul and Ravindra Jadeja respectively to end the Australian charge at 451, 72 minutes after lunch on Friday (March 17). Initially slow to react, Rahul hared around from 45 towards square-leg to rifle a wide return to the bowler. With his back to the stumps, Jadeja gathered the ball beautifully and back-handed it on to the stumps.
Hazlewood stuck around, waiting for the third umpire's decision. By then, Smith had almost sprinted to the edge of the boundary, certain that his partner hadn't made his ground. As with most things through the first two days of the third Test at the JSCA International Stadium, Smith got this one right too.
India, feisty and combative, replied in kind. Riding on a 91-run opening stand between KL Rahul and M Vijay, the home side battled through to 120 for 1 at the close, still 331 behind with this Test finely balanced.
Photos: Cricketers — Then and now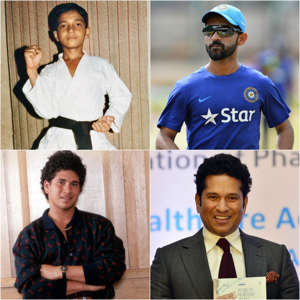 This was the ninth time Australia had made 400 or more in the first innings of a Test in India. Chasteningly for the visitors, only one of those games has brought them victory. There have been four Indian wins and that extraordinary tie in Chennai in 1986, and while Smith might not have been big on history, he would have known that only half the work had been done as he gathered his troops.
Over in the other dressing-room, the Indian warriors knew they had their work cut out. While still not diabolical by any stretch of the imagination, the pitch was beginning to show signs of wear and tear, and more than nine hours on the park had sapped the team of physical energy. Furthermore, even though Virat Kohli was available to bat at No. 4, India were not going to risk the captain at that position.
It was therefore incumbent upon Rahul and Vijay to make sure that they gave their skipper as much breathing time as possible. In their own different ways, the two right-hand opening batsmen answered the call of the hour in wonderful fashion during their first half-century alliance since the Kanpur Test against New Zealand in September.
Rahul has been India's lone form batsman this series, coming into this game with three half-centuries in four innings. At one time an all or nothing player, he has started to show the consistency that teams crave from their openers, and he once again showcased a tight defence and pleasing strokeplay to continue to stack up the runs with great grace.
---
---
Vijay, easily the more senior partner who is in his 50th Test, has tailored his game to the demands of the longest format. Having missed the Bangalore victory with a shoulder injury, he was determined to graft his way to a meaningful contribution. His judgement outside off was sound as ever, the choice of which balls to leave and which to play at impeccable. 

The somewhat variable bounce called for watchful circumspection fused with judicious strokeplay, and while Rahul got the perfect mix, Vijay was content to chug along in his partner's wake. Hazlewood and Pat Cummins, playing his first Test since his debut in November 2011, tested them with a hostile, pacy first spell, and there was purchase for both Steve O'Keefe's left-arm spin and Nathan Lyon's offspin, but it was both slow and from areas that were not going to trouble right-hand batsmen too much.
Undaunted by the magnitude of the task, Rahul gave full vent to his positivity, standing up tall to counter the bounce Australia's tall pacers got and punching both Cummins and Hazlewood off the back foot. Smith turned to spin early without much luck, and as the ball got older, he brought back the pacemen to use whatever reverse-swing there might be.
In the end, it was a slower bouncer from Cummins that did the trick, gripping and following Rahul to elicit the glove as he tried to drop his hands. It was excellent reward for a tireless six-over second spell from Cummins and gave Australia an opening, but Vijay and Cheteshwar Pujara saw India through to stumps without further damage.
In the morning, with the second new ball just four overs old, Ajinkya Rahane predictably went with Umesh Uadav and Ishant Sharma first up. There was a defensive touch to the field, understandable because Australia already were 299 for 4, but with third-man untenanted, that's where three of the first four boundaries went, all of them not intentionally.
From the early exchanges, it was clear that Smith was going to continue to drop anchor, and the rest would bat around him. Maxwell, kicking on from 82, quickly got into and through the 90s before spending an anxious nine deliveries on 99; Umesh eventually offered him width and Maxwell cashed in gleefully, slashing hard over gully for his ninth four that made him only the second Australian after Shane Watson to score a century in each format at the international level.
It was just reward for an innings of admirable restraint, but he was then sucker-punched by Jadeja, who kept ripping the ball across him often enough to elicit an outside edge that nestled in Wriddhiman Saha's gloves. India's delight at terminating the 191-run fifth-wicket stand would have been somewhat tempered by the disturbance on the surface when the ball landed before turning.
Matthew Wade arrived in a blaze of boundaries as Rahane stuck to the Kohli ploy of pace at one end and spin at the other. R Ashwin was kept off the attack for 20 overs and 90 minutes as Wade took the lead in the sixth-wicket alliance of 64 which ended when he edged Jadeja to the 'keeper. The left-arm spinner then produced a beauty that drifted in to Cummins and then turned away on pitching to knock over off-stump, and India had somewhat pulled things back despite Smith's towering march.
With Ashwin not at his best and O'Keefe helping Smith add 51 for the eighth wicket – the fifth 50-plus stand of the innings – Indian heads were just beginning to drop when Umesh lifted the spirits by having the left-arm spinner caught on the pull. Lyon was smartly caught at silly-point off the face of the bat by Karun Nair, and when Hazlewood was run out, Australia had lost 3 for 5. Smith made only 61 of the 152 runs Australia added on day two, but it was his reassuring presence that allowed the others to express themselves.