India vs Australia 2017: Ravindra Jadeja delivers a mystery ball again, watch video

The Indian Express
23-02-2017
On a pitch that started to turn square from the first session of play, it seemed like the spinners would have most of the say throughout the day. India's premier spin twins of R Ashwin and Ravindra Jadeja go into the groove within the first twenty overs itself. However, it was left-arm spinner Ravindra Jadeja who managed to pull off a rare mystery delivery which brought smiles on everyone in the field. Though this is not the first time that Jadeja has managed to pull off such a delivery.
Full scorecard: India vs Australia, 1st Test
In the 57th over, Jadeja with his tail up made a real hash of his second delivery to Peter Handscomb as it bounced twice on its way past the batsman. Handscomb in turn tried taking a decent old swipe at it but missed it and then had a laugh. He wouldn't have been smiling if he'd nicked it.
The ball actually slipped out of Jadeja's hand, as it got stuck to his palm, scooted along the surface outside off which resulted in giggles all round, especially by the batsmen and the bowler. Technically, it should have been called a no-ball. As per the rules of the game if the ball bounces more than two times then it is supposed to be declared as a no-ball. However, umpire Nigel Llong did not signal anything and had Handscomb edged it then who knows what might be the result. Wicket-keeper Wriddhiman Saha was ready to go up as there was every chance of getting the batsman out caught behind. 

However, Jadeja quickly went back to business and then produced one of his more typical no-balls, somehow over-stepping again.
Photos: 'Unique' world records held by Indian cricketers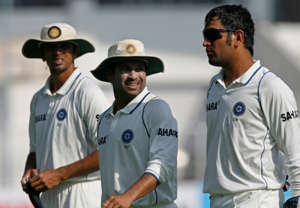 ---
---