India vs Australia: After Test, high-pitch battle

The Indian Express
01-03-2017
The Maharashtra Cricket Association (MCA), which hosted the first Test between India and Australia in Pune, is not worried about match referee Chris Broad's assessment of the pitch. Broad rated the deck as "poor" and the world body, in turn, has asked for an explanation from the BCCI. Pune hosted its first-ever Test from February 23, which India lost inside three days by 333 runs.
Possible ICC sanction might follow, but MCA president Abhay Apte sounded very confident. "I don't see that happening, frankly speaking, because of the reason that I have with me. As far as today's issue is concerned, the BCCI hasn't forwarded anything to us or called for our explanation. If that is asked, we will definitely give details to them. I'm awaiting a communication from the BCCI. (And) We will give an adequate reply," Apte told The Indian Express.
Asked what is adequate, he said: "Adequate is substantiated by something. Otherwise it would be inadequate. We believe in fairness and believe that fairness will prevail. We feel we did no wrong."
The ICC release said: "Broad, in accordance with Clause 3 of the ICC Pitch and Outfield Monitoring Process, submitted his report to the ICC in which he expressed concern over the quality of the pitch."
Former MCA president Ajay Shirke described the whole matter as "pitch-fixing", while demanding a CBI inquiry to unravel the truth.
"The entire cricket board went through a major upheaval in the name of transparency and accountability…The Maharashtra Cricket Association Stadium pitch has always been seamer-friendly. If you check the Ranji Trophy record (at this venue), it will be evident. Just three-four weeks ago, over 700 runs had been scored in an ODI (between India and England). Now suddenly what happened to the very same curator! Did he go mad? Did he lose his sense? Was he intoxicated? What happened?
Photos: India vs Australia — Greatest Test innings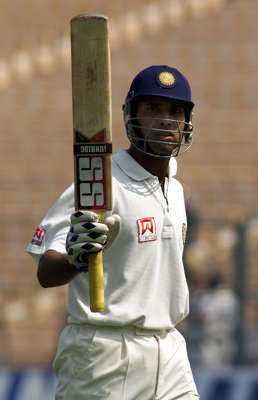 "Let us get to the bottom of pitch-fixing in this era of transparency and accountability. Let there be a CBI inquiry and find out who spoke to whom. Too many people have operated under cover of darkness for too long. This is a no-win situation for the poor association that it is being made the villain, while the real villains are hiding somewhere else," Shirke launched a broadside.
This paper has already reported, quoting an MCA member, how "things were hijacked from the local curators" as the Indian team management insisted on having a rank turner. This was despite MCA chief curator Pandurang Salgaoncar explaining to them as well as BCCI curators and employees that the Pune pitch, made of mixed soil, required a little bit of grass and some moisture to last the distance.
The match referee had earlier sent an internal note to the ICC that practice pitches and the match wicket differed in nature. The state association has kept an internal record of the whole sequence in writing and it is learnt that it will be forwarded if an explanation is sought.
As per the ICC pitch and outfield monitoring process, a pitch is described as "poor" if it offers excessive seam movement, and/or displays excessive unevenness/inconsistency of bounce and/or offers excessive turn from the beginning and/or is completely deadpan.
---
---
Two seasons ago, the Nagpur pitch was given a "poor" rating by Jeff Crowe, who was the match referee for the third Test between India and South Africa. The match, played from November 25, 2015 also finished inside three days, with India winning by 124 runs. Spinners bagged 33 wickets in that Test. In Pune, India and Australia tweakers collectively accounted for 31 scalps.

The Nagpur pitch got away with an "official warning" after its first offence. Pune, too, faces the possibility of a warning and/or pecuniary penalty not exceeding $15,000.
The ICC chief executives committee meeting in the first week of February decided to crack the whip on substandard pitches by introducing demerit points. "It was agreed that a system of Demerit Points be introduced, similar to the new Code of Conduct System, as per the table below. Demerit points will remain active for a rolling five-year period. When a venue accumulates 5 Demerit Points, its ICC accreditation will be suspended for a period of 12 months. Should a venue reach 10 points, its accreditation will be suspended for 24 months," the release said. Three demerit points for a "poor" pitch has been agreed upon. For "below average" and "unfit" pitches, demerit points are two and five respectively. Pune's Test journey could begin with a serious handicap.
Starc expects another dry wicket
Reuters adds from Bangalore: Australia paceman Mitchell Starc reckoned he and Josh Hazlewood would have to shoulder more responsibility in the match starting on Saturday. "I'm sure it will be a pretty dry wicket again, so that'll probably help reverse swing there and it's something we'll be working hard at all the time in the nets," said the 27-year-old.