India vs England, 2nd Test: Bullet loaded, revolver spun, prayer said

The Indian Express
17-11-2016
Around noon at the Vizag stadium, a man carrying a can walked from one end of the pitch to another spraying water. Several curious England cricketers from Joe Root to Zafar Ansari walked alongside him, peering closely at the track. It was obviously different from the watering done in England. Here, it wasn't done to freshen the grass but to ensure the pitch doesn't get too powdery and crumble early.
But all signs — from the curator talk to the Indian captain who invoked history here — suggest it would help the spinners a lot. How much, of course, remains to be seen, but in case it does a lot we have a fascinating Test on our hands. Considering that the Indian batsmen too aren't all that flash against spin, we could have a bit of Russian roulette in Vizag.
What is the technique of Indian batsman against spin? If anyone had asked that question in the 80s, 90s or even in the last decade, it would have been easy to answer. One could even describe various batsmen's technique in detail; most of it would have involved an early reading of the ball and the use of wrists and feet — the best would go both ways. But it's not a question that can be answered easily these days as often there is little difference between the Indians and visiting cricketers.
For some reason, Ajinkya Rahane has decided that he would bat from well inside the crease. It's a move that cuts him off from both directions — he was so far back at Rajkot that he couldn't press back without trampling his stumps. He was so back that the forward press hardly got him to the pitch of the ball and the bowlers could easily land them fuller. It's a good idea to play back, but it's best done when you have space to move back. That movement allows the batsman some time to shift the weight back, get the hands moving, create their own length to punch or defend. By standing too far back, Rahane denies himself that luxury and it was no surprise to see him cramped for room, and forced to move sideways to the on side. It opened up his body and stance too much, and he was no longer in control.
Photos: 25 world records held by Indians in Test cricket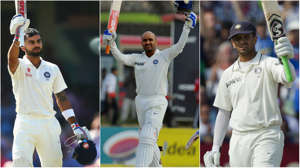 Consequently, he ended up making some poor shot selections.
Cheteshwar Pujara is a batsman who can press forward and back adeptly, and when in flow, is a fine batsman against spin. But even he can be a touch iffy on occasions, pushing his bat a touch indecisively ahead of the body. He almost hangs his bat out loosely, opening up a gap between bat and pad or following the ball. It usually happens when he isn't sure about the extent of drift the spinner is getting. It was seen in the two dismissals he had against Moeen Ali in the 2014 series.
"I knew Moeen would bowl slightly quicker through the air and also anticipated his trajectory," Pujara had told this newspaper earlier this year. "It was the drift that got me. Perhaps, it's because of his high-arm action, but he gets nice drift. Both out and in. And I had seen the ball turn a bit. One time, the ball drifted away and I sort of followed it, and edged to the slips. It's the drift that can create problems for batsmen who are used to playing turn."
Murali Vijay's is a curious case. When he was young, he had impressed the then Tamil Nadu coach WV Raman in a Ranji game on a rank turner by his decisive foot movement. These days, even he can sometimes be loose, going for an iffy sweep shot without getting his body down or letting his hands go forward without the body leaning into the shots. He has such lovely hands, to use the cricketing lingo, that he sometimes depends a tad too much on them to get him out of trouble — the bat would glide forward, well ahead of the body, but the danger creeps in when it turns and bounces more than he anticipates.
It would be interesting to see how KL Rahul goes about his job. A good player of pace, he hasn't been tested much on turners, or at least one hasn't got much opportunity to see him in such conditions. On Wednesday, in the spinners' nets, he seemed eager to get forward as much as possible. He was stranded down the track by a Mishra legbreak, hurried by a Anil Kumble special that jumped – oh yes, Kumble not only bowled, but barring Ashwin to an extent, he looked the best spinner out there, troubling nearly everyone who batted against him. But it was just a net session, and one has to wait for the actual match to see how Rahul does.
---
---
Kohli was really good in the second innings at Rajkot. He was the batsman most decisive with his footwork, and he also took care not to hang his bat too far ahead of the body where he might have lost control. When he moves back, he does an interesting move with his left foot— it almost dangles in the air, an act that allows him not to get locked-up in position (as opposed to Rahane), and lets his hands and wrists take control.

When needed, Ashwin can stretch well forward to smother the turn. For the major part, he hardly moves much at the crease, focusing on balance and letting his hands/wrists do the job. It's in trying the cute stuff — like a sweep shot where he seems to want to send the ball at such an acute angle behind the stumps or trying to late cut that he can get caught out a bit.
The lower order don't inspire much confidence. Ravindra Jadeja's batting has slipped rapidly and it's a problem that this team recognises. Yesterday, he was made to bat for long first, before he bowled. He too was troubled by Kumble, but looked at ease against Mishra, and tackled Ashwin with caution.
It's wise to note Kohli's words about how this is a young and learning team. The other day at Rajkot, he said, some of them learned how to bat to draw a game and how the pressure of batting for a draw is sometimes bigger than going for victory. It's almost the same against spin, too. As most of them play non-stop on the international circuit, the first-class experience of playing spin has eluded them. It's no surprise then that there is no fixed pattern/technique. We are seeing these young talented batsmen evolve, learn on the job, and Vizag would be another learning curve.
The England way
The team that came with a definite plan to India —an easily identifiable team plan —was South Africa that had Jacques Kallis. Perhaps it was him who triggered it, but most top-order batsmen would almost take the off-and-middle guard and look to press back. It's quite similar to what Darren Lehmann and Damien Martyn did on a successful tour of Sri Lanka in 2004, but the South Africans took it further. It was almost adopted by the entire team.
Even Neil McKenzie, not usually bracketed among the top batsmen in history, was seen doing that, and successfully. Stay outside the line almost and press back if in doubt. The off spinners were then forced to bowl wider, outside off, which of course upset their own rhythm, and the resultant turn wasn't much and was easily tackled by the batsmen.
Somehow, this technique hasn't quite caught on with other teams who, understandably, have left it to individual batsmen to work out their own technique. Some like Kevin Pietersen stand out, smothering turn with his incredible reach.
Watch: Virat Kohli's debut ODI innings
In this England team, Joe Root impressed with how decisively he moved forward and back at Rajkot. It would be interesting to see if he can do so on a turner where the ball can play tricks — from extra bounce to not turning as much as one thinks it would.
Moeen Ali seems more comfortable on the front foot, often going forward to even length deliveries and letting his wrists handle the deviation. It's one thing to do that at Rajkot, but how would he fare on a turner? He can't just lean back but needs to retreat inside the crease on occasions to give himself time to cope with the turning ball. If he keeps just pressing forward, he will keep the close-in fielders very interested.
Alastair Cook has, of course, been there and done it on Indian pitches. He is one of those who uses his height really well, and also keeps bringing in the sweep to throw off the bowlers. Unlike other tall batsmen, he stays pretty low, and that allows him to rise with the bounce and tackle it better.
It's too early to pass a comment on Haseeb Hameed, who was pretty good at Rajkot, hardly ever caught at the crease playing an indecisive push. Ben Duckett, on the other hand, has an interesting method. He seems to be one of those batsmen who like to stay away from the ball, and give themselves space to manoeuvre. He kept moving his front foot towards the leg side, opening up the body. It's an iffy way to play spin on a turner as he could be forever chasing balls away from the body and edging them. But let's wait and watch to see whether that was an aberration or his preferred rote.
All said and done, as long as they don't overdo the turning tracks, there is something magical in watching a batsman come good against spinners. Sadly, it's an increasingly rare sight these days; here is hoping India and England batsmen surprise and delight us.