India vs England, 4th Test: Another giant step for Jayant Yadav, a ton

The Indian Express
12-12-2016
Jayant Yadav received a call on the second evening of the Mumbai Test. On the other side of the line was Anirudh Chaudhry, the BCCI treasurer and Haryana Cricket Association secretary. Haryana had qualified for the Ranji Trophy quarterfinals earlier in the day. And once they were done exchanging congratulations, Chaudhry wanted to know whether Jayant would be available for the last-eight clash that is scheduled to commence on December 24.
"'Of course sir' he told me. I then asked him jokingly to use the batting opportunities in the Test at Wankhede as practice for the Ranji quarters. He laughed and said he would make the most of it for sure," Chaudhry tells The Indian Express.
Maybe Jayant took Chaudhry a bit too seriously. For, he not only made optimal use of his outing on Sunday like he'd promised but went on to become the first No.9 in Indian cricket history to score a Test century, in his third match no less.
Jayant's impressive entry into the highest level hasn't surprised anyone who's followed his gradual rise in Haryana cricket. Even so not many, including Jayant himself, would have expected him to notch up a three-figure score in Test cricket before, say, a five-wicket haul. Not because they weren't aware of his all-round abilities. But more so considering the 26-year-old off-spinner was a bowling-obsessed youngster who wasn't even aware of the extent of his batting skills till one age-group match eight years ago when he was sent to open the innings against Mumbai.
Photos: 'Unique' world records held by Indian cricketers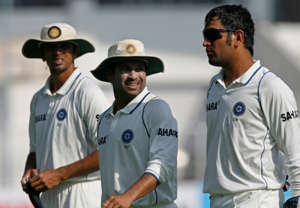 "He was extremely focused on his bowling and would spend hours developing it in the nets. But whenever the team was in trouble, say four or five down for not many, Jayant would invariably save the day. He was such a natural batsman and could use his long reach to drive and cut deliveries with such grace. See the shots he played off Moeen Ali today. Back then I used to be after him saying batting karo, batting karo in practice," recalls Vijay Yadav, former India stumper and Haryana U-19 coach.
Jayant was out without scoring in the first innings in that game against Mumbai in Visakhapatnam. But in the second, he lasted nearly 18 overs, scoring a defiant 39.
"He came back to the dressing room and said, 'this innings has convinced me that I can score runs at this level and play as an all-rounder'. The conditions were tricky and the bowling really good but he looked so composed and comfortable out there," says Vijay.
They are probably the two words that describe Jayant's still-nascent Test career so far. He's not just looked composed with ball in hand but, as skipper Virat Kohli revealed, he's been comfortable enough to go about setting his own fields. It's while he's batting, though, that the seamlessness with which Jayant has taken to Test cricket shines through. In each of his first three outings, he produced a useful and, more importantly, game-influencing score and looked good for more. Sunday's 104 was just the deserved culmination.
Jayant was agonisingly two runs short of the century mark at the lunch-break. Emotions had anyway been running high in the Yadav household in New Delhi all morning. But now they were at fever-pitch. Jai Singh Yadav is no stranger to cricket achievements. As a left-arm spinner, he represented the state at the junior levels and was a mainstay in the Air India team for years. He later managed the team for long. Having rubbed shoulders with Kapil Dev during his playing days, Jai Singh also witnessed the rise of VVS Laxman and Harbhajan Singh.
Watch: 'Kohli can still hit his 4th double ton of 2016'
"From even before Bolu (what Jayant is called at home) was born, I've seen enough cricket and cricketers in my life to not get too fussed about watching someone nearing a landmark. But this was my baccha. So obviously there were emotions when he got the run to reach a hundred. Having seen those great players take wickets and score runs at the highest level, I would always wonder whether even my own son could do it. And here he's done it in style," says the proud father. 
Jai Singh is quick to add that his own links to cricket had little role to play in Jayant's progression. "He told me very early to stay out of his cricket, and I've followed it sincerely," he says with a chuckle.
It doesn't mean Jai Singh was prepared to completely distance himself from his son's exploits. Vijay Yadav remembers getting many frantic calls from Jai Singh when he was U-19 coach about whether his son was on the right track. "I eventually had to tell him 'you can't be so worried about a kid like Jayant, sir'. He was so sorted even then, more mature than any cricketer I've seen that age. It's not like he wouldn't have fun and be stuck in the room. But while others were up to the usual shaitaani you expect from boys that age, Jayant was always the adult of the group," he adds.
'Kya baat hai!'
While his batting and bowling have always got him noticed, it's his almost zen-like headspace where he's never fazed by any scenario — almost as if he's immune to sentiment — that Jayant's stood out for. It was evident as he went about nearly matching Kohli stroke for stroke, and scoring almost the same number of runs as the captain in the first session (Jayant scored 62 to Kohli's 65). The English didn't know where to go. They kept bringing in the field when Jayant was on strike to keep Kohli away, but he just kept driving them on the up through the gaps with the same disdain that his partner is renowned for. He wasn't shy of taking on the spinners either on the turning pitch. At one point, Jayant jumped out and launched Adil Rashid against the spin over mid-on for four. As the two batsmen met in the middle for the customary fist-bumps, Kohli pointed at the big-screen at the Wankhede and upon seeing the replay threw his hands in the air and went 'kya baat hai!'.
---
---
Vijay Yadav's kya baat hai moment with Jayant though had nothing to do with any event on the field though. It was more to do with his first interaction with the young cricketer. "I must say it can get a little difficult to converse with most players that age apart from the usual cricket talk. But in Jayant, from our very first meeting, I found someone with whom I could just talk about anything. He is not just a keen student of cricket but of life," he says. 

He also recalls the time Jayant visited him a few years ago when he had to discuss a couple of issues with his bowling and instead got impressed by the coach's book collection. "I told him I had never seen a cricketer his age go anywhere near a book. And here he was telling me about his collection. He borrowed a book from me, which he's yet to return though," he quips. "And whenever I inquire about it, he asks me to let it go and insists he will give me two other books in exchange."
These days, books might have given way to intense shows on Netflix. But 'That Winning Feeling' by a former Olympian that talks of mental toughness is a book that Chaudhry recalls having shared with Jayant a couple of seasons ago, only to realise how inherently the young all-rounder could relate with it. And Friday wasn't the first time that the senior official had called him during a match.
"From the junior level, Jayant was always the one whose views I would generally ask for, whether it was about a match situation or the kind of pitch we needed for a particular opposition or say a strategy. I knew I would get an honest opinion. That's the kind of trust I had in him," says Chaudhry.
At times it can get a tad difficult to be objective or put things in perspective when all you hear about someone is overwhelming praise. To stop yourself from wondering whether it's all too good to be true. For now, in terms of what he's done in the embryonic stage of his Test career anyway — be it his bowling, his maiden ton or the use of the word 'holistic' in the press conference — Jayant Yadav, to his credit, has not only lived up to it but added a few layers along the way.