India vs England: How England put a plan in place and stopped Virat Kohli

The Indian Express
19-12-2016
Finally, the English found a way to get rid of Virat Kohli, before he could get even close to hurting them. It might have come four Tests too late. It might have come after Kohli has run them ragged and thrashed them into submission for close to four weeks. You just have to look at his run of scores-40, 49 not out, 167, 81, 62, 6 not out and 235. That's 640 runs at an average of 128.
But still in what is likely to be his final innings of the series, the visitors managed to get the better of him. Funnily this was also the flattest wicket or at least one where the bowlers have received least respite from in the whole series.
Photos: 25 world records held by Indians in Test cricket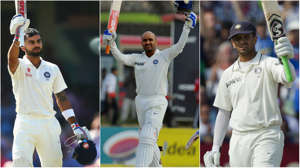 One on which England would have been wary of how much more Kohli potentially could punish them. They'd already seen KL Rahul and even Parthiv Patel look at consummate ease.
Incidentally, it was Ben Stokes who welcomed Kohli at the crease. And the first three deliveries he bowled to him were short of a length, the first an actual bouncer. Alastair Cook thought it prudent to operate with debutant Liam Dawson from the other end. Kohli of course had little trouble in dealing with him.
Temptation tactic
Then on came Stuart Broad. It seemed pretty obvious what the plan was from the very first delivery as Broad drifted slightly wider than usual outside off-stump. The field wasn't anything extraordinary but was set according to the plan in place. Three fielders stood manning the off-side — backward point, point and a short cover. But they were fine, hoping to catch the edge that would obviously carry in that direction. By the fifth and sixth deliveries it was obvious that Broad's tactic was based on the simple principle of 'temptation', or making the drive as irresistible as possible for Kohli while dragging him as wide as possible. He started the next over with the same line, but Kohli was careful enough to stretch himself far enough to meet the ball on the full. Then Broad decided to change the line of attack. As a result he brought his off-side cordon squarer with all three men moving a few yards to their right with Keaton Jennings coming into a more orthodox position at short extra cover. It wasn't the edge that Broad was after anymore.
---
---
The first delivery was left alone. The temptation was resisted. The next was not as full as the earlier one, maybe even wider than the previous one, and had Kohli stretching with his bat reaching for the ball. The connection was slightly high on the bat, and the ball only managed to meekly reach Jennings' hands at his position. Just like that, Kohli was gone.

It didn't seem to matter that they were 3-0 down and that they still had a long way to go in this Test. For once, the entire English contingent jumped and celebrated with unabashed emotion. That Rahul and Karun Nair ruined the rest of their day is another matter. The premature Kohli dismissal was also a sign of how much England have missed Broad in the last two Tests.
Broad has certainly looked more threatening in the three Tests he's played than Anderson. It was only during his wonderful spell in Vizag that Kohli looked slightly troubled all series, and it only seemed fair that he was the man to bring the Indian captain's gluttonous run to a halt.