India vs England: How the English press reacted to the 4-0 series loss
As England suffered a crushing defeat at the hands of India in the fifth and final Test in Chennai and lost the series 0-4, the English media have strongly criticised the touring team and its captain Alastair Cook for the debacle. Cook, who had hinted at quitting the captaincy, has also been criticised by former English players, according to whom he should not consider his place in the team as granted.
Bob Willis says England's "millionaire" players should be ashamed of themselves after slumping to a 4-0 series defeat to India.
Alastair Cook has admitted he is no longer sure he is the right man to captain England after his side suffered their second successive innings loss to India to slump to a 4-0 series defeat.
Alastair Cook admits his captaincy is now in doubt
The lack of cutting edge from England's bowlers meant that chances were not created that often. Of those that were several crucial ones, Virat Kohli in Mumbai, Murali Vijay in Visakhapatnam, were spilled, to great cost.
How English bowlers contributed to India's series win
England's batting was 'diabolical' as they collapsed to an innings defeat on the final day in Chennai, says Nasser Hussain.
Nasser: England were diabolical
As good as India were, just how bad were England? Here are my player ratings after Alastair Cook's side went 4-0 down on the subcontinent.
England player ratings from the Test series defeat
Alastair Cook has to be 150 per cent certain he wants to carry on as England captain if he decides to continue after this series.
England need Alastair Cook's power and runs at the top of the order
Watch: This is a new Indian team under Kohli — Gavaskar
Photos: World records held by Indians in Test cricket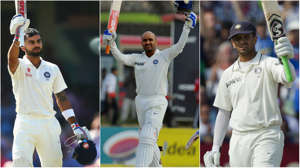 Indian cricketers and their world records in Test cricket