India vs England stats: England's biggest win against India in T20I

The Indian Express
27-01-2017
Statistical highlights from the first Twenty20 International between India and England at Green Park Stadium, in Kanpur on Thursday.
# England's seven-wicket win is their largest victory-margin against India in T20Is. They had won three games by six-wicket margins – one each at Manchester on August 31, 2011, Kolkata on October 29, 2011 and Mumbai on December 22, 2012.
# England have won six and lost three out of nine matches played vs India in T20Is – winning % 66.66.
Full coverage: India vs England Series
# India have lost 9 and won 2 out of 12 matches while defending total of less than 150 in T20Is (Tied one). The win/loss ratio of 0.222 is the worst among the full members.
# Yuzvendra Chahal (2/27) has recorded his best bowling performance in T20Is, eclipsing the 1 for 19 vs Zimbabwe at Harare on June 20, 2016.
# Virat Kohli has opened the Indian batting three times in T20Is – his sequence of scores being 28 vs South Africa at Durban on January 9, 2011; 70 vs New Zealand at Chennai on September 11, 2012 and 29 vs England at Kanpur on January 26, 2017.
Slideshow: MS Dhoni — Life in pictures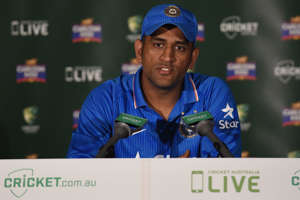 # Moeen Ali (2/21) has registered his best bowling figures in T20Is, eclipsing the 2 for 22 vs South Africa at Cape Town on February 19, 2016.
# Ali has registered an economy rate of 5.25 – his best in a T20I innings when he has delivered four overs, surpassing the 5.50 while recording figures of 4-0-22-1 vs Pakistan at Sharjah on November 30, 2015.
# Ali has been adjudged the Man of the Match for the third time in T20Is – his first vs India.
# Suresh Raina posted his highest score in ten innings in T20Is since hitting an unbeaten 49 vs Australia at Sydney on January 31, 2016.
# With his unbeaten 36 off 27 balls, Mahendra Singh Dhoni became the first Indian player and the fifth to average 50-plus vs England in T20Is – his aggregate being 203 (ave.50.75) in nine innings.
# Only four batsmen with atleast 200 runs vs England have a better average than Dhoni – South Africa's Hashim Amla (72.00), Australia's Aaron Finch (64.20), Sri Lanka's Mahela Jayawardene (53.25) and Australia's Cameron White (50.83).
Watch: Virat Kohli gets Padma Shri
# Eoin Morgan is the first batsman to hit two fifties in India-England T20Is.
# Before his 51, he did not post a fifty in twelve innings in T20Is.
# Morgan became the third captain to post two fifties vs India in T20Is, joining Kumar Sangakkara and Mohammad Hafeez. His first fifty as captain vs India was 71 off 31 balls at Edgbaston on September 7, 2014.
# Morgan's highest score as Captain in T20Is is 74 vs Australia at Cardiff on August 31, 2015.
# Morgan, with 227 runs at an average of 45.40 in six innings is the most by a batsman in India-England T20Is.
# Morgan's tally of 32 sixes is the highest by an England captain in T20Is.
# Morgan became the first England batsman and the twelfth in all to complete 1500 runs in T20Is – his tally being 1511 at an average of 29.62 in 65 matches. His tally includes eight fifties.
# While chasing in T20Is, Morgan is averaging 73.50 – his aggregate being 294 in seven innings, including two fifties. Among the batsmen with atleast five innings while chasing, his average is the third highest next only to the Matthew Hayden (133.00) and Virat Kohli (84.90).