India will rebound ferociously on flat pitches

The Roar
27-02-2017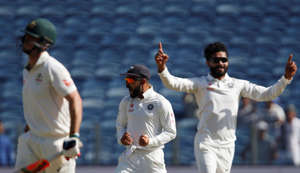 In trying to undo Australia by serving up a rank turning pitch, the Indians only made it easier for the tourists. It is on a fairer, flatter surface that Australia would be more vulnerable, as we saw in Sri Lanka last year.

Extreme pitches foster short, low-scoring matches and so have a tendency to bring the two sides closer together, increasing the chances of an upset. In that way, they are similar to T20 cricket, where the compressed game makes for unpredictable results.
In T20 it is common to see an elite team defeated by a much less talented and accomplished opponent. That is a major part of its appeal. Test cricket, by comparison, throws up far, far fewer shocks.
That is particularly the case when they're played on sporting pitches designed to push the Test into the fifth day.
It's also why I predicted the surfaces for this series would not be dustbowls and instead would be batsman-friendly tracks just like all five decks in England's recent series in India.
I was quite spectacularly wrong, but I'm now willing to go double or nothing and declare we will not see another raging turner in this series.
The fairly placid pitches in India's recent home series against England and New Zealand widened the gulf between the teams. England's batsmen did quite well on those decks, but their Indian counterparts knew the conditions better and outscored them easily.
The truly gaping chasm between the sides created by the flat pitches was in the spin department. The top two ranked bowlers in Test cricket, Ravi Ashwin and Ravi Jadeja, are masters of wringing every ounce of life out of sleepy Indian decks.
England's spinners couldn't go close to matching them, and regardless of what happened at Pune, I'm not convinced Australia's tweakers can either. Steve O'Keefe and Nathan Lyon comprehensively outbowled Jadeja and Ashwin at Pune.
A major factor in their success, however, was the woeful batting of the Indians, who at times looked lackadaisical and at others downright arrogant. The Indian batsmen have dominated at home to such an extent over the past six months that they clearly expected to do the same with ease against Australia.
---
---
© AFP PHOTO/INDRANIL MUKHERJEE India's captain Virat Kohli walks back to the pavilion after his dismissal during the second day of the first Test.

With the ferociously competitive Virat Kohli at the helm it seems improbable we will see such an undisciplined and unfocused display from the Indians at Bangalore. This change in mentality, alone, will make life much harder for O'Keefe and Lyon.
Then there's the fact the Bangalore pitch is very unlikely to offer them anywhere near the same assistance as the surface at Pune.
Lyon's two most impressive performances in Asia both have come on dustbowls – at Pune, where he bowled beautifully, and at Delhi in 2013 when he snared nine wickets in a Test where spin accounted for 29 of the 34 wickets to fall.
Both of those pitches offered him huge assistance, with Lyon earning startling turn and bounce. It is when this help has been absent that Lyon has really struggled in Asia. Putting aside those two Tests on dustbowls, Lyon's average in Asia is just a touch under 50.
O'Keefe, meanwhile, was rendered utterly toothless on a batting paradise at Dubai on his Test debut against Pakistan. The left-armer actually bowled nicely in that match, maintaining his trademark nagging line and length, but on a benign pitch against experts of playing spin in such conditions, he had zero impact.
Slideshow: 25 world records held by Indians in Test cricket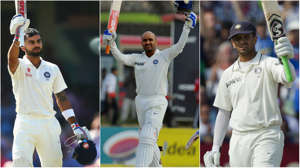 Despite having produced one of the all-time great spin performances at Pune, O'Keefe is far from guaranteed of success if the remaining three pitches in this series are similar to that Dubai road. If the Bangalore deck is brimming with runs I would confidently back Ashwin and Jadeja to outperform the Aussie spin duo.

After having things their own way at Pune, the bowlers from both sides look set for tough labour over the next month. The remainder of the series shapes as a batting shootout between the sides.
In such a scenario the toss of the coin will be remarkably significant, particularly for Australia, who have not coped well with scoreboard pressure in recent years.
If India win the toss on a road and rack up a giant score (they averaged 550 in the first innings against England) the Australians will be under immense pressure. By comparison, India showed against England that they were not at all intimidated by the opposition batting first and churning out a good score.
England made 477 and 400 batting first in the last two Tests of that series, yet both times India incredibly charged to an innings victory. On those flat decks, India looked utterly unbeatable.
This is why it was such a shock they opened the door for Australia by offering up a rank turner at Pune.
Australia won't be so lucky again in this series.
Watch: 'One of India's worst defeats'