Indian batting needs the dynamism of fresh blood

Wisden India
30-01-2017
Yuvraj Singh struggled against Moeen Ali's offspin during India's second Twenty20 International against England at the Vidarbha Cricket Association Stadium in Jamtha on Sunday (January 29).
Moeen had a slip in place and kept Yuvraj guessing for seven deliveries before trapping him leg before wicket against the sweep shot.
It was an ugly passage of play as Yuvraj looked clueless. But to blame him for having found himself in that situation would be unfair. When Yuvraj came out to bat, India were 56 for 2 in 7.4 overs, with just four fours and a six. Having failed to defend 147 in the first game in Kanpur, they were in need of some momentum.
The Yuvraj of past was perfectly suited for the situation, but right now his game is built on the idea of biding his time. He exhibited that aspect beautifully in the second One-Day International in Cuttack, but the T20 clock is faster.
If Yuvraj is in the team to get more game-time ahead of the Champions Trophy, then it is a logical call, but otherwise the line-up would be better off with a few more players who have a consistently higher strike-rate across all blocks of their innings.
Like Yuvraj, Suresh Raina, for whom this is a make or break series in many ways, has looked out of sorts. After missing a leg-stump yorker from Ben Stokes in Kanpur, he hit a googly against the turn from Adil Rashid to break the shackles in his second comeback innings but was caught at deep midwicket.
Photos: 'Unique' world records held by Indian cricketers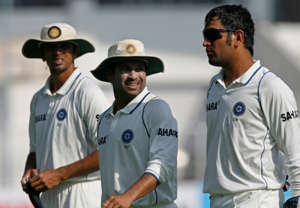 Between Raina's entry and Yuvraj's exit, India made 39 runs in 38 balls, with their contribution being 11 in 22 balls. Aware that his No. 3 and No. 4 batsmen are not in touch, Virat Kohli, who has promoted himself to open because of the absence of an injured Rohit Sharma, has been desperate with his shot selection and got out early. Ideally, he should be the one playing the sheet anchor role and aiming to bat till the end.
India can thank Jasprit Bumrah and Ashish Nehra for the jailbreak five-run win to level the series, but gaps in the T20I batting unit cannot go unnoticed.
India clearly lack hitters both at the top and in the middle-order. Kohli, KL Rahul, Raina, Yuvraj, Manish Pandey and Mahendra Singh Dhoni were India's top six in the first two matches, and all of their T20 game is built around gradual shifting of gears. There is no one with that X-factor currently.
India need not look beyond their opponents to find a better model. Joe Root at No. 3 is England's fulcrum, while Jason Roy, Sam Billings and Alex Hales, who is currently injured, have the mandate to attack right at the beginning of the innings. Eoin Morgan is both an aggressor and an accumulator, and he sets the base for Ben Stokes and Jos Buttler to provide the finishing touches.
India look caught between attack and defence, as playing out 77 dot balls in two games suggests. They have tried to find the boundary, but once that option has been dried up, the batsmen have frozen and not been able to build a stable partnership for an onslaught in the death overs. The failure has left Dhoni stranded in both the games, leaving him with no option but to refuse singles even in the final over.
Full coverage: India vs England Series
So lethargic has been India's batting that they have failed to find a solution against England's slower balls despite being fully aware of the ploy.
It could be argued that India are one of the top T20I teams based on their form. They made it to the final of the 2014 World T20 and the semifinal of the next edition at home in 2016. But one needs to measure the collective batting contribution beyond Kohli in those two events to pass a verdict.
In 2014, Kohli and Rohit were the lone Indians among the tournament's top 20 run-getters, and in 2016, only Kohli featured in the list. In fact, till Rahul's 47-ball 71 in Nagpur, only Kohli and Rohit had made two or more fifties since the 2014 World T20.
This suggests that India have not been able to find solutions to address the issue. To rephrase it, India have not been adventurous enough to try out new batsmen in the shortest format. They have missed the madness and fearlessness of Virender Sehwag, and have been guarded in experimenting beyond the obvious options. That they play very few T20Is between multi-nation tournaments cannot be an excuse.
To expect set players who have a lot at stake to play with a 'nothing to lose' attitude is impossible. The team dynamics will alter again when Rohit and Ravindra Jadeja return, but this series was a wonderful opportunity to spread the net wide and go a bit off-field if required to groom talent. It was the very formula that gave India the inaugural World T20 title in 2007.
Right now, Kohli and Rahul to a certain extent are the only two all-format batsmen in the Indian team. The current T20I squad has Mandeep Singh and Rishabh Pant on the bench, and then there are the likes of Mayank Agarwal, Shreyas Iyer, Sanju Samson, Suryakumar Yadav and Karun Nair who have shown their mettle at different times in the Indian Premier League and the inter-state Syed Mushtaq Ali T20 trophy.
More fresh faces with the right blend of experience in T20Is will not only make the team attractive both on the batting and fielding fronts, but also fast-track the enhancement of India's overall reserves.
This is a matter of grave concern, reminiscent of India's ODI batting problem in the early 1990s where most eggs were in the Sachin Tendulkar basket. International cricket is too dynamic in the modern era for India's T20I team to stack all its eggs in the Kohli basket.