Indian Cricket Team Hotel In Birmingham Under Lockdown After London Attacks

NDTV
04-06-2017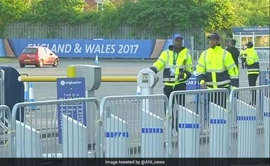 The hotel of the Indian cricket team in Birmingham has been placed under lockdown in view of last night's terror attacks in London. The traffic near the hotel where cricketers are staying has also been curbed for a while. India and Pakistan are expected to clash this afternoon at Edgbaston during the ICC Champions Trophy 2017.
Complete coverage: ICC Champions Trophy
Late last night, as Londoners enjoyed a relaxed Saturday in pubs and restaurants, a van driven at high speed mowed down pedestrians on London Bridge. Then its three occupants had got out and started stabbing patrons at nearby bars and restaurants, killing six people. The police have shot down the attackers.
The attack was the latest in a string of terror strikes to hit Britain this spring.
Around 48 injured people were taken to hospitals, said the London Ambulance Service. Among those injured is a British Transport Police officer, who was one of the first responders on the scene and was stabbed in the face and leg.
News agency Agence France Presse quoted an eyewitness, Gerard as telling the BBC, "They were stabbing everyone. They were running up and going 'This is for Allah'." He said he saw the assailants stabbing a girl and had tried to confront them.
Rain is expected today and the match, if played, will be the first time in two years that India is confronting Pakistan in two years. In 2013, when the Champions Trophy was last held, India and Pakistan played at the same venue. India had won the rain-curtailed match.
Photos: 25 thrilling India-Pakistan matches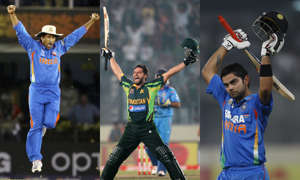 Watch: Kohli dismisses reports of rift with coach Kumble
(Video provided by Times of India)