Indian fans need to show more respect to their cricket stars

India Today
29-11-2016
So much has been said about the dwindling interest in Test cricket in India?
Experts have wondered if pink-ball Test matches would get the crowds back and they have in their collective wisdom thought of ways to garner more numbers on seats across different stadia.
But truth be told, the average Indian fan just isn't interested in Test cricket because he doesn't grasp the nuances of the game anymore.
The game is for the fans, its most valuable stakeholders. But even the fans are not above the game, rich in its history and legacy.
Fans throng counters and ask everyone they know remotely associated with cricket for tickets and passes for the IPL. During the World T20, I got calls from at least 20 of my acquaintances for tickets. I was surprised about 19 of them had any interest in the game.
But that's how it is in India today. Cricket matches are where you want to be seen. A T20 game is glamorous, ODIs with its flat pitches can be fun. But Test cricket is a different ball game altogether. Few would invest the time and energy to sit through 15 sessions.
But fewer actually understand the game enough to enjoy it.
The first three days of the Mohali Test in the stands have been revealing. The few who bothered to buy the extremely reasonable tickets have come to see sixes, fours and wickets. Not for them the intense sessions of play, not for them is India's disciplined bowling or Virat Kohli's gutsy field placements.
© Reuters Image

They feel the lack of close-in fielders is defensive play. They feel Ravindra Jadeja thwarting England's negative plans with the ball is boring. On Day 3, when he left those wide deliveries from Ben Stokes alone outside the off stump, fans abused him and accused him of boring them. It's another matter that Jadeja's composed innings helped India hammer up possibly a match winning lead. It's another matter that Jadeja probably played a series turning innings and deflated England's spirits.

The Indian fan wants high octane action and worth for his money. That's not how you enjoy Test cricket. For those who love the game, it can be dispiriting to watch an invigorating passage of play with such a lot that has such a shallow vision of the game.
The other striking thing about Indian fans is their lack of respect for their players. Sure, they love Kohli and Jadeja and Ashwin but they are not entertainers at a circus.
They are cricketers who are plying their trade at the highest level. Shouts of "Jaddu idhar dekh" (Jaddu look here), Shami haath hila (Shami wave at us), and similar one liners for their other colleagues are disconcerting. They are your players, playing for you. While the love and adulation is understandable, it is disconcerting to see such pitiable attitude.
Slideshow: 27 cricket world records you must know about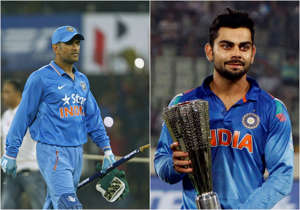 Besides, this affects the concentration of players in the middle of a heated battle.

In contrast, England's Barmy Army is an extension of the team. They applaud generously and moan and groan with their players. They do not shout out indignities to their own fielders after a slip up. In fact, there have been instances of senior England cricketers asking Barmy Army leaders to target specific cricketers from the opposition.
There are responsibilities as fans. They are the most important cog in the wheel but the players deserve respect. They are not puppets and they are not expected to dance at the whims of poorly behaved spectators in the gallery.
Indian fans have been spectacular for the most part in history but they still have a lot to do for the game.
Watch: 'India now have a reliable all-rounder in Ashwin'
More from India Today

India Today