Injuries force late scramble for balance

Wisden India
07-12-2016
Both teams pondered their Plan B as injury concerns affected preparations ahead of the fourth Test of the series at the Wankhede Stadium in Mumbai. India lost Ajinkya Rahane to an avulsion fracture on his right index finger, sustained during practice, and Mohammed Shami, who had taken ten wickets at 25 in the series so far, was also a doubtful starter with a sore knee. England sweated over the fitness of Stuart Broad, even as they prepared to give a debut cap to Keaton Jennings.
You have to go back to February 1993, when Virat Kohli was a toddler, for India's last win over England at the Wankhede Stadium. In the two matches since (2006 and '12), England have been emphatic winners, by 212 runs and 10 wickets respectively. But while Alastair Cook said that it would be nice to play at a venue that summoned up good memories, he also admitted that the past record would have no bearing at all on the action that unfolds from Thursday (December 8) morning.
One snippet of news that would cheer Cook and England, though he wasn't aware when he addressed the media, is the likely absence of Shami. The standout pace bowler on either side so far, Shami has shattered both stumps and fingers. But with a knee injury having kept him out of the game for 15 months after the 2015 World Cup, India are unlikely to risk him, with another six Tests to play in the home season. Mumbai's Shardul Thakur has been drafted in as back-up.
"After the Mohali Test, I think, he felt a bit of soreness in his knee," said Kohli. "So we need to take a collective call on that because he has had a history of knee surgery. We don't want to push a player to an extent where we lose him for the whole season."
"Take a call in the evening" is usually cricketing code for 'won't play', and that should mean another Test appearance for Bhuvneshwar Kumar, who inspired a win over New Zealand at Eden Gardens in his last outing. The ball tends to swing at the Wankhede, both in the morning and evening sessions, and Kohli was confident that Bhuvneshwar would be a more than capable replacement.
"He has come in at St Lucia once and in Kolkata once, and both times he has picked up five wickets and been the match-winner for us," said Kohli. "I am not worried, because the guys sitting outside are waiting for opportunities. They are pretty keen to step on to the field, and grab the opportunity with both hands."
© Wisden

With KL Rahul fit again, and despite his dashing 39-ball half-century in Mohali, Parthiv Patel will drop down to the middle order in Mumbai. M Vijay and Rahul are one of five opening combinations India have used in the ten Tests so far this season, and Kohli made it very clear that India would go in with the two specialist openers. Manish Pandey has been called up as a replacement for the unfortunate Rahane – whose wait for a Test on home turf continues – but it was more likely that Karun Nair, run out in his only innings in Mohali, would keep his place.

England will also consider the possibility of a four-man pace attack after Gareth Batty and Moeen Ali were underbowled in Mohali. Cook said it was still '50-50' whether Broad would play, but Chris Woakes has recovered sufficiently from the hairline fracture of the thumb he sustained in Mohali. If Broad does sit out, as he did in the third Test, Jake Ball rather than Steven Finn is likely to come in.
Photos: Stunning cricket stadiums around the world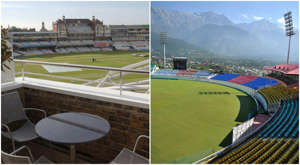 England don't have in-form specialist batsmen in the squad, which means that much would again depend on their middle-order allrounders if they get off to a poor start. Jennings has next to no experience of these conditions, though that didn't exactly hamper Cook himself in Nagpur a decade ago.

Realistically, for England to win, Adil Rashid would need to have an exceptional game. The leading wicket-taker in the series with 18, Rashid has established himself as the frontline spinner. He should enjoy the bounce that's typically on offer at the Wankhede, though it was the pace variations as much as any turn imparted that allowed Monty Panesar and Graeme Swann to rout India with 19 wickets in 2012.
Kohli answered with a brusque 'No' when asked if the eight-day break would disrupt his side's momentum. But with two vital cogs not in the fray, India will need to mix and match again to extend their unbeaten run to a record-equalling 17 matches.
Teams (likely):
India: M Vijay, KL Rahul, Cheteshwar Pujara, Virat Kohli (capt), Karun Nair, R Ashwin, Parthiv Patel (wk), Ravindra Jadeja, Jayant Yadav, Bhuvneshwar Kumar, Umesh Yadav.
England: Alastair Cook (capt), Keaton Jennings, Joe Root, Moeen Ali, Jonny Bairstow (wk), Ben Stokes, Jos Buttler, Chris Woakes, Stuart Broad/Jake Ball, Adil Rashid, Jimmy Anderson.
Watch: 'Bouncers an integral part of Test cricket'