Inner demons holding up Pujara's progress

Wisden India
03-08-2016
By the end of the Boxing Day Test against South Africa in 2013, Cheteshwar Pujara had played 17 Tests, scoring six hundreds and four 50s. He averaged 66.25 and was scoring at 52.21 every 100 balls. In every sense, he seemed the new leader of India's batting pack.
By that point, Virat Kohli had played 22 Tests, scoring five centuries and eight 50s. His average (44.32) was more than 20 points behind Pujara's and he also scored slower (49.02). His progression as a Test batsman had been steady rather than spectacular and though few doubted his pedigree, he didn't seem as complete a long-form player as Pujara did.
Fast forward nearly three years, and you see two players whose careers have gone in diametrically different directions. In 21 subsequent matches (including the ongoing Kingston Test against West Indies), Kohli has scored seven hundreds and four 50s at an average of 48.08. His strike-rate of 58.55 is comparable to some of the finest strokeplayers the game has seen.
Pujara, in his last 17 Tests, has scored just one century and three 50s, while averaging a mediocre 30.75. The strike-rate has dropped nearly ten points to 42.39. In that time, others like Ajinkya Rahane and KL Rahul have come into the side and taken their chances, while Shikhar Dhawan stays in the fray with eye-catching innings at periodic intervals.
It was just under a year ago that Pujara carried his bat for 145 in the decisive third Test against Sri Lanka, to set up India's first series win on the island since 1993. But his struggles either side of that are indicative of a man who seems unclear of what his role is in the side, and whose insecurity has grown as a result of being pigeonholed as a red-ball batsman.
Of the 30 innings in the second half of his Test career, Pujara has faced at least 50 deliveries on 19 occasions. If he were in wretched form and finding it an ordeal to put bat to ball, that wouldn't have been the case. In 21 of those innings, he has fallen between 11 and 50. Good top-order players don't squander starts. The greats rarely do. For Pujara, the wasted vigil has become his calling card.
Photos: 26 cricket world records you must know about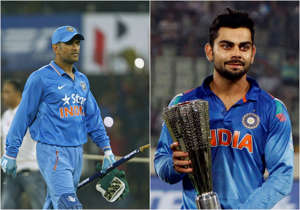 Cricket world records you must know about

His batting in Australia at the end of 2014 exemplified his problems. After starting with an assured 73 in Adelaide, his next five innings were 21, 18, 43, 25 and 21. Handy for a No. 8, nowhere near enough for a one-drop batsman.
Ravi Shastri was India's team director back then, one of those tasked with leaving him out of the playing XI. "When I took over, we made the team ethos very clear," he tells Wisden India. "We wanted the game to move along. With him [Pujara] in recent times, you get the impression of a player trying to survive. You can't just wait for the bad ball to come along.
"Most batsmen need an hour or so to feel comfortable at the crease. But once you're set, you need to move through the gears. When the spinner comes on, you take him on, get a couple of quick boundaries. The momentum shifts."
Shastri recognises, however, that Pujara – unlike most of his middle-order colleagues – is in an unenviable position. His One-Day International career lasted all of five matches and the lack of even a derisory bid at the last Indian Premier League auction spoke volumes of how he's perceived as a Test specialist.
That can chip away at a player's confidence, especially when India hadn't played a Test for seven months. I remember going to interview VVS Laxman ahead of the 2005-06 season, and watching him prepare for the Muttiah Muralitharan challenge on wearing pitches at the St John's Cricket Academy in Hyderabad. After chatting for more than an hour, he brought up the matter of his exclusion from India's ODI set-up and how disappointed he had been with the coverage.
By that stage, Laxman had that marvellous 281 to his name and was very much a part of the Fab Four. But his exclusion from the 2003 World Cup squad and ensuing fall from white-ball grace left him bewildered and fairly bitter.
"There is added pressure on Pujara because of being a Test specialist," says Shastri. "It also doesn't help that there are two or three players breathing down his neck."
In Pujara's case, he came into the side feted as the new Rahul Dravid, hardly the easiest position to be in. But unlike Dravid in his early years – he scored just one hundred in his first 22 Tests – Pujara seemed to have an uncanny knack for putting away the bad balls and capitalising on his starts.
"That's what you expect from players with skill and ability," says Shastri. "And that's what Pujara should be most disappointed about. These days, he's getting out to spinners. When he came into the side, his great strength was how well he played spin. He used his feet beautifully to them, cut and pulled and never allowed them to settle." 

Much has been said about the state of Pujara's knees – he has had surgery for ligament tears on both – and on technical flaws that have crept into his game. But Shastri, who has seen him bat long without any tangible reward, is convinced that the biggest problem is in the mind.
"He needs to go in with a clear head," he says. "You can't hope to do well if you're worrying about failure. He's the kind of batsman who, if he plays one big innings, will make three or four hundreds in his next ten. But he has to back himself."
There are lessons to be learned from his predecessor at No. 3. In July 2006, after he had led India to a first series success in the Caribbean in 35 years, Dravid averaged 58.75 and had 23 hundreds to his name. In the next 26 matches, he averaged 29.42, with two centuries – one of them against Bangladesh.
With the axe looming, he ground out a tortuous hundred in a dreary draw against England in Mohali. Over the next three years, he would add 10 more, including three in one English summer.
One of the turning points, he told me, had been the words of another illustrious No. 3. At the end of Australia's series in India in 2008 – Dravid's scores were 51, 5, 39, 11, 11, 0 and 3 – Ricky Ponting came into the dressing room for a chat. He convinced Dravid that there wasn't much wrong with his game, that he had actually looked in decent touch in a couple of those innings.
Instead of obsessing over video replays and the minutiae of technique, Dravid, always the most intense of men, made a conscious decision to relax a bit. In the years that followed, he scored more freely (45.10) than he ever had. It helped that, unlike Pujara, his place in India cricket lore was already secure. He was playing for his Indian summer. Pujara is scrapping for his immediate future.
Even if Pujara is dropped to accommodate both M Vijay and Rahul in the XI for the next Test, he needs to approach his next assignment positively. Those first 17 Tests were no fluke, with the runs coming against some of the finest bowlers in the game. Once he starts to believe again, the other pieces of the puzzle may just take shape.