Inspired New Zealand level series at 2-2

Wisden India
26-10-2016
Members of a near-capacity crowd in Ranchi fell into their seats with a collective groan when Virat Kohli exited the batting crease, only to rise seconds later as MS Dhoni walked out to bat. They waited as the Indian skipper went through his routine and settled down. They backed him when the bowlers appealed. They prayed as he tottered his way to 11 in his first 30 balls.
And on the 31st delivery of his innings, they watched with their eyes disbelieving and mouths ajar as the hometown boy let the ball slip between his bat and pad. There was then a horrifying sound of clattering stumps reverberating through the JSCA International Stadium on a cold Wednesday (October 26) night, followed by silence.
Losing Kohli and Dhoni wasn't ideal in the pursuit of 261 on a dying pitch against an inspired attack, but that's what India were reduced to in the fourth One-Day International against New Zealand. The lower-middle order looked to bail India out but all they could do was carry the home side to 241 all out from 48.4 overs.
Full scorecard: India vs New Zealand, 4th ODI
With that New Zealand, who put up 260 for 7 from 50 overs, notched up a 19-run win to level the five-match series 2-2.
Did it occur to most at the venue that India would lose, let alone be outplayed in this fashion, even 25 overs into the second innings? Probably not.
India, asked to field after New Zealand won the toss and opted to bat, were put to the test early by a scratchy Martin Guptill and a graceful Tom Latham. Kane Williamson's decision to bat came as a surprise, but he was justified after the duo added 96 runs.
Photos: 31 crazy cricket world records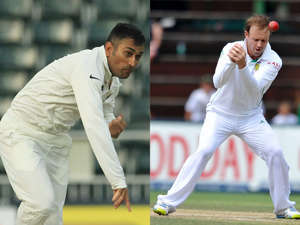 India really missed the services of Jasprit Bumrah, who wasn't fully fit for the game, and that meant Dhawal Kulkarni was given the nod. Not one to show mercy when the bowling is off the mark, Guptill went after Kulkarni and subsequently the rest of India's attack. Latham too joined in before being dismissed by Axar Patel for 39.
Guptill, who was dropped by Mishra on 29 and 62, wasn't middling the ball quite as well as he would have liked, but the 84-ball 72 was a weight off his shoulder and his return to form meant one less thing for his teammates to defend.
But the weight really shifted in India's favour when the spinners altered their lines and bent their backs a bit more. Due to the extra pace, the batsmen were forced to stay on the back foot and defend through the period, giving India a pinhole to try and pry open.
Watch: Biggest sixes in cricket history
Amit Mishra dismissing Williamson was the first step in the process. New Zealand losing James Neesham and BJ Watling in quick succession only widened the gap between what the visitors were predicted to land up and where they were actually headed.
The real jolt came when Dhoni's brilliance with the gloves resulted in the run out of Ross Taylor for 35. Taylor, looking for the second run after swatting the ball behind square, was a little slow on the turn-about. Kulkarni did a good job of releasing the ball as soon as he gathered it. But the throw was off by distance, when Dhoni decided to pluck it at hip-height and flick it on to the stumps his back facing the crease. It was all a blur until the giant screen flashed the replay and showed Taylor short of his crease.
There was then some resistance from the lower-order, but the crowd didn't mind because they believed that a side with a batting order as established as India's would be able to chase this down.
India got off to a typical start with Rohit Sharma picking a couple of gorgeous boundaries before nicking one to the 'keeper. His last three innings had yielded 14, 15, 13, and here he made 11.
---
---
Moving on. Ajinkya Rahane and Virat Kohli breathed life into India's chase by adding 79 runs for the second wicket. They looked in control of proceedings until Kohli edged a short ball from Ish Sodhi to Watling, the wicketkeeper, to walk back after making 45. 

The last time Dhoni came at No. 4 was in the previous ODI, and he had bludgeoned 80 in Mohali. So, there was that hope too. As Mitchell Santner, Anton Devcich and Sodhi operated with some precision, Dhoni chose not to take them on. He looked to play them out before trying his luck against the pacemen. Knowing this, Williamson kept the spinners on to put some more pressure on Dhoni. The ploy had worked in the case of Rahane, who after scoring 57 was trapped in front of stumps by Neesham's first over in the second spell.
Although it was Tim Southee, who sparkled in the night with figures of 3 for 40 from nine overs, it was Neesham who gave New Zealand a new lease of life. After picking up the first wicket, Neesham had more bounce in his step, and with that added pace he snuck through Dhoni's attempted push to mid-off.
Axar (38), Manish Pandey (12), Hardik Pandya (9), Mishra (15), Kulkarni (25 not out) and Umesh Yadav (7) kept the now half-empty stadium still chewing on the idea of a come-from-behind win through different stages.
But when the eighth-wicket 38-run stand between Axar and Mishra came to an end, courtesy a silly run out, they were staring at the exit signs. When Kulkarni and Yadav put together 34 runs for the last wicket, they slid back into their seats. When it came down to 23 from 11 balls, they stood. When Yadav holed out to Taylor at extra cover, they trudged away.