Inzamam-ul-Haq slams James Anderson for questioning Virat Kohli's batting technique

India Today
13-12-2016
England pacer James Anderson's comment on Virat Kohli's batting technique seems to have back-fired him. Anderson has been receiving criticism from all quarters of the world. After Graeme Smith and Michael Vaughan, Pakistan chief selector Inzamam-ul-Haq too trolled Anderson for his controversial remark.

"It is surprising to me that Anderson should question Kohli's runs and ability because I haven't seen him take too many wickets in India," Inzamam told Geo Super sports channel.
"Does Anderson mean to say that if you get runs in England you get some sort of certificate that makes you a quality batsman? Don't the English and Australian players struggle when they play in the sub-continent? Does that mean they are bad players or weak teams. To me it does not matter where you get runs because in Test matches runs are runs," the former Pakistan skipper added.
Anderson had said that Kohli's technical flaws are not visible because of the helpful Indian tracks which lacked in pace and movement.
INZAMAM PRAISES KOHLI
"I always judge a batsman by seeing how many times the runs he scores leads to his team winning matches. In my opinion if a batsman scores 80 and it helps his team win, it matters more to me than someone scoring 150 and his team still losing."
"He is a quality player and when he is getting runs his team does well. That is important to judge or classify a batsman's value. There is hunger in him for runs," he said.
The veteran of 120 Tests lamented that the Asians have a habit of questioning their own teams and players while England and Australia always back their cricketers.
"If they don't do well there we start questioning the ability of our teams and players ourselves. We must not forget Australia lost 3-0 in Sri Lanka, we beat England 3-0 in the past in the UAE."
'SEHWAG DENTED MORALE OF THE BOWLERS'
Meanwhile, Inzamam revealed that during his captaincy he feared Virender Sehwag the most among the Indian batsmen.
"Sehwag was a dangerous player because if he scored 80 odd runs it meant his team would end up scoring 300 or more in a Test or ODI. The more time he spent at the crease the more he dented the morale of the bowlers, which was worrying for me as captain," said Inzamam.
On the suspension of bilateral cricket between Pakistan and India, Inzamam said it has hurt Pakistan cricket a lot.
"Overall it is not good for cricket and for both countries not to play bilateral series. But from a Pakistani perspective it has done us more damage as already foreign teams are also not touring Pakistan and our young players are not getting chances to play matches against international sides before playing for the senior team.
"People want to see Indo-Pak matches but there is nothing one can do about it until things are normal at the government level. Personally I always enjoyed the challenge of playing against India and it made a better player. To me a Indo-Pak series has always been even bigger than the Ashes," concluded Inzamam.
Slideshow: Most controversial statements by cricketers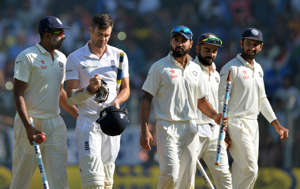 Watch: 'Kohli comes from an undiscovered planet'
More from India Today

India Today