IPL 10, Match 39: Pune vs Gujarat

Wisden India
01-05-2017
Having begun the Indian Premier League 2017 with a big won over Mumbai Indians, Rising Pune Supergiant then slumped into all sorts of trouble. Their batting order wasn't hitting the high gears. Their bowling options were limited and they left a lot to be desired as a fielding unit.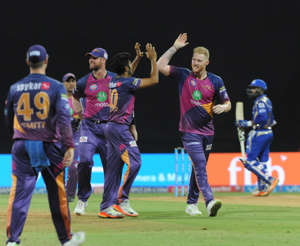 Pune showed great maturity during that tricky phase, and their reward now is the fourth place on the table with five wins from nine games. Having strung together four wins in their last five matches, they will fancy their chances against Gujarat Lions when the teams lock hours at the MCA stadium in Pune  on Monday   (May 1 ) night. 

Gujarat, who have three wins from nine games, haven't pieced together a winning run as yet but they have shown promise in spurts. Their unit, kept in line by Suresh Raina, has plenty of experience, but a touch of calm in the batting order will surely do them good.  
When legends discovered future greats of cricket

Ishan Kishan, the young left-hand batsman, came good at the top with a fluent display in their Super Over loss to Mumbai in their previous game, but lack of contributions down played the game into Mumbai's hands. The bowling unit did well to take the game to the Super Over, but Mumbai's experience in pressure-cooker situations trumped the relative greenhorns.  

In the context of  Monday's   game, Gujarat will hope for another good show from the bowlers and a composed effort from the batsmen. It would also help if their held on to their catches. Barring Ravindra Jadeja and Brendon McCullum, there aren't too many quick hands on the field for Gujarat and that has cost them a fair few games. 
Fortunately, the severity of their fielding glitch isn't as high as the one Pune has faced since the start of the tournament. Also, Steven Smith's batting department isn't packed with power-hitters. MS Dhoni, who can spike the run rate though he's not going through a great season, and Smith are the two who can accelerate on a need-be basis.
There are plenty of issues with both sides, but the team which masks them more successfully will be one rewarded.  

Head-to-head record

Played:   3.   Pune:   0.   Gujarat:   3. 

Head-to-head at the MCA Stadium, Pune          

Played:   1.   Pune:   0.   Gujarat:   1.