IPL 2016: Virat Kohli doing it like Deadpool

India Today
17-04-2016
Virat Kohli and Sarfraz Khan carried on with their glorious run-scoring form to haunt Sunrisers Hyderabad in Royal Challengers Bangalore's first Indian Premier League 2016 match. Have a look at how the two stars of Indian cricket have been compared to red-hot fictional characters.
Just when the Indian cricket lovers, and non lovers alike, were mending their broken hearts after the best described as, unfortunate, defeat of team India in the ICC T20 World Cup 2016, the echo of "mauka-mauka" began haunting the streets of India! (Full IPL coverage) You thought we were done with cricket craziness for now? Oh but you couldn't have been more wrong, you see! Now comes one of the most entertaining forms of cricket. What with the cheerleaders, and the extravagant marketing stunts and of course, the coming together of two most beloved fraternities of India - Bollywood and Cricket! With the country back to celebrating one of the longest cricket festivals, we bring to you, a set of superheroes and cricketers, who seem to be unrelated, but couldn't have been more similar!
Deadpool vs Virat Kohli
We read how Deadpool was the single most expensive X-Men and our best 'Bhadka hua Aashiq' or chaser being the most expensive player in the tournament which led us to wonder what makes them similar other than being the ultimate love icon for a million girls.

The first thing that strikes is their unconventional ways of working whether it is chopping the evil kidnappers or simply getting the ball out of the boundary. When you take a look at their personalities, you know that being mainstream isn't their thing. Being witty on and off the field, Kohli has never been predictable just like our Chimichanga lover.
Both being fun in very different ways than their league, they make us fall for them and have a huge fan share in their own respective fields. Lest we forget, their love for curses and being the masters of Internet Meme's. They are the true rockstars when they come down to it, being it winning the love of their life or the match.
Guess, there's more than what meets the eye when we talk about them.
Spiderman Vs Sarfaraz Khan

Another star from the cricket world, who rose to stardom in not so long, is our Sarfaraz Khan, the youngest player in IPL and possibly the cheapest too.

The RCB star has been keeping everyone on their toes with his spectacular performance, hitting a whooping 35 runs in just 10 balls in the opening match of the season. This lead to a majority of us getting goose-bumps and getting hooked to want to know him more. Just like the other new kid around the block, Spiderman in Captain America: Civil War.
As if the first trailer of Civil War was not enough to make us wanting more, Marvel decided to add a surprise in the end of the second, making our jaws drop! No one missed out the boyish voice which follows Captain America's shield being snatched out of his hand, by none other than Spidey. "Hi everyone!" he says, landing on top of a truck, leaving us all wondering, who is this kid!
Much like Sarfaraz, Tom Holland, the new Spiderman, has managed to catch our attention as a young kid who might be made to do wonders with this role. Even though, the movie is based on a War between Ironman and Captain America, the heroic Avengers who were BFF's, the kid was able to turn all eyes on him. Much like Sarfaraz, who also has our attention despite having the current national cricket sensation, Kohli, in his team!
Some nail-biting, unforgettable, cricket action coming up in this season of IPL, clearly. While you still got a lot of fun ahead of you, to showcase your love, buy IPL merchandise at discounted rates on Ebay, and spread the festivities in your neighbourhood as well! So grab a bucket of popcorn, some chilled Pepsi, and watch the action unfold!
Slideshow: Virat Kohli - On and off the cricket field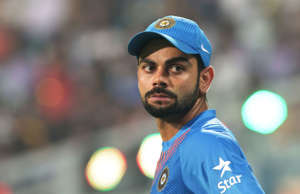 More from India Today

India Today