IPL 2017: Police Hints At Possible Involvement Of 2 Gujarat Lions Players In Betting Racket

NDTV
13-05-2017
The Indian Premier League has come under the shadow of a betting racket, with three people being arrested by Kanpur Police for alleged connection with such activates. According to reports, police officials are also not discounting the possible involvement of two Gujarat Lions (GL) players in the operation. The Board of Control for Cricket in India had issued a release on Thursday, saying that the Indian cricket board's Anti-Corruption Unit (ACU) had been tracking the activities of the three men before they were arrested.
"The Anti-Corruption Unit of the Board of Control for Cricket in India (BCCI) has been tracking activities of certain individuals, as a result of which, three suspects were arrested in Kanpur, on Thursday," the release said.
"Following this operation, the Uttar Pradesh Police Crime Branch could successfully foil the alleged betting attempts of the accused. This was an outcome of the ACU of the BCCI, having worked closely with various law enforcement agencies, who will continue further investigations, in this matter," it added.
According to reports in the Indian media, the Kanpur police are also hinting at the possible involvement of two Gujarat Lions players.
Photos: Best offbeat images of IPL 2017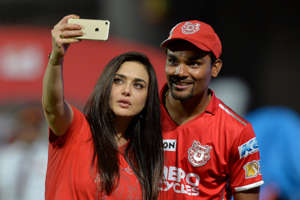 The arrests were made from the same hotel where IPL teams GL and Delhi Daredevils (DD) were staying. The police recovered cash of Rs 41 lakh, the reports added.
The people arrested were identified as Ramesh Nayan Shah, a businessman from Thane in Maharashtra, and local residents Ramesh Kumar and Vikas Kumar.
Watch: Classy Shreyas Iyer gives Delhi win
(Provided by Wisden)
Ramesh Kumar had a contract to put hoardings at the Green Park stadium and had booked the room for Shah, who was in touch with a bookie from Ajmer named Bunty, the report says.
According to reports, a senior officer of Kanpur police has said that role of two Gujarat Lions players is under scanner. Possibility of Shah being in touch with these two players has not been ruled out, but has not been confirmed yet.
GL and DD played a closely-fought match at the Green Park in Kanpur on May 10, which DD managed to win by two wickets.