IPL class of 2016: Remember the names

Wisden India
29-05-2016
There's a new batch of bright-eyed, young Indian cricketers that are making a splash in the 2016 Indian Premier League. Who will be the next Virat Kohli? (Well, no one yet, have some patience.)
Wisden India looks at five budding talents aged below 25 that have caught the eye:
KL Rahul
Season stats*: 13 matches, 386 runs at 48.25 and strike-rate of 147.32
Key performance: 68*(53) against Mumbai Indians in Bangalore. With Royal Challengers Bangalore's batting trifecta back in the dressing room at 60 for 3 in the 11th over, the side's goose looked truly cooked. But Rahul was unperturbed, scoring his fourth fifty of the season to take Bangalore to 151 for 4. It wasn't enough, but his consistency proved he was no longer just a Test specialist.
What others are saying: "In the IPL he started indifferently like in his debut Test, but is now playing some superb shots and easing the burden on skipper Kohli." – Sunil Gavaskar, former India batsman
What next: In addition to being in the Test squad for the West Indies series, Rahul has broken into the limited-overs squad for the Zimbabwe tour. His wicketkeeping needs improvement, but he has the temperament to succeed in all formats.
Karun Nair
Season stats: 14 matches, 357 runs at 35.70 and strike-rate of 120.20
Key performance: 83*(59) against Sunrisers Hyderabad in Raipur. In a must-win match for Delhi Daredevils, where the pressure could have easily bubbled over, Nair oozed calm. With six needed off the last two balls, the dugout was a bundle of nerves, but Nair smacked two fours to seal the game.
What others are saying: "Ranji run-machine Karun Nair has taken the IPL by storm! Showed his worth again tonight! One of his best IPL knocks under pressure!" – Mohammad Kaif, former India batsman
What next: Nair is one of three players to have played all 14 matches for Delhi this season, and that show of faith has been justified. He has blossomed under Rahul Dravid's tutelage, and his inclusion in the limited-overs squad for the Zimbabwe tour could be the stepping stone for bigger things.
Krunal Pandya
Season stats: 12 matches, 237 runs at 39.50 and strike-rate of 191.12; 6 wickets and economy rate of 7.57
Key performance: 86 (37) and 2 for 15 v Delhi Daredevils in Visakhapatnam. Promoted to No. 3 to counter the spinners, he showed no mercy and, in the process, outdid more established stars in the Mumbai Indians line-up like Rohit Sharma, Martin Guptill, Kieron Pollard and Jos Buttler.
What others are saying: "Krunal Pandya played one of the innings of the tournament. Krunal knows only one way to play: aggressive." – Ricky Ponting, Mumbai Indians coach
What next: Pandya has been one of the few bright spots in Mumbai's campaign, but he will need to build on these performances next season. What is heartening is that the allrounder, bought for Rs 2 crore, hasn't succumbed to the pressure of the price tag. Not getting ahead of himself will be key.
Yuzvendra Chahal
Season stats*: 12 matches, 20 wickets and economy rate of 8.10
Key performance: 4 for 25 against Kings XI Punjab in Bangalore. In a 15-overs-a-side match made memorable by Virat Kohli's blistering hundred, Chahal made his presence felt, recording his career-best T20 figures. Ripping through middle order, the Royal Challengers Bangalore legspinner ensured even rain couldn't come to Punjab's aid soon enough.
What others are saying: "Chahal is a not a great spinner of the ball, but he's a very, very clever thinker about how he goes about his job." – Allan Donald, Bangalore bowling coach
What next: Chahal has been a revelation for Bangalore since 2015, picking up 23 wickets in 15 matches last season and producing the goods once again this year. His consistency has earned him a place in the limited-overs squad to tour Zimbabwe and having played many a game in the bowler's graveyard that is the M Chinnaswamy Stadium, he is sure to be wiser for it.
Kuldeep Yadav
Season stats: 3 matches, 6 wickets and economy rate of 8.33
Key performance: 2 for 28 against Sunrisers Hyderabad in Kolkata. Picked ahead of Piyush Chawla, Kuldeep showed Kolkata Knight Rider's gamble was a wise one, showing plenty of heart from ball one. He removed a dangerous-looking Shikhar Dhawan and dismissed Kane Williamson to help the side secure a playoff spot.
What others are saying: "I was happy to see that a young Indian spinner had the courage to flight the ball. This was only his second game of this season, but I have never seen him sulk about not getting a game." – Gautam Gambhir, Kolkata captain
What next: In a team replete with spinners of every variety, Kuldeep, 21, a chinaman bowler, has been a studious pupil for the past three years. More opportunities are sure to present themselves in time; for now, it'll be up to him to keep improving.
*All stats as on May 28, ahead of IPL 2016 final.
Slideshow: IPL: Top moments over the years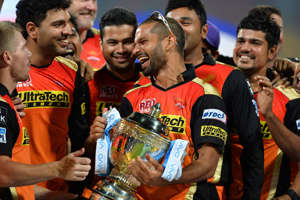 Unforgettable moments in IPL history — Presented by OPPO