IPL should not be a platform to judge an experienced player like MS Dhoni, says Virender Sehwag in defence

The Indian Express
15-04-2017
A number of debates have occurred with regard to MS Dhoni's batting form recently. The former Indian skipper in the recent past hasn't been able to perform with his bat.
That saw social media abuzz with hashtag of "#Dhonidropped" where users showed opined on Jharkhand captain's form. Earlier Brett Lee came in support of MS Dhoni and now it is the turn of Virender Sehwag.
Dhoni in the four matches so far in the IPL has scored only 33 runs – 12*, 5, 11 and on Friday scored 5 runs again for Rising Pune Supergiant against Gujarat Lions in Rajkot.
Sehwag was perhaps replying to former India skipper Sourav Ganguly, who has said he wasn't sure if Dhoni was a good T20 player, but he also added that the 35-year-old is a champion in the ODI format. "I am not too sure if Dhoni is a good T20 player. He is a champion ODI player, but when it comes to T20 cricket, in 10 years, he has got one fifty and that's not the best record."
Slideshow: Rare photos of MS Dhoni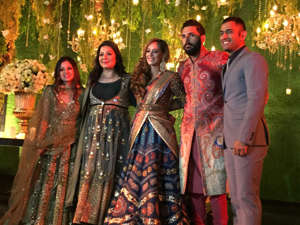 Sehwag emphasised that the position at which Dhoni comes into bat is a difficult one and people need to be patient as he would return with authority. "The position at which he's coming in to bat is very difficult. He is still the best at No. 5 or No. 6," said Sehwag while talking to ABP News. "There's no doubt that he will be back in form sooner rather than later. There's a lot of time left in the IPL. One should not judge a player of Dhoni's stature just by the outcome of three-four games."
Hailing Dhoni's performance against England in ODI series, Sehwag added that the wicket-keeper batsman is no way out of touch and added that an Indian side without Dhoni in Champions Trophy should not be expected at all.
Watch: Andrew Tye's hat-trick sets up first win of the season for Gujarat
(Video provided by Wisden)
"He recently scored a match winning hundred against England. So I don't think he's out of touch. You can't even imagine an Indian side going to Champion's Trophy without Dhoni. Things like this can happen in a tournament like IPL," he added.
"IPL should not be a platform to judge an experienced player like Dhoni. It's fine if you judge a youngster on the basis of IPL as it is difficult for a newcomer to showcase his talent in front of a huge crowd."
Earlier, MS Dhoni was removed from Rising Pune Supergiant's captaincy with Steve Smith taking over.