Is Harbhajan Singh Jealous Of Ravichandran Ashwin's Success Rate?

NDTV
13-10-2016
At this strike rate - average number of balls bowled per wicket -- Ravichandran Ashwin (49.4 strike rate) is already giving Harbhajan Singh (68.5) the jitters.
Ashwin, who emerged Man of the Series after India routed New Zealand 3-0 in the Test series that concluded in Indore on Tuesday, took 27 wickets to end with a plethora of bowling records.
Harbhajan Singh feels 'tailor-made conditions for spinners in the last four years' have helped India's current spinners, not their bowling skills.
Virat Kohli doesn't agree with Harbhajan Singh's rather unsporting comment in social media. You still need to turn the ball, irrespective of the surface, feels India's young Test captain.
Already looks like 2 days old pitch before the 1st bowl is bowled..my predictions match won't go more then 3 and half days.. https://t.co/obn4qVRnP6

— Harbhajan Turbanator (@harbhajan_singh) 8 October 2016
In recent years, Ravichandran Ashwin has left Harbhajan Singh in his wake. The 30-year-old Tamil Nadu off-spinner has not only contributed with the ball with a clean action, but turned matches with his dogged approach as a lower-middle order bat.
@harbhajan_singh U didnt complain during
Ind vs sa, Kanpur, 2008
Ind vs Aus, Mumbai 2004

— Ankit Sharma (@Ankit_sharma03) 9 October 2016
Ashwin finished with career-best match figures of 13 for 140 in the Indore Test that India won by a whopping 321 runs and with a full day to spare. Ashwin's previous best was 12 for 85, also against New Zealand, in Hyderabad in 2012.
Only 2 in my 103 tests.. Kumble and my test wicket count would have been something else if we got wickets like last 4 years we playing on👊 https://t.co/fvkdVw1I1v

— Harbhajan Turbanator (@harbhajan_singh) 9 October 2016
Harbhajan Singh, with 417 wickets from 103 Tests, remains miles ahead of Ravichandran Ashwin. Thus, Harbhajan's comment that "his and Anil Kumble's wickets tally would have been "something else" if they had bowled more on such pitches" caught quite a few by surprise.
Photos: 26 most controversial statements by cricketers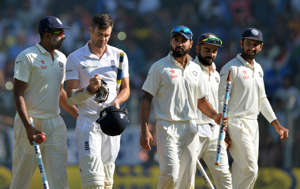 Virat Kohli was surely one of them.
When asked to comment on Harbhajan Singh's pitch jibe, Kohli asked reporters in Indore on Tuesday: "Who made that statement?"
"Harbhajan Singh," he was told.
"Oh? Okay," Kohli stopped.
Interestingly, Harbhajan Singh remains India's No. 1 wicket-taker in a series. Against Australia in 2000-01, he took 32 wickets. Doubt his contemporary spinners at that point in time questioned Harbhajan Singh's skills as a wicket-taker. Of course, Twitter was unheard of then.
It is unlikely that Harbhajan Singh, still active as a cricketer and a Team India aspirant, will figure in Kohli's scheme of things in Test cricket. Ravichandran Ashwin has been an asset and given his intelligence as a cricketer and person, the Tamil Nadu all-rounder's longevity in Indian cricket is assured.
And he has Kohli and Kumble's full backing, too.
"See even if it is a turning pitch you have to bowl well. There is no... spin doesn't happen only off the pitch. Spin is about how many revs you impart off the shoulder first. And then the ball will do something off the pitch," said Kohli, virtually defending his leading all-rounder. 

"I quite clearly remember after we lost to New Zealand in the World T20, suddenly their spinners were quality and we were found out. I don't see anyone talking about that now.
"The same spinners have played. Why have they not been able to pick wickets? It is as simple as that. Our fast bowlers picked wickets everywhere. We never complained about anything. So... see you can give a guy a cement track to bat on. He (still) needs to have the mindset to score runs. It is as simple as that," said Kohli.
To give credit where it is due is the hall mark of sportsmanship. India's young cricketers may be exploiting home conditions to the hilt, but to criticise pitches that once helped Harbhajan Singh take a 10-wicket haul and several five-fors seemed to be an under-the-belt strike.
It is impossible to imagine that Harbhajan Singh is jealous of Ravichandran Ashwin.
Watch: Virat Kohli's debut ODI innings