Is Rohit Sharma getting too long a rope?

India Today
27-10-2016
When Rohit Sharma made his international debut in 2007, he was regarded as the next big thing from Mumbai in the cricketing world after Sachin Tendulkar.
Rohit established himself as a talented batsman as he eased into the limited-overs formats. The turning point in his career came in 2013 when he opened the innings in the ODI against Australia where he scored a double century. He proved his talent further when in 2014, he became the only batsman to score two double centuries in ODI cricket. He achieved the feat in Kolkata where he destroyed Sri Lanka with 264 runs off 173 balls.
Since his debut in 2007, Rohit has appeared in a total of 152 ODIs, scoring 5061 runs at an average of 41.14. He scored three tons in ODIs at the start of the year in Australia, becoming the only Indian batsman after VVS Laxman to do so.
His performance in T20Is has also been decent, best being his century at Dharamshala against South Africa in October, 2015. He has made 1364 in 62 T20I matches, with a batting average of 31.72.
Photos: 26 little things to know about Rohit Sharma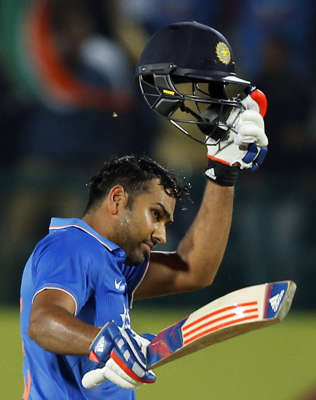 It was only natural for the impressed selectors to promote the Mumbai lad to Test cricket. In his first two innings, he scored centuries, convincing critics, selectors and fans that he has abundance of talent and his comparison to Tendulkar is just. The right-hand batsman made 177 and 111 in his debut series against West Indies in 2013.
Rohit, however, has failed to show a consistent performance in recent Tests as well as ODIs. After his brilliant batting skills in his debut Test series, he has not managed to achieve a single ton in any of the matches so far.
The question whether the selectors are taking the right decision of consistently giving him a chance despite his lacklustre performances came up when he reached a new low by getting dismissed for 2 runs in the Kolkata Test against New Zealand, after scoring just 9 runs in Gros Islet against West Indies a month before that. Although he has achieved three 50s this year in the three-match series against New Zealand, his early dismissal at Eden Gardens cannot be forgiven, especially in the times of social media trolls.
---
---
The talented batsman is fighting more than one battle. Rohit's score in the last four ODIs against New Zealand are 14, 15, 13 and 11. Even his loyal fans would agree that the batsman has to up his game if he wants to continue playing International cricket. Nearing 30, age is another factor that Rohit has to struggle with. Despite the experience, it becomes another reason for the selectors to be less inclined towards him.

It is easy to get away with few poor performances like in the case of Virat Kohli, whose ODI debut came a year after Rohit. Kohli's individual batting scores in the last four ODI games - 85, 9, 154 and 45. Even if we do not give statistics the advantage of judging an athlete's performance, it does act as a reflection, showing a trend in individual performances.
There is no doubt that Rohit is one of India's most talented batsmen, and he has proven that with stellar performances specifically in the limited-overs format. This is why a lot more is expected from Rohit, who will be looking to better his performance in the ODIs against England, scheduled in January, 2017.
Watch: Best helicopter shots in cricket history
More from India Today

India Today