Is Sourav Ganguly donning a new cap?

India Today
05-07-2016
Sourav Ganguly has sported several hats and roles in his illustrated Cricket career but this is one of those caps he has rarely worn in public forums. Known as the Maharaj or Prince of Kolkata as his Bengali fans love to address him Ganguly was on a football ground but appeared playing political league.
ATTENDS IFTAR PARTY
As the month of Ramzan culminates into celebration of festivities of Eid the skipper was seen actively raising his palms and praying to the Almighty in public glare.
Sourav was attending the Iftar Party, a special occasion in the evening of Ramzan fasting days to break the rule of staying sans water and food the entire day.
The party organized by Mohammedan Sporting Club had 1200 guests from all walks of life with West Bengal Chief Minister Mamata Banerjee as the Chief Guest.
Mamata has been known for her secular image and outspoken support for the minorities. She has rarely left a chance of being a part of any ceremony that involves the minorities ( read vote bank ) in West Bengal.
But this was different.
Sourav Ganguly was invited by the Club President and Trinamool Congress MP Sultan Ahmed for the stature he enjoys in the world of sports besides being the President of Cricket Association of Bengal.
STEERED CLEARED FROM POLITICS
He has usually been taking active part in Government programmes but has steered clear from politics. Even during state assembly elections held early this year he campaigned for Trinamool Congress candidate from Bally Constituency and Jagmohan Dalmiya's daughter Vaishali Dalmiya only once with complete neutrality.
SOURAV YOUTH ICON
"Our Chief Minister Mamata Banerjee believes in a secular fabric and harmony in the state. She spends equal time with interest and concern with every community and believes in taking all possible efforts for the well being of the residents of West Bengal. Sports however is close to her heart because this is of interest to youth who will shape the future of the nation. Sourav Ganguly is youth icon and it was our privilege to have both on the same stage " says Sultan Ahmed.
SYMBOL OF COMMUNAL HARMONY
Mamata Banerjee reiterated that harmony was the need of the hour to resist any kind of terror tentacles spreading base in the state.
TMC MP Idris Ali too echoed the same. " We believe that West Bengal has been a symbol of communal harmony and will continue to do so under the leadership of Mamata Banerjee."
The others present in the event were TMC MP Nadimul Haque, TMC MP Prasun Banerjee and several other dignitaries from the world of Sports.
However the show stopper this time is Sourav Ganguly who has left everyone stumped with just one thought....is this the first step towards Politics or just being Politically Correct.
Slideshow: Rare photos of cricketers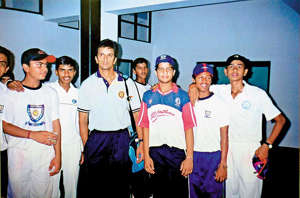 Rare photos of cricketers
More from India Today

India Today