'Is That Me In The Stands?' Virat Kohli Met His Double And Couldn't Even...

NDTV
18-10-2016
Cricket's golden boy Virat Kohli was faced, literally, with an unexpected sight at the recently concluded India vs New Zealand test series.
In the stands, was his double. A video, going viral on Facebook, shows Virat Kohli's priceless reaction to seeing his doppelganger in the crowd during the third test match in Indore.
Since being shared on October 13, the video has received more than five lakh views and over 6,400 shares on the social networking site.
Photos: 26 things you should know about Virat Kohli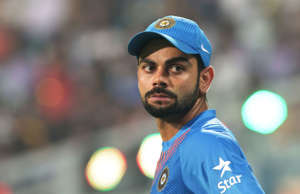 The hilarious video shows Virat trying his best to control his laughter on seeing his mirror-image among over-excited spectators, all trying to click selfies with his doppelganger.
The lookalike resembles Virat so much, we're sure even the test captain must be wondering if it was actually him in the stands.
Kinda like a scene from Shah Rukh Khan's film Duplicate, only funnier.
Watch the video below and tell us what you think in the comments section below.