Is Virat Kohli really the best batsman of his time?

India Today
06-09-2016
When you're on top of your game and you're making the headlines while excelling in your field, you're bound to be compared to the best of all times and a comparison with your fellow competitors as well. While some agree on one person being the best, others tend to come up with two or three equally talented cricketers and the argument often comes back to ground zero. This is exactly what happened when Ricky Ponting decided to not just zero in on Virat Kohli being the best batsman in the world, suggesting that Steve Smith, Kane Williamson and Joe Root are also brilliant players and can overtake the flamboyant Indian.

Well, when we talk of Kohli of late, very few people will say that he is not the world's best across the different formats of the game. He is in the form of his life for the last couple of years and numbers clearly make him the favourite ahead of others. Kohli has been successfully leading the Indian batting over the past two years and people have often drawn comparisons with the 'Little Master' Sachin Tendulkar, while that is too early but the fact that he can one day surpass the legend can't be ruled out completely as well.
The 27-year-old batsman single-handedly guided India to the World T20 semi-finals earlier this year before the hosts lost out to the eventual champions in West Indies. Before that, his brilliant knocks against Pakistan and Australia from bothering positions took India across the finish line. Kohli followed his heroics up in the IPL when he scored a record 973 runs which included four centuries as well. While his rampaging T20 style was up for display in the first half of the year, Kohli's skill and prowess was on show when he scored a double century against West Indies in the first Test at Antigua, displaying his hunger, patience and the ability to deal with pressure. It was Kohli's first Test series outside the sub-continent as the full-time captain and he rose up to the occasion yet again, making his case strong for the throne.
But does this really make him the best of his times already?
Well, maybe yes but the fact that Kohli's capabilities are equally challenged by Smith, Williamson and Root. The numbers may not be the same that the Indian has racked up over the last two seasons but these three players certainly have the skill and talent to match it up.
Slideshow: Virat Kohli - On and off the cricket field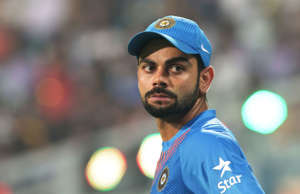 27 things you didn't know about Virat Kohli

STEVE SMITH
Smith first came in as a leg-spinner but he soon turned into a top-order batsman and he excelled at his job there. At a time when Australia were going through a transition phase, the New South Wales lad held the batting together and came up with some impressive and big knocks. Smith was handed over the captaincy after regular skipper Michael Clarke pulled out of a four-match Test series against India in 2014-15 due to a back problem. Under his leadership, Australia were at their aggressive best. He even led the team from the front by amassing 769 runs in the four Test matches, scoring a century in each match. Australia won the series 2-0.
He has done a fair job since Clarke retired after the Australia lost the Ashes series in England 3-2. He was elevated to full-time captaincy after that but the lanky Australian has a lot to learn and be more consistent especially in the sub-continent conditions. Smith failed in the World T20's and his performances in the recently-concluded Test series against Sri Lanka hasn't been great either. Therefore, the Australian has a lot to work on before he can genuinely challenge Kohli for the tag of being the best.
KANE WILLIAMSON

Williamson on the other hand made a name for himself in the longest format of the game. He slowly became the backbone of a shaky New Zealand batting line-up and since then he has come up with some great performances. The Kiwi might not be the most flamboyant of his times but his ability to stay at the crease and keep the scoreboard ticking really helps the New Zealand batsmen to play around him and build their innings.

Brendon McCullum's retirement also made him shoulder some extra responsibilities as he was made the captain of a decent New Zealand side and the fact that he and his team have done decently off late also speaks in his favour that he can handle pressure when the time comes and still deliver. Although his numbers are not bad by any means as he has scored 4394 runs at an average of 51.08 in 52 Tests and 3666 runs in 93 ODIs averaging 47, the fact that really keeps him behind the likes of a Kohli, De Villiers or Smith is the fact that his contributions has often not led New Zealand to a victory or created an impact that the likes of Kohli or Smith has with their team. While it might be a bit harsh on the man from Tauranga but the fact that results also play a part in greatness can't be denied all together.
JOE ROOT
Last but not the least, Root is also a top contender for being the best of his times. Scoring 4005 runs in 46 Tests at an average of 54.86 and 3017 runs with an average of 45.71 in 78 ODIs, his numbers game is certainly strong. His Test average is only second best to Smith's 58.55 and Root has also played some decisive knocks for England. The Yorkshire born batsman has the technique and style to succeed in Tests and he has been showing the world of what he is capable of since his debut against India in 2012 in Nagpur, where he scored 73 in the first innings. Root since then has been a consistent performer for the Three Lions in the longest format and he is also transferring it to the shorter formats now.

Root has also transformed himself from being the Test specialist to an all-round player. He had shown enough skill during his debut Test series in India where he really handled spin well. Interestingly, Root has also played less matches than Kohli, but, Kohli's contribution to the team in key situations often give him the edge ahead of the others, including Root. Also, the fact that Root hasn't been given the additional responsibility of captaining his side can also be seen as a reason, why the other three should be given a bit more of a credit.
THE NEVER-ENDING DEBATE
The debate of being the best has never gone away and never will as long as there are passionate cricket fans and brilliant talent up for display. The previous generation also saw the likes of Sachin Tendulkar, Brian Lara, Ricky Ponting and Jacques Kallis at loggerheads for the best batsman tag.
While Tendulkar ran way with all the accolades due to his tremendous records and fan base, Lara's style and key contributions in a deteriorating West Indies squad also has to be kept in mind. One must not forget that his highest score of 400* against England is still not broken by any batsman yet.
Amidst Tendulkar and Lara, people often forget Ponting and Kallis. Much like how an Alastair Cook is overlooked in his generation. The England captain is a gem of a player but is often overlooked. Ponting has a phenomenal record in both Tests and ODIs and he has won three World Cups and two as captains, which in itself is commendable. His knock of 140 off 138 balls in the 2003 World Cup took the game away from an in-form India. The former Australia captain has seen it all and left at the right time from cricket much like Kallis, who bowed out like a true champion scoring a century in his last Test. He scored a 115 against India in Durban in 2013 before he moved out of the longest format. Kallis averaged 44.36 with 11,579 runs in 328 ODIs and has scored 13,289 runs in 166 Tests with an average of 55.37. Despite of all these numbers, one might well say he is behind the likes of the Tendulkar, Ponting, Lara, Dravid and the list goes on. The world only sees the likes of Tendulkar, Ponting or a Lara as the best because of their impact and reach in the world of cricket.
Comparisons are always drawn and it always will be but what fans should do is enjoy the career of the current crop of players and then decide on who was better, once they are done playing. With all in their mid-20's, Kohli, Smith, Williamson and Root, all have a lot more to offer to the sport and once they are done, we can all sit with a drawing board and decide who did what and who was the greatest of his decade.
More from India Today

India Today