Is Virat Kohli smarter, better captain than Mahendra Singh Dhoni?

India Today
28-09-2016
It has been nearly two years since MS Dhoni retired from Test cricket. These two years have seen his successor Virat Kohli take India to new highs, winning series overseas at home.
Kohli has now led India in 15 Tests, winning eight, losing two and drawing five, four of which were rain-induced. Dhoni, who captained in 60 Tests, winning 27, losing 18 and drawing 15.
These are of course still early days for Kohli but the early signs are encouraging. Dhoni, when he took over the reins in 2008, had the luxury of sheer class in his team. Sachin Tendulkar, Rahul Dravid and VVS Laxman were still part of the playing XI even as Sourav Ganguly and Anil Kumble decided to hang up their boots by the time the series against Australia drew to a close.
Indian cricket went through a golden phase thereafter. The Greg Chappell saga was behind the players and Dhoni promised to lead from the front. His presence and repeated brutalities down the order ensured India were forever a dangerous unit.
Sehwag and Gautam Gambhir would blunct attacks upfront, Dravid would lay the foundation, Tendulkar would bury them in a pile of runs before Laxman strode in to exhibit outstanding artistry, paving the way for Dhoni to launch into bowlers, already exhausted and demotivated.
Photos: 25 world records held by Indians in Test cricket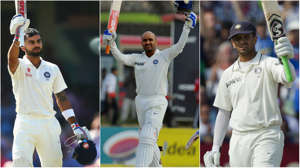 The bowling unit was a crack force too. Zaheer Khan was at his peak and Harbhajan Singh was inevitably among the wickets.
However, Dhoni's problems started in the English summer of 2011, months after the euphoria of the World Cup triumph at home. The first signs of limitations in an all conquering team had come in a Test series in the West Indies, weeks before India embarked on their British tour - mysteriously, Dhoni's men did not push for victory at Gros Islet, with not many to get and plenty of wickets at hand.
DHONI'S INDIA EXPOSED IN ENGLAND
In England, India's fragile temperament and declining technical abilities of their batting greats were exposed mercilessly. Gambhir, Sehwag, Tendulkar and Laxman were found wanting. Dravid and Dhoni waged lonely battles but they were not enough. The bowling unit had lost its spark and Dhoni, the captain with the Midas touch, started becoming increasingly defensive. India were crushed 4-0 and their number one ranking was lost in a wild storm.
A whitewash against Australia followed and all hell had broken lose back home. Dravid and Laxman, two legends of the game, were too proud to carry on and decided to retire days before the home series against New Zealand. Dhoni had lost his trusted middle-order - only Tendulkar remained and he was nowhere near his best. But the team, under Dhoni, hit the pits with a series defeat to England in 2012, in their own backyard.
A young, inexperienced batting line-up found it nearly impossible to negotiate the guiles of Graeme Swann and Monty Panesar. In the months to follow, India would lose in South Africa, New Zealand and once again in England. In between, there were home series victories over Australia and West Indies (when Tendulkar finally decided to retire), but they had come on pitches tailor-made for Ravichandran Ashwin and Ravindra Jadeja, India's new spin hopes. 

After another series defeat in Australia in 2014, Dhoni decided to fade away from the Test arena, leaving the path wide open for Kohli, who made an immediate impact.
Dhoni, who had looked lost and sometimes clueless at periods when India went wicketless, did not have the same dapper approach as Kohli.
KOHLI WANTS TO WIN. AT ANY COST
Kohli wanted wickets - he came in and asserted his philosophy on the team. The young captain wanted victories and the only way to win Test matches was to take 20 wickets. Therefore, the bowlers were the most important cogs in the wheels of his chariot.
Kohli wanted more aggression and he walked the talk with twin hundreds in his maiden Test as captain, almost leading India to a sensational victory at the Adelaide Oval. Moreover, his handling of the pacers was acutely better than Dhoni, who did not really trust them and waited for the opposition to make mistakes.
At the Feroz Shah Kotla last year, where South Africa had employed their blockathon tactic, and the spinners were struggling to break through the last line of the Proteas defence, Kohli introduced a fast and furious Umesh Yadav to dismember their defence. Bang! Bang! Bang! South Africa were blown away in a blaze of pace on a chilly evening.
Kohli, unlike Dhoni, appears to be less stubborn. He wants to learn and keeps an open mind. In the Kanpur Test, Kohli kept up the pressure on Tom Lathan and Kane Williamson, who were cruising along against the Ashwin-Jadeja duo. Kohli opted for an inside-out field, blocking the singles, he deployed men at the ropes to ensure no easy boundaries were scored and yet kept the heat on the Black Caps with men around the bat - eventually they perished and India were able to penetrate deeper into their defences.
After the match, Kohli conceded that he sometimes got too carried away with his own aggressive mindset and wanted to curb his natural instincts by being smarter about field placements. Dhoni, to cricket observers, seemed unmoved by the game situation and often seemed content to stem the flow of runs rather than balancing the arrest of decline with some wickets.
These are still early days and Kohli has a long way to go. But the early indications are promising. Kohli has already asserted himself to be a different brand of leaders and he will be remembered as a far better captain than Dhoni, because of his penchant for victories.
More from India Today

India Today