It's not always home advantage, is it Virat?

The Roar
28-02-2017
Malcolm Conn, post Ashes 2013 and prior to England landing in Australia for the second chapter of the back-to-back Anglo-Aussies series, made a comment on a home side's propensity to doctor pitches.
He stated: 'Could there be anything more gloating or galling than having the series-winning team peeing on a pitch which was deliberately doctored so it would be bone dry?' In England they call this home advantage. In Australia we call it cheating.'
Now I'm not going to wade into a sermon on the effect of bodily waste on a cultivated strip of turf, but rather the latter part of Conn's musings.
As a notorious Agent Provocateur, his rantings were always seemingly written for a reaction as opposed to creating a genuine debate but, nevertheless, I wonder if the same kind of thought crossed his mind prior to the series in India getting underway last week.
An image of the Pune pitch the day before the game, even for the untrained eye, hinted at the seamers on both sides being given the opportunity to graze in the outfield and not much else.
The Sahara desert contains more moisture than the 22 yards which was served up. If this kind of practice is indeed 'cheating', then the Indians should be on the lookout for the hand of the law which will be coming down on their collective shoulder anytime soon.
But hang on a minute. A cricketing authority preparing a pitch to suit their own has been going on since the game began – at all levels – and it really isn't going to stop.
As quick as you can get it at the Gabba, a bit of moisture at Edgbaston, bone dry in Bangalore, live grass at The Wanderers and so on. Not unique to one country and far from a novelty. In fact, the kind of variety that makes cricket the sport that it is.
Photos: 27 most controversial statements by cricketers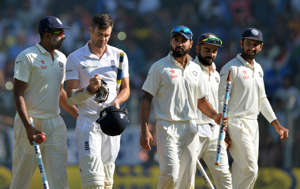 When there is talk of the forthcoming Twenty20 league in this country potentially being played on artificial pitches (it's somewhere on Cricinfo if you don't believe me) then a barren, spin-friendly strip really isn't that bad.
And if I was Steve Smith, or any of his colleagues for that matter, I would hold the victory in the first Test in higher regard given the wildly alien nature of the conditions.
Add to the equation a home team with an enviable record in familiar surroundings, the best spinner in the game and a cohort not too far behind, a batting order led by the world's pre-eminent player and, perhaps most crucially, a visiting side who in recent years have been dire on their travels against Asian opposition and the total is greater than the sum of its parts.
Home advantage is called that for very obvious reasons and you can hardly blame the Indians for wanting to take full advantage of the historically emphasised weaknesses of the Australians.
Our spinners are better than yours, hence the pitch; our home record is immense, your away record is dreadful, hence the pitch; our batsmen eat opposing spinners for breakfast, most of yours barely know what to do, hence the pitch.
---
---
Had the result gone the other way, the chances of the surface in Bangalore for the second Test being very similar would have been odds on, much like Trent Bridge mirroring Edgbaston in 2015.

Now, however, with their game plan openly mocked, they may have to temper their approach somewhat and attempt to make the contest a war of attrition – as they did against England not so long ago – rather than more of a lottery. The latter approach will always run more of a risk of not going to plan.
Australia should be applauded for showing that while home advantage will exist, taking it to such an extreme has the capacity to backfire spectacularly.
It isn't as though they were showing up without any spinners, just as no Australian touring team I can remember on these shores has gone into a game on a juicy pitch without any seamers in the XI.
Respect what is there and come up with a plan to combat any devils that may exist and you can prosper.
There has barely been any talk of underhand behaviour in the aftermath of Pune as a positive result will always see to that.
And anyway, is it cheating if the perpetrators lose?