Jadeja catalyses stunning Indian victory

Wisden India
20-12-2016
The large crowd arrived at Chepauk on the final day hoping that R Ashwin, the local hero, would bowl India to another Test win. He had, after all, taken 12 wickets in his only previous appearance on this ground. But as it turned out, it was his one-time Chennai Super Kings teammate and adopted Chennai boy, Ravindra Jadeja, that was India's bowling star at the MA Chidambaram Stadium on Tuesday (December 20).
Jadeja finished with stunning figures of 7 for 48 as England slipped from 103 for 0, and then 193 for 4, to 207 all out, giving India an innings-and-75-run victory. As in Mumbai during the fourth Test, England lost their last six wickets for 15, in a shambolic display that encapsulated what has been a disastrous tour.
It gave India a 4-0 series win against England for the first time, and stretched their unbeaten run to a national record of 18. Tellingly, 14 of those matches have seen Indian wins.
After the torpor of the opening session, things began to happen after lunch. The third ball after the break, Jadeja convinced his captain to review a leg-before shout against Alastair Cook, then on 47. Replays showed that the ball would have missed leg-stump. But with Jadeja straightaway settling into a lovely rhythm, the breakthrough was not far away.
Full scorecard: India vs England, 5th Test
Cook walked across his stumps and tried to glance one down to fine-leg. But KL Rahul at leg-slip was alert to the chance and snaffled an excellent catch. Cook's 49 spanned 134 balls, with the opening partnership worth 103.
Keaton Jennings eased to 50 off 117 balls, and then attempted to release the shackles by stepping out to drive Jadeja through midwicket. But the very next ball, he was comprehensively beaten in flight, managing only to lob the ball back to Jadeja. At 110 for 2, England felt the first wobble.
Joe Root arrived at the crease needing just 11 to surpass Michael Vaughan's English record of 1481 runs in a calendar year. But he never looked settled and when Simon Fry turned down a vociferous leg-before appeal from Jadeja, Virat Kohli thought for a while before asking for the review. That vindicated the bowler's belief, with the replay showing the ball straightening enough after defeating the attempted sweep to cannon into leg-stump.
Photos: 'Unique' world records held by Indian cricketers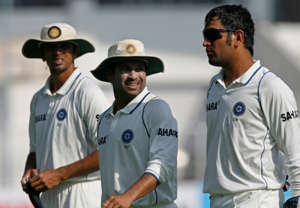 As Root headed back with the scoreboard showing 126 for 3, the man who replaced him, Jonny Bairstow, needed 12 to go past Vaughan. As it was, he made only one before a checked flick off a wayward delivery from Ishant Sharma went in the direction of deep midwicket. Jadeja scampered back at Speedy Gonzales pace and took a stunning catch at full stretch over his shoulder. At 129 for 4, the wobble had become a crisis.
Jadeja's spell was an eye-catching 9-1-18-3, but once Ashwin replaced him at the Pavilion End, Kohli decided to try Umesh Yadav's pace at the other. Moeen was uncomfortable against the short ball, almost hooking one down to the fine-leg fielder, but when Umesh pitched further up, he creamed him through the covers.
Both he and Ben Stokes attempted to throw Ashwin off his length with well-placed sweeps for four, and Moeen started the final session by clouting Amit Mishra through the leg-side for four. But Jadeja's return once again swung the pendulum India's way.
With Moeen and Stokes playing positively and putting away anything loose, the partnership had swelled to 63 when Moeen succumbed to a rush of blood. He came down the pitch to Jadeja, but didn't quite time the loft over mid-on, where Ashwin leapt up like a performing seal to snaffle the catch.
Watch: 'Karun a combination of Dravid, Viswanath'
Jos Buttler then survived a difficult bat-pad chance at short-leg, but as is so often the case, the loss of one wicket was the trigger for more. Next to go was Stokes, who clipped Jadeja straight to Karun Nair at short midwicket to leave England in real strife at 193 for 6.
That gave Jadeja his first five-wicket haul of the series, and exposed the tail to a suddenly rampant Indian attack. Mishra, who had quietly got into a groove at one end, was the next to strike, with a beautiful googly that flummoxed Liam Dawson completely.
Jadeja was replaced after a spell of 7-2-10-2, and Umesh took the new ball from the other end three balls after the 80 overs were up. It paid dividends immediately, with Adil Rashid miscuing a drive off the leading edge to Jadeja – who else? – at point. At 200 for 8, England had more than an hour to survive.
---
---
After Ashwin failed to break through, Kohli once again turned to Jadeja at the Pavilion End. It took him nine balls to have England nine down, as Stuart Broad popped one up to backward short-leg. Three balls later, Jake Ball edged one to Nair to complete the most dramatic of post-tea collapses. 

There was little evidence of the drama to come in a strangely tepid morning session. India should have had Cook for just four, but Parthiv Patel failed to hold on after a lovely piece of deception from Ashwin had drawn the outside edge. Only 33 runs came in the first hour as Cook and Jennings targeted survival, and Kohli opted for pace from one end to complement Ashwin at the other.
By the time Jadeja was finally called in, it was the 20th over of the morning. When Jennings was 31, he stepped out to clip Mishra through midwicket, but Rahul at short-leg couldn't hold on to a sharp reflex catch. Both batsmen began to rotate the strike more, and there were a couple of adroit reverse sweeps from Jennings as England went to lunch on 97 for 0.
As it turned out, that was merely the calm before a perfect Indian storm.