Jaw-dropping Jumbo, 81 all out, and a resurgent India

Wisden India
20-07-2016
India have so far toured the Caribbean Islands for ten exchanges in Test matches. The early years, bar the historic 1970-71 tour, went West Indies' way. The trend didn't really change in the 1980s and 1990s, but the last two times India have gone all the way across, they have come back victorious. In this, the second and concluding part of our series in the lead up to the first Test of the latest series, starting Thursday (July 21), we catch up with Arun Lal, Sunil Joshi, Shiv Sunder Das, Mohammad Kaif and Abhinav Mukund to relive the last five Indian Test tours of the West Indies.
1988-89: West Indies 3-0 (4 Tests)
Most runs: Richie Richardson – 619, Sanjay Manjrekar – 200
Most wickets: Malcolm Marshall – 19, Kapil Dev – 18
Arun Lal: No real strategies were discussed but we did prepare in the camp with lot of wet tennis balls to get comfortable with playing short balls, so there was lot of emphasis given on that. I think the reason why we were beaten comprehensively was that we were not prepared for that kind of a barrage of fast bowling, and we did have a wonderful side. Those days, in the 1980s, West Indies were a dominant side.
There were few brilliant individual performances (Sanjay Manjrekar, Navjot Singh Sidhu and Ravi Shastri scored centuries) throughout the tour. But we failed to click as a team and that led to our defeat. Also, it was very tough facing people like (Malcolm) Marshall, (Courtney) Walsh and (Ian) Bishop.
The mood in the dressing room was very down and dejected that we could not perform in this tour. All that happens, it's part and parcel of cricket. The main thing was to keep our spirits up but we started losing regularly and then it became a problem for us.
Arun Lal, the opening batsman, scored 113 runs in 7 innings on that tour, averaging 16.14 with a best of 30
1996-97: West Indies 1-0 (5 Tests)
Most runs: Shivnarine Chanderpaul – 443, Rahul Dravid – 360
Most wickets: Anil Kumble – 19, Franklyn Rose – 18
Sunil Joshi: It was a challenge for Sachin Tendulkar, who was our captain, and the rest of us when it came to dealing with the pace attack of Walsh, Bishop, (Franklyn) Rose and (Curtly) Ambrose in the West Indies.
There were quite a few things that went against us, there were a few chances dropped; they also survived few close calls. We also failed to capitalise on the chances that were offered to us. There were a few areas where we could have done better.
Every ball, every session and every moment of that third Test match in Barbados, which we lost so heartbreakingly, was very tense. [Chasing 120 to win the Test, India collapsed to 81 all out to concede the Test and the series.]
We did not get a good start and we lacked partnerships. Chasing a small target, you always require small partnerships – which did not happen and we kept on losing wickets at regular intervals. We could not manage to get a single partnership in that innings. If I look back to that tour, yes, a few small changes could have helped us to win that match. It was a match, which we should have won and could have become heroes after being the second team to win a series in the West Indies.
Sachin and, in fact, all the team members were very disappointed after that loss. I think it was a golden opportunity for us to chase just 120 runs and win a match there. I think rather than blaming an individual, it was team's fault and we all take the responsibility for that loss.
Personally, I got (Brian) Lara out a few times and that was a great achievement for me. As a player, it was a great feeling for me to meet all the legends from the West Indies, which I can look back at and feel good about it.
Sunil Joshi, the allrounder, picked up 11 wickets at 30.09 with a match best of 6-136, and also scored 84 runs at 28.00
2002: West Indies 2-1 (5 Tests)
Most Runs: Carl Hooper – 579, VVS Laxman – 474
Most wickets: Mervyn Dillon – 23, Zaheer Khan – 15
Shiv Sunder Das: Going into the second Test, we had fixed areas to bowl to (Shivnarine) Chanderpaul and (Ramnaresh) Sarwan. We had plans against all the batsmen and the bowlers executed their plans brilliantly on that day and we won that match.
I still remember that moment when I saw (Anil) Kumble emerging from the pavilion to bowl in the fourth Test. He refused to go back home and decided to bowl in that innings. We thought there was no way he could go out and bowl but the mental strength and the passion he showed almost won us that match. The spell that he bowled was one of the best I have ever seen. It lifted up the confidence of whole team.
In the last Test match, chasing 400-plus, we lost a few early wickets. The plan was to get a good start and not think about the target. We thought of playing out session after session but we failed. We had the team, we had the experience to win the series, and I think we could have done better on that tour.
Shiv Sunder Das, the opener, scored 124 runs from 8 innings on that tour, averaging 15.50 with a best of 35
2006: India 1-0 (4 Tests)
Most runs: Rahul Dravid – 496, Daren Ganga – 344
Most Wickets: Anil Kumble – 23, Corey Collymore – 15
Mohammad Kaif: We were successful in putting up good totals on the board but we struggled to get them out twice. Even though we were dominating West Indies, we were not able to finish the games. We had a very young fast bowling side (Sreesanth, Munaf Patel, VRV Singh and Irfan Pathan) and then we had Kumble and Bhajji (Harbhajan Singh), who had to do the major chunk of work.
The tracks were slow and didn't provide much assistant to the fast bowlers and it became difficult to get 20 wickets – getting guys like Lara and Chanderpaul out twice in those kinds of pitches was very tough. We realised later that playing Kumble and Bhajji together in the first two Test matches would have been the right choice. But that was the choice (Rahul) Dravid and (Greg) Chappell made, and left one of the lead spinner out. It was always going to be difficult for any team management to choose between Kumble and Harbhajan.
Dravid as a captain wanted to lead from the front and set an example for the team. He gave the freedom to the fast bowlers and the players to attack and win the game for us. He kept on advising the young bowlers to bowl on the fourth stump and, at times, he was unorthodox as a captain too. But he did have a tough time with the young bowlers, as he had to help them a lot and keep pushing them.
It was after so much time we had so much of fun. After the win, we did not leave the dressing room for couple of hours; we sat, relaxed and talked about the whole journey. If I look back, even though we won the series and I contributed with the bat, but then I never played a Test match again. So there are mixed feelings.
Mohammad Kaif, the middle-order batsman, scored 226 runs in 6 innings on that tour, averaging 56.50 with a best of 148 not out, his only Test century
2011: India 1-0 (3 Tests)
Most runs: Rahul Dravid – 251, Shivnarine Chanderpaul – 241
Most wickets: Ishant Sharma – 22, Fidel Edwards – 19
Abhinav Mukund: If I talk about the first Test, we always knew that we were ahead of the game; the pitch was very difficult for batting. We had a good lead (73 runs) in the first innings. We were always in control and didn't panic at any point of time. Dravid showed great application and got a hundred in the first match. It was not an easy pitch to bat on but the way he played was brilliant and I learnt a lot from him from that tour. The performance of Ishant (Sharma) was brilliant throughout the series and it made life easier for our batsmen.
I won't call (MS) Dhoni's decision of not going for the chase in the final match a defensive move. I got out in the very first ball and it was a difficult pitch. It wasn't easy to score runs. We had already won the series and I don't think 1-0 or 2-0 would have made a huge impact but if it would have been 1-1 then it would have been a big deal. I think it was a very calculated move.
Praveen Kumar: I think (Suresh) Raina and Bhajji were brilliant in the first innings, it surely made a positive impact on the whole team. It gave us belief that we have the potential down the order who can stand up to the task if the top order fails to deliver.
Though there was a lot of talk about the pitches used in that series, but what I believe is the bowlers from both sides bowled well. We were successful in using the conditions to our favour and the credit should definitely go the bowlers.
I made my debut along with Virat (Kohli) and Mukund in the first match and going on to win that game was a great feeling for me. We were having fun about who will get the first chance to perform, if we bat first it would be them performing in the middle and if we bowl, it would be me. It was a very great moment for all three of us.
Abhinav Mukund, the opener, scored 147 runs in 6 innings, averaging 24.50 with a best of 62, and Praveen Kumar, the medium pacer, picked up 12 wickets in 6 innings at 21.16 with a best match haul of 6-80
Slideshow: West Indies vs India Tests — Records that matter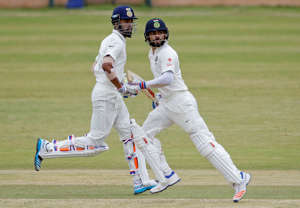 West Indies vs India Tests: Interesting stats