Jayant Yadav's first small step turns into a giant leap

Wisden India
18-11-2016
From a distance, given his build, he can be mistaken for R Ashwin. He doesn't bat like him, and he obviously doesn't bowl like him, but Jayant Yadav has already established himself as the perfect understudy to the No. 1 allrounder on the ICC Test rankings.
The legend of Ashwin has been in the making for the last few years. With runs all around the world, and burgeoning wickets in most parts, he has established himself as the premier match-winner in the team, Virat Kohli's go-to man with the ball in a crisis and lending the balance at No. 6 that allows the skipper to use the extra bowling option should he so feel the need.
Ashwin has been man of the series an India-high six times in seven series wins for the country since his Test debut. That's a phenomenal achievement by any standards; even those that questioned his lack of incisiveness with the ball overseas must now acknowledge that, following his exploits in Sri Lanka last year and the Caribbean earlier this year, he is no dust-track bully, but particularly in India, there is a tendency to run our heroes down within seconds of putting them on a pedestal.
Ashwin is quick with a repartee, unafraid to tread on the wrong side of political correctness and more than willing to take up cudgels if he feels the occasion so demands. These are traits that might be used against him when it comes to bad times, but he doesn't plan to have bad times. And if he does have bad times and if those traits are held against him, he will man up to them too, one suspects.
On Friday (November 18) at the ACA-VDCA Cricket Stadium, he manned up to the challenge of taking on England, first with bat and then with ball, to put India in a dominant position in the second Test. After a silken-smooth 58 swelled India's total to 455, he then came back to harry the old foes with the ball, tormenting and eventually accounting for Ben Duckett before putting it across Joe Root, England's best batsman of the game thus far.

But it wasn't just an Ashwin show on Friday. Jayant, 26, may not have matched him stroke for stroke with the bat or blow for blow with the ball, but he more than held his own on his Test debut which, eerily coincidentally, came at the same venue where he made his One-Day International debut, against New Zealand, a little under three weeks back.
Jayant strode out to the middle a little past the hour mark, India having lost 3 for 12 to Moeen Ali and seemingly frittering away the massive advantage procured through the giant 226-run stand between Cheteshwar Pujara and Kohli the previous day. If he was nervous, it would have been understandable. As it turned out, if he was indeed nervous, it was beautifully couched as he went about the business of accumulating runs with nary an iota of self-doubt or hesitancy.
Off the mark with a brace, he was industrious at the crease, and lapped up the plentiful of advice that came from Ashwin, who was repeatedly in the younger man's ear. With more time in the middle, he seemed to be convinced that he belonged at this grade, and his disappointment at top-edging a slog-sweep off Adil Rashid was all too palpable as he left the field in a blaze of self-recrimination despite making a polished 35.
Never mind. By the time India came back on to the park with the luxury of 455 runs under their belt, his composure had returned. He made the odd stop, but really shone through in the 21st over when a smart piece of captaincy, a smart piece fielding and excellent work from Wriddhiman Saha contributed to the run-out of Haseeb Hameed.

Kohli moved the occasionally lumbering Ashwin from midwicket to mid-on and Jayant in the opposite direction to counter Root's punches through the back foot on the on-side off Ravindra Jadeja, and the call paid immediate dividend when Jayant hared towards deepish square-leg and looped in an off-balance throw. Saha, alive to the possibilities, advanced in the direction of the fielder, caught the throw and back-handed it on to the stumps to catch Hameed, sent back attempting a second run, short. All this meant that by the time he was summoned to the bowling crease in the 33rd over, he was under no pressure whatsoever.

His first over was largely uneventful, but with the second ball of his second over, he defeated Moeen Ali's dance down the track and struck him on his pad. Jayant was convinced the ball would have gone to hit the stumps had the pad not come in the way, though it was ultimately Saha who had been standing behind the stumps who convinced Kohli to go for the review. The review proved Jayant and Saha right, and Kumar Dharmasena, who had originally negated the leg-before shout, wrong. First Test wicket in the bag. Whoever said Test cricket was difficult?
It is clear that Ashwin and Jayant share a strong bond, and the former threw further light on their relationship when he said, "Me and Jayant go a long way back actually. Two-three years ago, he came down to Chennai, he was staying near my house for about two weeks. He practiced with me and I know the boy really well. He is someone who can really understand what I say and we have a very, very good rapport. I felt really happy for him, the way he came out and batted positively. His body language was great. Every bit of communication between us was auguring into the partnership getting deeper, so I kind of enjoyed it. Very happy for him to have got his first wicket as well."
Jayant's hasn't been a regulation story in Indian cricket, though he has come through the ranks and put in the hard yards. When not yet 10, he lost his mother Lakshmi, an air hostess, to a plane crash near Aurangabad some 17 years ago. But he continued to find strong support and backing and encouragement, and is as close to his stepmother Jyoti as he was to his biological mother.
During his ODI debut, the India players sported the names of their mother on the back of their jersey. The name on Jayant's back read Lakshmi. Immediately after the match, he came on live television with a message: "My mom Lakshmi is no more. But I want to give a message to my mother Jyoti who is sitting at home. She must be really anxious right now. Mom, I'm really sorry. The name… I don't know what happened. Some mix-up. But don't worry, you are always here (pointing to his heart)."
After all, it is the heart that makes the man, isn't it?
Slideshow: Most controversial statements by cricketers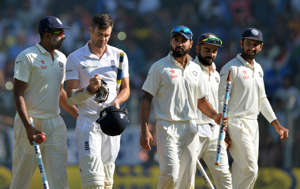 Watch: 'Jayant Yadav belongs to highest level of cricket'