Karun fought inner demons for triple-ton

Wisden India
20-12-2016
Karun Nair's record-breaking 328 in the 2014-15 Ranji Trophy final against Tamil Nadu, made over three days in Mumbai's humid conditions, was a test of perseverance. That innings set the base for his entry into the Indian Test squad, but what made the knock special was how he fought his inner demons through the season.
After a superb maiden first-class season and a tour to Australia with the India A team, Karun put pressure on himself every time he went out to bat. He had a bad patch where he got a few brilliant balls, and was a victim of some sharp catches and poor umpiring, and all that cluttered his mind. He was recovering from a heel injury, but after a few low scores in the first half of the season the issue became more mental than physical.
Karun is much liked in the dressing room, and his choice of music is popular. He is very particular about his cricket and regularly dissects his game with the seniors. We were all concerned with his lack of runs, and from my career experience, when I played a corporate match to crack the success code, I suggested Karun play against a Mickey Mouse team before the knockout, and get back the touch.
Full scorecard: India vs England, 5th Test
That he swallowed his ego to go a level down and score an unbeaten century in the Under-23 CK Nayudu Trophy quarterfinal against Tamil Nadu speaks of his character.
Nasiruddin, the U-23 coach, kept me updated on Karun's progress through the innings. I was told he was quiet for the first 20 runs, then got his rhythm back after his fifty as he stepped out and started hitting through the line.
Karun was so run-hungry by the time he returned for the business end of the Ranji campaign that he looked like a man possessed and ready to catch up with his mates at the top of the batting charts. When I reminded him that he should not get tired while batting, Karun replied, "Sir, I am not going to get out. Don't worry about me." The self-confidence was truly back after his unbeaten 49 in the semi-final against Mumbai on a day when 22 wickets fell.
Karun took strike in the final after Tamil Nadu were bundled out for 134 on the first day, we were reduced to 31 for 4 and KL Rahul had retired hurt. The situation demanded caution, and Karun was determined to salvage it. He played very close to his body initially, and his judgment to leave deliveries outside the off stump against a quality attack was exemplary. He was not relaxed at any point of time, and his strokes started getting aggressive only after he reached his century.
Photos: 'Unique' world records held by Indian cricketers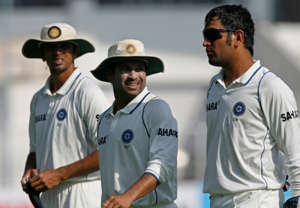 By then, Rahul had joined him and during the course of their 386-run stand – the highest sixth-wicket partnership in Ranji finals, which could have been more had Rahul not been hampered by his hamstring injury – they showed why they are among the best youngsters in the country currently.
The best part about Karun's knock was that at no point did he play casually. He looks casual because that is his style like that of Mohammad Azharuddin and VVS Laxman, and that is different from batting casually. He still has scope to stretch his front leg a bit more, but makes up for that with a steady head. Also, his hand-eye coordination is very good.
Technique is only one part of batting: Karun's triple-century was possible also because of his shrewdness. He manipulated the field throughout his 14 hours and 32 minutes at the crease – the fifth-longest innings in first-class cricket. After a certain point, it be- came obvious that he was not playing to the bowler's field, but with the captain's mind. It created distrust between Abhinav Mukund and his bowlers, and Karun calmly milked the attack for easy runs.
Every time he came back to the dressing room during a break, we kept encouraging him and being batting-fit he too was eager to cash in on the start. He just kept nodding his head to all that we said, giving an assurance that the work will be done. Even at the hotel, he hardly showed any nerves at the dinner table and was fresh when we boarded the bus the next day.
After he reached 200, we broke down his target into blocks of 20 runs and kept reminding him of various records in sight. Once he knew that he had to cross 319 – made by Gul Mohammad for Baroda against Holkar in 1947 – to record the highest individual score in Ranji finals, he was greedy and we knew he wouldn't get out till then. After a point, it became funny with all of us enjoying this record-tracking exercise from the dressing room, even as Karun scaled one peak after another.
---
---
While relishing each other's company has been one of the reasons for Karnataka's success, I would give partial credit to CM Gautam, Ganesh Satish and Robin Uthappa for the triple centuries by Karun and Rahul. Gautam made two double-hundreds and Ganesh made one in 2012-13, and Uthappa hit an unbeaten 307 in a 2013-14 pre-season Safi Darashah Trophy match. It opened up a whole new world for this generation of Karnataka batsmen, who then started believing more in themselves. 

B Raghunath was our coach when I won the Ranji Trophy as a player in 1998-99, and he empowered us to make independent decisions and eliminated the fear of failure within the group. MAK (Mansur Ali Khan, the bowling coach) and I applied the same formula and the results are there to be seen. Infact, most of us are constantly asked what Karnataka's secret is. In reality, it's a 1000-word mantra built with an input here and an advice there over many sessions of being together.
Going back to Karun, I saw him for the first time when I was the Karnataka Under-25 coach. Even then, he was calm, focused and street smart, and had very few distractions. He loved his food and sweets, and got active only while playing football. Since then, he has worked hard on his fitness, lost a lot of weight and looks less injury prone now.
His batting position in the Karnataka line-up has aroused much interest. Based on Rahul Dravid's suggestion, we promoted him from No. 5 to No. 3, but the results did not show and Karun too looked reluctant. As he matures more, he will eventually graduate to No. 3, but right now he is crucial to Karnataka's fortunes at No. 5 because he handles the second new ball well.
Accoding to Pravin Amre, Assistant coach at Delhi Daredevils, Nair's IPL team: "One of the biggest influence on Karun's batting has been his association with Rahul Dravid (Delhi Daredevils and India A head coach) during the IPL. During the nets, he used to try and understand every aspect of his batting with Dravid. We all know about Dravid's contribution to Indian and Karnataka cricket, so with a person like him mentoring Karun, it made a lot of difference."
Knowing Karun, he needs his space to settle down within a system before starting to produce big knocks. For that reason, the national selectors should persist with him because he is a long-term India player.
J Arunkumar has been a part of five Ranji Trophy-winning Karnataka teams, thrice as a player and twice as a coach.