Karun Nair has a Ford Mustang and a special number-plate

The Indian Express
16-02-2017
Karun Nair, who became only the second Indian to score a Test triple century after Virender Sehwag, recently shared a photo of his brand new buy, a Ford Mustang and called it "his Valentine". Incidentally, it is the number plate of the car which is drawing all the attention as it sports a trendy- KA 03 NA 303.
Karun has made sure he gets a special number plate. 303 is symbolic for the the 25-year-old, who hails from Jodhpur as he made this score in just his third Test innings. As Nair struck an unbeaten 303, India went on to post a mammoth 759 for seven declared and later won the Test match as well against England.
The car has 'KA' which are the two alphabets of the cricketer's first name Karun followed by 03. It late has 'NA' which are the two alphabets of Nair. The final number is 303 which is his score after he scored a triple ton.
Photos: 'Unique' world records held by Indian cricketers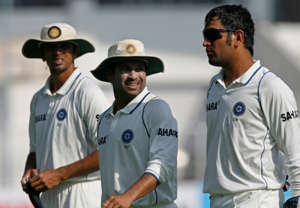 Nair became just the third player in Test cricket history to turn his maiden century into a triple hundred. He now features in an exclusive club comprising of Sir Garfield Sobers and former Australia captain Bob Simpson.
His score is the third-highest by an Indian batsman behind Virender Sehwag's 319 and 309 scored in 2008 and 2004 respectively, and is the 30th time a batsman has surpassed 300 in Test cricket.
But what was really good about his innigs what the way he paced it. This was on full display during his triple-ton. If he took 185 balls to get to his maiden ton, the second came off 121 and the third needed only 75 balls.
---
---