King Kohli through the eyes of an English convert

Wisden India
15-12-2016
For many Westerners growing up in the 1970s, India had been fixed in our consciousness as a land of subsistence farmers, insanitary plumbing and shanty town cities. Of course, that India still exists in the same way that the London of Charles Dickens pushes up through London's gilded pavements for those with eyes to see.
I knew about the emerging 21st century India: the industrial powerhouse, the hi-tech economy, the burgeoning middle-class. But, never having visited the subcontinent for myself, I need jolts to shift long-held perceptions – or prejudices – information that pushes into the heart as well as the head. That jolting has happened twice in the last ten years or so, the first a surprise, the second a culmination of events.
When the Indian Premier League was launched in 2008, like many cricket fans, I saw the salary figures quoted and stared in bemusement. Not only were they huge (well, those at the top end) but on a per-week or per-match basis, they were truly astronomical. This from a standing start with no international marketing and no strategic building of brand awareness of the kind that had lifted the NBA and the English Premier League to such financial power. Those early IPL numbers instantly swept aside any notion of India as I had known it growing up, and pretty much dealt with its replacement caricature, the call-centre economy and the sweatshop labour factories.
Photos: 'Unique' world records held by Indian cricketers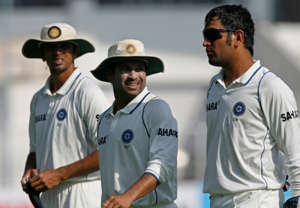 Being a man who sees politics as much determined by art, media and entertainment as by economics (that's what reading too much Gramscian social analysis at an early age does for you), I expected, but hadn't yet seen, that cultural dimension of 21st century India make itself manifest. Sure, there were the films, both Bollywood and the likes of Slumdog Millionaire, that shone a light on contemporary India and the writers both at home and in the vast diaspora, carving out an established space in mainstream Western tastes. But Ben Kingsley's Gandhi, for all its importance, was too deep set in my mind to be shifted, even by the charisma of Aamir Khan.
The greats of 21st century Indian cricket, Sachin Tendulkar, Anil Kumble, VVS Laxman and, most of all, Rahul Dravid, were easily recognisable to Brits. These men are the kind of educated Indians whom we see in our surgeries and pharmacies, whose children work hard at school and with whom we hope our own kids will make friendships, the famed educational work ethic to rub off. There may have been a bit more edge to the likes of Zaheer Khan and Harbhajan Singh, but they were hardly Ricky Ponting and Shane Warne in their spikiness. Even Sourav Ganguly fell into a template that could be fitted within a pre-determined set of cultural stereotypes, something of a modern day Maharaja, stories from his days in the Lancashire dressing room (when he deigned to enter it) rather supporting the view that he floated disdainfully above teammates in a world of his own making.
In the aftermath of India's World Cup triumph in 2011, one man had the self-possession and confidence to capture the thoughts of over a billion people in a soundbyte that struck home as sweetly as MS Dhoni's match-winning six. The junior member of the side looked down the camera lens and said of Tendulkar, reluctant to be hoisted aloft by his teammates, "He has carried the burden of the nation for 21 years. It is time we carried him on our shoulders." If Virat Kohli's contribution to the match hadn't caught the eye, those 21 words certainly did.
Soon, those outside India learned more about the batsman with the film-star looks and hyper competitive attitude, about the kid who lost his father at 18 years of age, but went out the next day and made a vital 90 for Delhi because that was what his team needed. The runs started piling up, especially in one-day cricket and then, a little later, in red-ball cricket as fifties were converted to hundreds and then hundreds into daddy hundreds.
---
---
The inevitable elevation to the captaincy just improved his form, but, crucially, leadership smoothed over much of the coarser elements of his competitive nature, without ever diminishing it – indeed, it was enhanced for its being more controlled, the product of an intelligent man's cunning rather than an emotional man's spirit. Witness his approaching the line in the spat with Ben Stokes, but not crossing it – the Englishman was the one sanctioned. 

At the start of the 2016 India v England series, I was happy to call Virat Kohli the best batsman in the world. Others may lay a claim through weight of runs or selective statistics, but Kohli had something beyond such metrics – he, in a way that is given to only one player in each generation, could bend a match to his will. He stands with Shane Warne and Viv Richards in my time watching cricket as a player whose personality fills a stadium and beams into millions of homes through screens. It's a rare alchemy of talent, commitment and attitude, allied to a will strong enough to master those powerful qualities and not be mastered by them.
On the field, Kohli is hyperactive, usually in and around the bat, offering "advice" to opponents but always in touch with his bowlers. Though the captain in every sense, he appears to lead not through the entitlement that comes with office, but through an element of primus inter pares, or "first among equals". Possibly realising that R Ashwin and Ravindra Jadeja are big personalities who use them in their bowling, the camera often picks him out in animated discussions, with Ashwin in particular, his ace bowler telling his captain exactly what he thinks and getting plenty back too. This is far from Ganguly's imperious presence or Dhoni's occasional air of indifference as the overs clicked by.
With the bat, Kohli has dominated the series, not just with weight of runs, but the means by which he has acquired them, two incidents in Mumbai illustrating my point. At the start of his innings, Kohli had faced eight deliveries without getting off the mark, nor even looking to do so. The ninth (from Jake Ball) was a little wide and he was all over it, square driving it to the fence off the sweetest of sweet spots, the shot of a man on 100, not 0. If not literally then metaphorically, England's shoulders slumped and I settled in for some more exquisite torture.
The job done, on holing out for 235, England's weary players went to congratulate him as he left the field, Ben Stokes mustering a sprint from the outer in order to shake his hand. For all the jostling in press conferences by Parthiv Patel and James Anderson and the (relatively infrequent) spats on the field, there was something symbolic in that moment of old-fashioned sportsmanship. The noise in the stadium was deafening, the adulation must have been rolling in waves from the packed stands, but Kohli looked the calmest man in Mumbai, accepting the respect of his vanquished opponents and then the applause of the crowd with no histrionics.
Virat Kohli marks a cultural shift (at least to my Western eyes) in India. Here is a man neither deferentially polite in a world ever more brutally competitive nor overly aggressive, believing that he needs repeatedly to force his way out of a creeping Impostor Syndrome. Never less than utterly focused, he finds time to smile and convey some of the joy of the game and convey the good fortune to be living the life he leads. There is a balance about his personality that is somehow surviving, even developing, in the cauldron of Indian cricket, something on which he has sought the advice of Tendulkar, who knows a thing or two about it.
Most importantly of all for me, and I am not alone in this, he may be the most 21st century player in the most powerful nation in cricket's too small world, but he plainly respects, even loves, the international game's oldest format – Test cricket. If he is the personification of how India will use its cultural heft to shape cricket (and the wider world), I do not believe we could have a better man in the job. Every Indian believes they are lucky to have King Kohli at the helm – and so too do I and many like me.
I just wish he would nick off once or twice.