Kohli's best knocks: in desperate times, on foreign shores

Wisden India
21-07-2016
Virat Kohli's One-Day International debut for India, as a temperamental 20-year-old in 2008, was on the back of impressive performances at the Under-19 World Cup. Since then, there has been a steady rise through the ranks. He was part of a World Cup-winning side in 2011 and had eight ODI hundreds even before his Test debut. It wasn't until 2012 that he established himself in the Test side but, once he nailed down a spot, captaincy was a natural progression after Mahendra Singh Dhoni's retirement. Wisden India looks at some of Kohli's best Test knocks, in no particular order.
116 v Australia, Adelaide, 2012
Kohli's didn't have to wait too long before he was inducted into the Test squad, but he was written off quite early in his career.
After three losses on the trot, no one expected India to put up any fight in the fourth and final Test in Adelaide. And they didn't. Scoring his maiden Test hundred, Kohli was the lone beacon of hope. On the third day, he became India's first centurion of the series. When he pierced the field on 99, his celebrations indicated a sense of relief after the pressure he had been under. The feat was even more special because he had to endure a verbal barrage from the Australian fielders before he got there. The knock wasn't enough to help prevent a 4-0 whitewash, but it certainly underlined Kohli's credentials as a Test player.
119 v South Africa, Johannesburg, 2013
Indian batsmen don't usually score centuries in the first innings of a tough tour outside the subcontinent. Furthermore, Kohli entered the series with everyone talking him up as the natural successor to Sachin Tendulkar. If the pressure of replacing cricket's most prolific run-scorer was not enough of a burden, Kohli arrived at the crease with India at 24 for 2 against the world's best attack. But he responded with a disciplined119 to take India to 255 for 5 at the end of opening day, displaying a sense of occasion befitting an elder statesman.
141 v Australia, Adelaide, 2014
When India began the final day's play, they needed 364 to win off 98 overs. Pressing for a win seemed a ridiculous idea. But Kohli pressed on relentlessly in what was one of the greatest Australia v India matches of all time. At 57 for 2, Kohli and M Vijay came together, and ensured that they had done enough to make the opposition believe India could pull off a stunning chase. While Vijay was the epitome of caution, Kohli batted with a swagger that nearly took the pitch out of the equation. Along the way, Kohli became only the second player in Test history to score a century in both innings on his debut as captain, but the masterly 141 ended in disappointment as India hurtled to a 48-run loss.
103 v New Zealand, Bangalore, 2012
As captain of the Royal Challengers Bangalore in the Indian Premier League, Kohli has become the darling of the Bangalore crowd to the extent that he could consider the M Chinnaswamy stadium as his second home. He had walked in at a precarious 80 for 4, and was the fulcrum of India's first-innings resistance, with some support from Suresh Raina and Dhoni. One of the highlights of Kohli's century was the patience he showed early in his innings, offering the bowlers plenty of respect and displaying a willingness to leave the ball. His superbly crafted century put India in the driver's seat against New Zealand.
63 v West Indies, Mumbai, 2011
In a fascinating advertisement for Test cricket, India were chasing 243 in 64 overs, with any four outcomes possible in the final over of the match. Although Virender Sehwag's 60 provided the much-needed early impetus, India continued to lose wickets despite making reasonable progress, and it was Kohli's 63 that kept them in the hunt.
On his comeback, Kohli batted beautifully to resurrect the chase in the final session, forging his second half-century of the match. Kohli might not have taken India over the line, but his knock was instrumental in one of the most dramatic climaxes in Test history.
51* v New Zealand, Bangalore, 2012
Kohli reaffirmed his growing stature with an unbeaten, gritty half-century during a tense fourth-innings chase that led India to a 2-0 series sweep. Chasing 261 for a win, India had slid to 166 for 5. However, Kohli and Dhoni ensured there were no further hiccups. Kohli started slowly, but paced his innings to perfection to score his fifth Test half-century and a match-winning one at that.
169 v Australia, Melbourne, 2014
Kohli had won over audiences in Australia since the start of the series but, on a warm Sunday morning in Melbourne, he enhanced his reputation further with a career-best 169 in the third Test. The knock helped India close in on Australia's first-innings total of 530. Kohli was involved in a an epic 262-run stand with Ajinkya Rahane (147), as the duo feasted on the bowling and matched each other stroke for stroke. Throughout the innings, Kohli had a running battle with Johnson and, at one point, the Australian pacer even hurled the ball at Kohli, hitting him on the back. A fired up Kohli then treated every bouncer as an opportunity to score and, by the end of the day, he had emphatically put Johnson in his place.
147 v Australia, Sydney, 2015
Kohli's love affair with Australia continued at the Sydney Cricket Ground, where he got to his fourth century of the series — a feat no Indian has achieved before. Australia had declared after amassing a mammoth 572 for 7 in their first innings and, when Kohli walked out to bat, India were 97 for 2. A composed Kohli — alongside KL Rahul, who scored his maiden Test ton — led India's reply with a patient 147. He also became the first player in history to score centuries in each of his first three innings as captain.
107 v Australia, Chennai, 2013
It is not very often that a Kohli century is eclipsed. Dhoni's double hundred ensured he dominated the headlines even as India consolidated their position on the third day of the opening Test. But Kohli's 107 was an innings that, to an extent, laid the foundation for the side. During the course of the innings, Kohli was involved in two crucial partnerships — 91 for the fourth wicket with Tendulkar and 128 for the fifth wicket with Dhoni.
Slideshow: 26 things you should know about Virat Kohli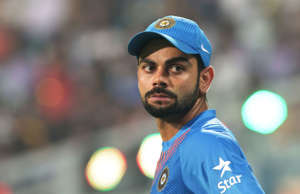 27 things you didn't know about Virat Kohli