Kohli's record double and Saha ton put India in charge

Wisden India
10-02-2017
For a long time, there was the feeling that Virat Kohli can't play big innings, bat long, score daddy hundreds. In a sense, he still doesn't bat long; he scores his runs so quickly after all. But batting big – he has been doing it almost as a rule in the recent past.
On Friday (February 10), the second day of the one-off Test against Bangladesh at Rajiv Gandhi International Stadium in Hyderabad, Kohli got to his fourth double-century, an innings of 204, in just under five hours over two days and off only 246 balls. All his four doubles have come since he took over as captain, all since July 2016. The latest also made him the first to score double-centuries in four consecutive series.
Full scorecard: India vs Bangladesh, one-off Test
What that innings, along with Ajinkya Rahane's 82 and Wriddhiman Saha's enterprising 106 not out later in the day, did was put India in a position from which at least one result should be ruled out. They called ii off on 687 for 6, having added 331 on the day, soon after Saha's century and Ravindra Jadeja's half-century. And the breakthrough they had hoped for in the time left – enough for 14 overs – materialised late in the script when Soumya Sarkar feathered an inside edge off Umesh Yadav, in his first over, for Saha to take a smart catch diving to his right. Sarkar scored 15. Tamim Iqbal, the other opener, looked good in making an unbeaten 24 as the day closed with Bangladesh on 41 for 1, 646 in arrears, with Mominul Haque the other man in the middle.
Resuming on 111, Kohli charged along as though there hadn't been a gap between the first evening and the second morning. In the fifth over of the day came the shot that summed it all up in a way. Taskin Ahmed over-pitched, and all it took for the ball to rocket to the long-on fence was a little cocking of the wrist and bat-speed to make a scientist sit up and take note. The bat – much like with Sachin Tendulkar's straight drive – had hardly any follow through after hitting leather, but the damage was done. All class, intent and sword straight – that was Kohli.
It was his finest on the day, but hardly the only one to gape at. There were pulls and cuts, and drives and dabs, off pacers and spinners alike. The Bangladeshis felt the heat and wilted, but they could be excused – teams with more pedigree than them have felt no different when faced against the might of Kohli of late.
Photos: Virat Kohli's amazing records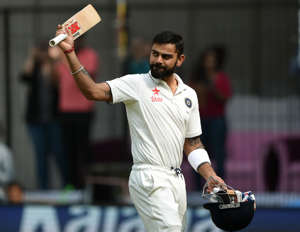 He ended on 204 when he looked good for many more, but he had more than done his job by then.
It started to go wrong quite early in the day for Bangladesh after they had started all right with Taskin Ahmed and Shakib Al Hasan. Kohli found the fence, to the left and then the right of point, in the third over, off Taskin, and after that, Rahane and he found at least a boundary, often two, in almost each over. And the scoreboard ticked over at frenetic pace. A total of 70 runs came in the first hour, and though it slowed down a bit after that, 51 more were scored in the second hour as India went to lunch on 477 for 4, having lost Rahane along the way.
Bangladesh did pull things back a tad, and it coincided with the pitch starting to turn. Mehedi Hasan was the one to start things off, troubling Kohli and Rahane on occasion. He didn't get lucky, but it was the 19 year old who finally provided the breakthrough, taking an excellent diving catch to his left at short cover off an uppish drive from Rahane when the delivery from Taijul Islam stopped on the batsman a bit.
Rahane looked very good while he lasted, starting slowly on the first day but then getting into his groove to play some nice strokes all around the wicket, even going agricultural once when Shakib threw him a full toss. More importantly, he gave a good account of himself after having returned from injury and keeping Karun Nair, the triple centurion from India's last Test, out of the playing XI. The 82 he got came from 133 balls and spanned 200 minutes, and the 11 hits to the boundary went a long way in building the 222-run stand with Kohli, the aggressor all along.
---
---
Mehedi, who had fluffed the easiest of run-out opportunities on Day 1, grabbed the half-chance that came his way, but earlier in the day, Sabbir Rahman didn't, failing to latch on to a tough one at squarish third man to an uncontrolled cut Rahane played off Kamrul Islam Rabbi. And it got worse later. Mehedi had just had an appeal overturned on review against Kohli, when the batsman was on 180, and then Taijul got the ball to turn past Saha's bat with the batsman well out of the crease. But Mushfiqur Rahim, who has largely been unimpressive behind the stumps in this Test, collected the ball and then missed the stumps twice with his attempt at knocking off the bails. He was third time lucky, but Saha was back to safety by then. 

The spinners were very much in the game by then, but Kohli was up to the challenge, as one would expect, and slowed down not a bit as he moved to his landmark. When it came, though, it wasn't with his best shot – an miscued lofted drive over cover off Taijul. But it was in vacant land, and rolled over for four more – his 24th. And last, as Taijul finally got one to hit pad first with Kohli attempting a cut off the stumps, almost five hours after he had walked in, and well after he had put his team in a position of great strength.
A review, which Kohli opted against strangely, might have overturned the decision, with replays showing contact just outside off, but for Taijul, it was just reward for many overs of great accuracy – his third wicket, and the biggest one. Taijul, though his figures were spoilt somewhat by Saha and Jadeja later, was the best and most economical of the Bangladesh bowlers, finishing with 3 for 156 from 47 overs. Taskin, on the other hand, had a poor day in office, getting clobbered by almost everyone to finish with 1 for 127 from 25.
But Saha, who had started in circumspect manner in his comeback Test, and R Ashwin made sure the initiative was not lost. Kohli fell in the fifth over of the session, but India still scored 143 in 32 overs. Ashwin started it off, hitting four fours in a pleasing-to-the-eye 45-ball 34 before nicking Mehedi to Soumya Sarkar at slip, and Saha took over after that. There was that missed stumping early on. And Mehedi had a close lbw shout go in the batsman's favour when replays showed it hitting just outside off. But outside of those two false moves, Saha was solid. And aggressive. Playing a big role in building on the work done by Kohli.
Saha slowed down a bit as he neared his second Test century, taking 53 deliveries between his sixth and seventh boundaries, the last one taking him to 98. But he got there in the end in 153 balls. And when he did, he did it in style with his second six, a straight bang off Taijul.
Jadeja wasn't to be left behind. He turned it up with two fours and two big swipes over deep midwicket to get to a 68-ball 50 and, of course, celebrated with the patented bat twirl. He ended on 60 in 78 balls to go with Saha's unbeaten 106 in 155 balls, before Kohli ushered them back in for a short go at Bangladesh. Bhuvneshwar Kumar and Ishant Sharma did most of the bowling in that time, with Ashwin, who should have a major role to play on Day 3 and beyond, and Yadav getting two overs each.