Kohli's sweetness in question ahead of Mohali Test

Wisden India
25-11-2016
It was interesting that, on the eve of the third Test, Alastair Cook should choose to invoke the jelly beans mantra.

To those whose memory might need a little jogging, the England captain was referencing the Nottingham Test of 2007, and the mysterious appearance of jelly beans in the vicinity of the pitch when Zaheer Khan came out to bat. The not-so-subtle message was that the Indian paceman had resorted to unfair means on his way to 4 for 59, which sent England crashing to 198 all out in their first innings.
Zaheer is an excitable character, and understandably didn't take kindly to this slight. He had a verbal pow-wow with the England fielders, including Kevin Pietersen, who he mistakenly thought had been the main culprit. He remained unbeaten on 10 as India opened up a lead of 283, then returned charged up to take a further 5 for 75 in 27 hostile overs dripping venom to set up a seven-wicket win, and India's first series triumph in England in 21 years.
Virat Kohli spent the early years of his Royal Challengers Bangalore years tailing Zaheer, the older man taking the younger charge under his wing. There is a certain touch of Zaheer to Kohli in the way he reacts to situations, and while he might not have been around to hear his opposite number talk about jelly beans, such information invariably reaches the ears of those concerned. Like Zaheer wasn't nine years back, Kohli won't be amused. What that will translate into on the field, when India seek to build on their 1-0 advantage at the PCA Stadium from Saturday (November 26), remains to be seen.
Much has been made, only in British media quarters, of Kohli's so-called use of an artificial substance to shine the ball in the drawn first Test in Rajkot more than 10 days back. Kohli's contempt was thinly veiled when he was asked of his alleged dalliance with infamy, and he swatted the query aside by pointing to the timing of the dramatic revelation – not after the Rajkot draw, but after India's victory in Visakhapatnam. If there was a prize for mind games, the Indian skipper won't be lagging behind anyone.
It is probable, even possible, that Kohli might not even remember this exchange on Saturday morning when he and Cook walk out for the coin-toss. But then again, Kohli doesn't need an external source of motivation as he looks to extend his team's recent brilliant run, and India's streak of not having lost a Test at home since Kolkata against Cook's team of 2012.
---
---
© Reuters Image

India's 246-run margin of victory in the second Test of five might have been slightly flattering only because England have held their own for most parts of the nine and a half days of this series thus far, but once England adopted a defensive mien after being set 405 in a minimum of 150 overs, the Visakhapatnam game was headed only one way. England's survive-at-all-costs approach was difficult to fathom, given that they have prided themselves on their positivity in the last year and a half. Both in a tacit admission that they need to be more proactive, and dictated by Ben Duckett's woeful submission to R Ashwin, England have confirmed that Jos Buttler will reclaim his Test place and bat at No. 7. Jonny Bairstow, the highest scorer in Tests in 2016 and the current incumbent at five-down, will hurtle up to No. 5 as England look to maximise form and depth.
Slideshow: 27 cricket world records you must know about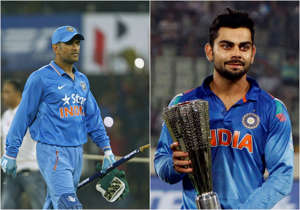 Buttler played the last of his 15 Tests in Dubai against Pakistan last October. In the last 12 months, he has figured in a solitary first-class game, making 16 and 26 for Lancashire against Middlesex in September. But he has been a very influential figure in England's limited-overs scheme of things. Apart from being the stand-in captain in Bangladesh a couple of months back, he was also their best batsman with scores of 63, 57 and 25 in the three One-Day Internationals. Even though he only averages 30 in Tests and has no experience of long-form cricket in the subcontinent, England are banking on his trysts with the IPL and his natural flair and aggression to provide what Duckett's timidity and technical inadequacies couldn't.

England will also welcome back Chris Woakes, the paceman who was brilliant and yet unlucky in Rajkot, in place of Stuart Broad who is out injured. The bowling won't suffer any in view of the swap, even if Broad's experience of 101 Tests will be missed; the batting will be strengthened even more, and that's something England are mindful of after mustering just 255 and 158 in the two innings in Visakhapatnam.
Like plenty of other visiting teams, England are also a little perplexed by what Mohali might or might not offer. They believe history indicates that this is the best venue in India for pacers, but their reading of the pitch suggests they don't believe that will be the case this time around. With Zafar Ansari, the left-arm spinner, not available for selection, do they opt for the offspin of Gareth Batty, 39? Or, do they fall back on their strengths and bring in the pace of Steven Finn and go in with four quicks and two spinners?
India don't exactly have problems of that nature, even though they will put up a new playing XI for the 20th time in 20 Tests under Kohli. This move has been necessitated by the injury to Wriddhiman Saha, offering an unexpected lifeline to Parthiv Patel who will, with gratitude, look to grab his chance with both hands. More crucial will be how he grabs the chances that are bound to be created especially by the spinning triumvirate of Ashwin, Ravindra Jadeja and Jayant Yadav, for it was his less-than-impeccable glovework when standing up to Anil Kumble and Harbhajan Singh that let Parthiv down in his first innings as India stumper.
India's concerns – and that may not be that much of an exaggeration – should revolve around a certain over-reliance on their captain when pushed to a corner. Cheteshwar Pujara has conjured two centuries and M Vijay had a good Rajkot game, but especially with India again likely to go in with just five batsmen, Ajinkya Rahane will feel the need to make a meaningful contribution. After a reasonably productive Test series against New Zealand capped by a well-structured 188 in the final Test, Rahane has gone off the boil. He had modest returns in the five ODIs against the Kiwis, and has scratched together just 63 runs in four innings in this series. India can't afford to have one of their middle-order bulwarks misfire anymore, not even when the lower middle order has reasonable skill and nous.
If they feel there might be something at all in the atmosphere, India might look to Bhuvneshwar Kumar for Umesh Yadav. The PCA Stadium strip is unlikely to be anywhere near the somewhat undercooked surface last year for the South Africa Test when spin accounted for 34 of the 40 wickets. But there is enough there to guarantee generous twists and appreciable turn. From when, and to what extent, is the million-dollar question.
Teams (from)
India: KL Rahul, M Vijay, Cheteshwar Pujara, Virat Kohli (capt), Ajinkya Rahane, R Ashwin, Parthiv Patel (wk), Ravindra Jadeja, Jayant Yadav, Umesh Yadav, Mohammed Shami, Ishant Sharma, Bhuvneshwar Kumar, Karun Nair, Amit Mishra, Hardik Pandya.
England: Alastair Cook (capt), Haseeb Hameed, Joe Root, Moeen Ali, Jonny Bairstow (wk), Ben Stokes, Jos Buttler, Chris Woakes, Adil Rashid, Gareth Batty, James Anderson, Steven Finn, Jake Ball.
Watch: 'Cook's wicket turning point in 2nd Test'