Kohli at forefront of new batting rivalry in Test cricket

Wisden India
18-12-2016
Alastair Cook came into a cricketing arena where the titans were men like Sachin Tendulkar, Ricky Ponting, Kevin Pietersen, Virender Sehwag and Jacques Kallis. Now, at 32, he has watched a new generation establish itself at the top of the batting rankings. It's a transition that he's enjoyed witnessing, though not in this series where Virat Kohli's 640 runs have played a pivotal role in the 3-0 scoreline, and overshadowed Joe Root's contributions for England.

"It's not been fun watching Kohli score 600-odd runs if I'm being brutally honest," said Cook with a wry expression on his face on Thursday (December 15). "It's been a masterclass of batting, and he looks like he's certainly stepped up his game in Test cricket. Full credit to him. Joe's (Root) record is fantastic, he's a fantastic player and we're lucky he's English and part of this side. I think there probably is a little battle between them. Steven Smith has got a few [runs] as well."
For his part, Kohli reckoned that any talk of rivalry or competition was more to do with the promotion of the sport. "I think it's more for the fans," he said. "They put us in a group of young players coming up in world cricket. I see people enjoy talking about it a lot, and they mention it to me as well.
"You feel good you are in a bunch of batsmen that is taking world cricket forward, not just having that healthy rivalry between us. As an individual, I don't focus on those things. It is a massive distraction. When you are going through a good phase, you want to see the rankings, you want to see what people are talking about, 'Am I in the race?' and stuff like that. But you get so addicted to it when you are not doing well, and saying things backfires and it can really put you down.
"To me, all these are world-class players and I have always rated each one of them higher than me, in Test cricket especially – because of the way they have performed in the last two or three years. I understood my limitations and never tried to outdo them in the longest format of the game. In shorter formats, yes, I have been doing very well. I understood what I needed to do in the longest format for me to be able to contribute the maximum for my team. That's been my aim.
"I respect them [Smith, Root, and Kane Williamson] equally and I think there is equal amount of respect between all of us, David [Warner] included. All of us understand and like our games. I really admire the way all these guys play. I think it is a healthy competition that people like to talk about, and it should go on for a few years."
---
MORE ON MSN INDIA
YOU MAY ALSO LIKE
---
© Getty Image

With Root being touted as the next England captain – Smith and Williamson already lead their sides – Kohli was asked how he thought he might cope with the pressures of the job. "It depends on the individual, to be honest," said Kohli. "Joe is an outstanding player. I've been very fond of the way he goes about things. He is very positive, always thinks of any situation as an opportunity. It is pretty evident with the way he's played.
"I don't know what captaincy would do to that. Captaincy is not just about handling the 11 guys, or 10 other guys on the field or having the squad and interacting with the management. It comes with the whole package of interacting with the media, having people expect things out of you in a very different way, having the onus of the whole country on your shoulders as far as the sport is concerned.
"Joe looks like one who has the temperament to do it. Only he can answer that question. But whatever I have seen of him as a player and the way he conducts himself on the field, I think he is well equipped to handle it."
Smith and Kohli have thrived since taking on the captaincy, while Williamson has maintained his batting numbers eight Tests into his stint. Cook was hopeful that Root's career would follow a similar trajectory whenever the top job became his. "You just never know," he said, stressing the need for some caution. "I think a lot of players have a bit of a spurt when they first take over the captaincy. It levels out after a couple of years, when you probably find your genuine level.
Slideshow: Virat Kohli - On and off the cricket field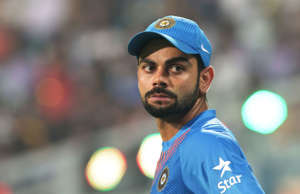 "I was asked a very direct question about it a couple of days ago. But the moment he got off the plane in India in 2012, as a very young-looking Joe Root, you knew he was ready for international cricket. Everything – his mind, his game – was ready. Every challenge that's been thrown at him, he's handled. So I don't think anything over the next few years will faze him."

As England's challenge disintegrated in the second innings in Mumbai, it was Root that gave the travelling fans some cheer with a delightful innings of 77. If he can play a defining innings to close out a tour where he hasn't quite reached the heights he's capable of, the debates – Smith started the series against Pakistan with a century [his 16th in just 48 Tests] at the Gabba – will only get livelier.
Watch: Virat urges people to never drink and drive