Kohli has the same mindset Richards did – Ravi Shastri

Wisden India
15-04-2016
In this, the first part of an in-depth discussion on the state of Indian cricket with Wisden India, Shastri talks about the person he is, taking charge of the Indian team, standing beside Virat Kohli as he went from boy to man, and much more.
I actually want to start with something quite controversial, because I remember this exchange quite vividly. We were at the Cricket Club of India for the Sri Lanka Test (2009), when India took over the No. 1 ranking. And that was the time the Tiger Woods scandal broke. I remember you telling me that you were never going to have the same problem, because you were always open about the kind of person you were. You think in a sense that has created problems for you, because many things in India seem to be based on image rather than reality?

I don't think so. If anything, this job is one where you have to be accountable and responsible. When you are playing, you have the bat and the ball. When you doing commentary, you have the mike. Here, everything is beyond your control once the players go (out on the field). The work that has to be put in is much more, and the eyeballs pointing towards you are that much more. I believe, at the end of the day, come what may, in whatever work, it is results that matter.
I keep things simple. Just clear the baggage, believe in what you can do to produce consistent results. If that happens, everything else is to one side.
I mean the perceptions of you as an individual …
I am not on Twitter. I am not on Facebook. I am very clear-cut in what I have to achieve. I am not some one who is kaan ka kachcha (To believe everything one hears) as they say. I am not into gossip. I know my business, and the bottom line is I like to mind my own business. And I have goals. If you are focused in that direction, what is happening on the outside will happen. Everyone's not the same. Some people will embrace it, some people will give it a flick. It is not my terrain, not my territory, just move on cool headedly and focus on the job on hand.
What was it like when you took over as Team Director? India had lost a Test series in England, and there was a lot of talk about how the team had fallen away after taking the lead at Lord's. There was obviously Duncan Fletcher as coach, someone who has a huge reputation in the game. So was it difficult coming into that scenario?
Not at all, because my personality is such that I take up challenges of that sort. I want to cut across barriers and come straight to the point, which is communication and trust. For me, that was the first nail I had to put in. I always believed they were a terrific side. They were low on confidence and they were probably not approaching the game in the right way, the way it should be played when you consider the talent they have.
Those were the two areas you had to focus on, and you kept things simple. You said, let's hit those areas first, let's get the trust, let's get the communication going. Let's get the work ethic better, where there's no shortcut. It might take time, it might take three to four months before we are back to winning ways. And then you know things will fall in place. But what I saw was a transformation that was quite immediate. I didn't expect that. But then again, it's why I jumped in, because I knew there was huge talent there.
In terms of the transition itself, because the coaches who worked under Duncan were replaced, and you brought your own guys in, was there a tricky period of adjustment because he would obviously have been used to working in a certain way with those guys?
It was very clear who was in charge. And what was the road ahead. It wasn't a case of three people giving their opinions. It was one guy saying after consulting with everybody that this is the way to go ahead.
So, it was still Duncan's team you were assisting?
It was Duncan's team, but I was instrumental in paving the way, in showing the path. Whether Duncan liked it or not, he had to accept it, as simple as that. As director of the team, I am in charge of the coaching staff. I oversee everything that happens with the team. The direction and ideas were clearly mine, once I had discussed it with the other guys.
When you say the way they were playing wasn't right, I assume you are talking about the mental aspect?
I thought there was too much of individual stuff, rather than propelling a team ahead. You know, channelising your energies not for individual performances, but to what would make a team play better. It is team first, then you.
Did you go into a team that was fairly insecure?
Of course. When you get hammered in three days … two days. I was there as a broadcaster and I told them what I had seen on the tour. I said I saw fabulous cricket at Lord's, at times great cricket, the way Ajinkya (Rahane) played for that first-day hundred. Then, I saw ordinary cricket, and very timid cricket. I said: You showed me everything. But I still believe you are a terrific side and that's the reason I am here.
How much of that do you think was down to conditioning – because India hadn't played a five-Test series since 2002?
I think it was a mixture of everything. I thought the real turning point was the tour of Australia. Don't go by the scoreline, watch what happened six months down the line. A lot of people laughed at me at that time. They were 2-0 down, they had not won a game in Australia. But the approach to the game, the way the game should be played, is what I liked on that tour. We tried to chase down nearly 400 to win the game (in Adelaide), and looked to take the game forward. Showed a lot of steel in saving two Test matches at two of the biggest grounds in the world, Sydney and Melbourne. It's never easy to bat out day five and hold Australia back. I thought that was a magic tour. I don't care about the results, but I know what it did for the team mentally. The rest is history.
There has obviously been a change in Test captaincy. I don't expect you to compare them, but do you think there is a certain synergy in the way you work with Virat Kohli? In terms of the approach to the game, you seem remarkably similar as individuals. He can be in your face as a player…
Which you were too …
He wants the game to go forward. Where he is absolutely magnificent in his work ethic. He is second to none when it comes to effort, training, time put into his own game, and in the interests of the team. When you have a captain with that kind of passion, it starts rubbing off on other individuals, which is exactly what's happened in this team. Since he took over the Test side, everyone wanted to try and emulate him and be at least on the same page. That helped their own games, and helped the team.
What happened in Adelaide in 2014, trying to chase down a massive total on the final day, probably wouldn't have happened a few years earlier. India didn't go for a much smaller target in Dominica in 2011. How much of that do you attribute to your influence on the team? We have always said that we'll take the game forward. My reasoning, and Virat's, was bang on. In fact, he said at the team meeting on day four that whatever we have to chase, we will try to. For me, it was the right tactic because of the amount the ball was turning. We still lost nine wickets in the last session of play.
If we had started playing conservatively in the first session, I think that game would have been over maybe before lunch or half an hour after lunch. So instead of that, you take the game to the opposition. If we are in that same position at tea again, maybe a year or two down the line, in another Test match, we would probably win it. You would have learnt from what you could have done better.
Do you think in a sense that the innings Virat played, despite the result, has kind of created a template for India going forward, the kind of cricket that needs to be played?

It is the best fourth-innings batting I have ever seen in my years as a player, broadcaster, and team director. It was an unbelievable innings – just the tempo he went at was fabulous. When the captain is thinking in that fashion, the players believe. Another couple of contributions, and we were home and dry.
A lot of great players have struggled in the fourth innings of a Test match. I don't want to bring up names, but what do you think sets him apart in those pressure situations? Because we have seen it repeatedly in limited-overs games as well. I think what sets him apart is intent. He doesn't believe it is a fourth-day track. He believes there is equal opportunity to score runs then as he had on day one. He thinks in that fashion.
It's just the mindset then?
Absolutely.
Have you seen that with batsmen before – in your playing days, for example?
I saw that with Viv (Richards). I saw an innings he played against us when he made a brilliant hundred in the fourth innings to win the game.
Delhi, 1987?
Yes, similar mindset. 'I am not bothered about the pitch, I am not bothered about the total I am chasing, I want to get one run more.'
And in Sri Lanka last year, you went 1-0 down in fairly shocking circumstances …
We discussed it; we didn't leave the dressing room (in Galle) for two hours after the game. We had a good honest chat, where we said we won't lose a Test match like this again. Let's face it, I don't think we will ever dominate a game for that long and then lose it in one or one-and-a-half sessions. So get it out, what was wrong, what should be the way forward. Let's bury it right here, and go out thinking of winning the series.
That was the mindset of the boys, and that's why they played they way did in the second Test. A lot of teams 1-0 down will be like, 'arre yaar, I don't want to be losing another'. Instead, we came out and played. There were reverse sweeps pulled out, there were sweeps being played, there was a lot more intent and you took the game to the opposition. Suddenly, Sri Lanka, who thought they had the upper hand and thought India would just back off and take their time … it was as if India had won the first Test.
Did that make it more satisfying, especially in Sri Lanka?

Sri Lanka are one of the hardest teams to beat. No matter what team they play, you go back into history, they are one of the toughest teams to beat. To come from one-zip down, you'll not give many teams a chance.
And it was not just one or two players chipping in. There were so many different guys.
No, no, no. Ash (R Ashwin) was brilliant with the ball in the series. Ishant (Sharma) was outatanding. Jinx (Rahane). Rohit (Sharma). (Cheteshwar) Pujara in the final Test – outstanding hundred. Stuart Binny. You had seven to eight players. That's when the fun starts, when you have so many contributing. That's when you really enjoy the job you do.
The South Africa series, how do you look back on that? After the series, so much of the talk was about the surfaces rather than the actual result (3-0 to India).
At the end of the day, both the teams have to play on a surface. Okay, you might get one that might turn a little bit more than the other. What stops a ball seaming alarmingly on day one? No one talks about that when you go overseas. Here a ball turns … why can't a ball turn? The conditions are such with the oppressive heat … you try and put grass on the surface, there will be no grass. It will be dead grass.
It happened to turn that day (in Mohali). I don't think we played really well in that first Test. If South Africa had batted properly, they would have given us a run for our money. But after getting one past them, we were a different team. We came to the second Test in Bangalore. What was wrong with that surface? They were bowled out for 200, and we were 80 for no loss with four days to go. People might want to talk about that pitch.
Third Test was Nagpur. There, the ball was turning. Again, there were moments when the game was pretty close. They faltered, we handled the pressure situations better. Delhi was a classic example. We have one batsman who got a hundred in each innings and batted as if there was nothing wrong in the pitch. We got 300, we got 280, the other side is bowled out in a bad way. That pitch is there for both teams. People thought it would be spinners who would take wickets, but it was reverse swing that won us the game.
Were you surprised by how timid South Africa were at times?
I was, I was, that last day (in Delhi). That was exactly what I was saying. If we had played like that in Adelaide, the game was over before lunch. I was really surprised.
Especially given the quality of batsmen they had …
I was really surprised because if you carry on playing like that, then you are obviously going to have men around the bat. The first thing on a turning track is to show intent and get rid of the fielders close to the bat. That's the name of the game.
Slideshow: Virat Kohli - On and off the cricket field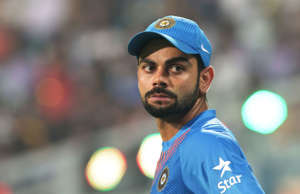 Watch: Kohli among top ODI batsmen, says Gilchrist