Kohli in genius mode, and a new hero for Wankhede

Wisden India
11-12-2016
Three years ago, at this very venue, Virat Kohli was in the dressing room viewing area as Sachin Tendulkar played what would be the final stroke of a career without parallel. As Darren Sammy took the catch at slip, Tendulkar began the long, slow walk back to the inner sanctum of the Wankhede Stadium. In the stands, in front of millions of TV sets, and even in the press box, there were tears.
Kohli would have observed the reaction as he strode out. Keeping the emotions in check wasn't easy for him either. For half a decade, he had lived the dream, and played alongside his childhood hero. Now, an era had passed. After taking guard, the first ball Kohli faced was laced through cover for four. More than any flowery words, tributes or gestures, it was an emphatic reminder that the future of Indian cricket was in very safe hands.
The following summer, Kohli journeyed to England, desperate to make the sort of impression Tendulkar had on his first tour there in 1990. He finished the five-match series with 134 runs, tormented by James Anderson's accuracy, away swing and his own dwindling confidence.
When the tour finished – India won the ODI series 3-1 – he made his way to Mumbai, and a meeting with his hero. Tendulkar watched him in the nets. They spoke of both technical adjustments and mindset changes, the little things that separate the great from the merely good.
At that point, Kohli averaged 39.46 after 29 Tests. He had made six centuries. There was a perception, however, that you could draw him into mind games, play on his ego and get him out. That wasn't ever said about Tendulkar by anyone.
Kohli was fortunate that that testing period in his life coincided with the arrival of another catalyst. Ravi Shastri had taken over as team director. He loved Kohli's up-and-at-them approach, and had no intention of changing that. But he too suggested a few changes on the field, including standing outside the crease to negate the effect of swing.
When Kohli made 141, but fell short of leading India to victory on an epic final day in Adelaide in late 2014, Shastri was proud rather than upset. "He showed that we're not here just to mark attendance," he told me. "Watch our team in 12 months. It will be kick-ass time."
Kohli, for one, has proved him right. In 23 Tests since that bleak English summer, he has made nine centuries, and averaged over 65. On Sunday (December 11) in the fourth Test against England, he made 235.
This, his third double-hundred of the season, puts him level with Sir Donald Bradman (1930), Ricky Ponting (2003) and Brendon McCullum (2014). Only Michael Clarke, with four in 2012, has done better.
© AFP Photo

Last month, I spoke to Aakash Chopra, who was part of the Delhi Ranji Trophy team when Kohli made his debut in 2006. He spoke of the shots Kohli had added to his repertoire over the past decade, most notably the cut and the sweep, but he was most impressed by the mental transformation. "The biggest thing about his batting now though is the absence of ego," said Chopra. "That happens only when you're completely focused on the team."
Millions of Indian cricket fans are realising that too. The initial scepticism about the potty-mouthed and brash talent has given way to undiluted admiration, and the kind of adulation once reserved only for Tendulkar. If you were watching the Brownian motion in the stands on Saturday and Sunday, with the soundtrack switched off, you would have been convinced that it was Tendulker they were watching, such was the fervour.
More than 15 years ago, when Steve Waugh's all-conquering side came to India, the first Test of the series, at this very venue, began a couple of days after Don Bradman had passed away. Tendulkar, who had been compared to him by the great man himself, marked the occasion with two of his finest innings – 76 and 65. India lost by ten wickets, but those that witnessed his mastery will never forget it. It was batsmanship in excelsis.
That was the case with Kohli this weekend. The pitch was no featherbed. There were frequent explosions of red dust, and the odd ball turned square. But for one chance that Adil Rashid put down when he had made 68, this was a 515-minute exercise in domination and supreme skill. Gorgeous cover drives? Check. Beautifully timed punched down the ground? Check. Cute cuts? Check. Dismissive pulls? Yes, sir.
"He's obviously very driven, and ambitious," said Joe Root when asked to assess Kohli as an opponent. "You can see that in the way he approaches the game … very emotional. He wears his heart on his sleeve.
"I wouldn't say it's intimidating, or anything like that … it's quite good to play against guys who express how they feel, and try to make you feel uncomfortable. For me personally, it gets me going – and you want to get in that competitive mode where you're going to perform at your best."
Slideshow: 25 world records held by Indians in Test cricket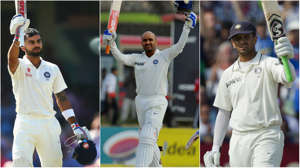 From 9:32am on Saturday to 12:46pm on Sunday, Kohli operated in genius mode. And the 40,000 that came through the turnstiles over the two days appreciated that they were watching something truly special. Their master may have left this stage three years ago, but his apprentice is not going anywhere.

"Only the great Viv [Richards] comes to mind," said Shastri when asked about Kohli's batting in Australia in 2014-15. At the time, it seemed like hyperbole. Now, it has the ring of truth.
Watch: 'Kohli comes from an undiscovered planet'