Kohli masterclass, Vijay ton hand India lead

Wisden India
10-12-2016
An innings for the ages from Virat Kohli, his 116-run partnership with M Vijay (136) and handy contributions from the lower order propelled India into a position of strength on the third day of the fourth Test at the Wankhede Stadium in Mumbai. Kohli, who came to the wicket to face the third ball of the day on Saturday (December 10), faced 241 balls for his marvellous unbeaten 147, and India ended the day on 451 for 7, a lead of 51 on a pitch that threw up small clouds of red dust each time the ball hit the worn areas.
Adil Rashid, who bowled 28 overs unchanged before the second new ball was finally taken, dropped a difficult caught-and-bowled chance when Kohli had made 68, with India 315 for 6. It would prove a costly miss as Kohli eased through the gears in the final session on his way to his 15th, and perhaps finest, Test hundred.
For most of the partnership with Vijay, Kohli – who got going with three steers to third man off Jake Ball – had been content with second fiddle. He had arrived to rousing chants of 'Kohli, Kohli' after Cheteshwar Pujara shouldered arms to Ball's second delivery of the day, which nipped back to clip off stump.
But after his captain's brisk start, it was Vijay that set the tempo for what was to follow, stepping out and hitting Moeen Ali for six. Both batsmen punished errors in length from Moeen, and when Ben Stokes eventually replaced Ball, Vijay played the most fluent of cover drives.
The 50 partnership came up in just 73 balls and when Kohli pulled a short ball from Stokes for four, he had 1000 runs for the calendar year. James Anderson, England's all-time leading wicket-taker, was called on only in the 19th over of the morning, by which time both batsmen were well set. An edged single to short point took Vijay to his eighth Test hundred in 231 balls.
There was plenty of intent from the batsmen, as Vijay lofted Anderson back over his head, and the crowd had something to cheer just before lunch as the third umpire reprieved Vijay (then on 116) after Marais Erasmus had given him out leg before to Rashid. Replays showed an inside edge.
Scores (Day 3): England: 400 against India: 451-7
Having lunched at 247 for 2, with the century stand taking just 182 balls, Vijay resumed with a lovely off-drive off Moeen. But a rank full toss from Rashid was then smacked straight back at him. After a juggle or three, Rashid held on, to end Vijay's 282-ball vigil.
Karun Nair pulled his second ball for four, and reverse-swept another before Moeen rapped him on the pads from round the wicket. Bruce Oxenford turned down England's appeal, but after multiple replays that took up several minutes, Shamshuddin – promoted to third umpire after Erasmus took the place of the concussed Paul Reiffel – asked him to change his decision.
India had made just 40 for 2 in the hour leading up to drinks, but the first ball after the break saw Kohli cut Rashid behind point for four. Parthiv Patel, who had not been very complimentary in his assessment of England's spinners the previous evening, chanced his arm for 15, but was then outfoxed by England's best bowler of the day.
With Alastair Cook off the field, Joe Root brought himself on, and an expansive drive from Parthiv ricocheted off Bairstow's chest and into his gloves. R Ashwin then fell to a stunning reflex catch by Keaton Jennings at forward short leg, with the ball lodging between his arms. At 307 for 6, India were suddenly rocking.
Enter the man Shane Warne used to call Rockstar. Ravindra Jadeja announced himself with a disdainful straight loft off Root, and after Rashid had failed to hold on to the Kohli chance, he heaved Root over midwicket for six. Kohli then swept Rashid impossibly fine as the momentum switched suddenly in India's favour.
Jennings put down Jadeja the second ball after tea, and Rashid's pain was intensified when Kohli cut him very late for four more. Succour for England came from Jadeja trying one big stroke too many, with a big heave off Rashid lobbing up for Jos Buttler to run across from mid-off and take the catch. The partnership was worth 57 from 82 balls, but with India still 36 in arrears, the game was once more in the balance.
But Kohli, who had rotated the strike expertly, while dismissing the bad balls, had other plans. A single to cover took him to a hundred in 187 balls, with the second 50 having taking just 76 deliveries. As the crowd of 19,444 chanted his name as they once had that of another Indian No.4, he laced the next ball he faced for four.
When Chris Woakes, who hadn't bowled all day, was introduced into the attack, a wristy drive found the rope at backward point. Rashid then got one to spit out of the rough, beating Kohli and Bairstow behind the stumps as well. A deft clip through midwicket, and an edge wide of slip for three took India to drinks at 399 for 7, just a run behind.
With Rashid having bowled himself to a near standstill, England finally took the new ball after 129.2 overs. But their fortunes would not change. Anderson induced an edge from Jayant Yadav, and saw Root put down the chance at second slip. To rub it in, Kohli essayed a glorious off-drive off Woakes before clipping Anderson through the leg side for four more.
When Rashid was called back to the fray – with no third specialist spinner picked for this game – Kohli clouted one down to the sightscreen. England wasted their second review after Jayant wafted at a delivery from Anderson, and their frustration was complete when the same batsman glanced one down the leg side into Bairstow's gloves. Oxenford wasn't interested, and Kohli gleefully indicated to Jayant that England had no reviews left. By stumps, the game-changing partnership was worth 87.
The third day of a Test is considered 'moving day' with good reason. With Kohli and Vijay so masterful, and Jayant giving further evidence of superb temperament, the match, and the series itself, may just have shifted beyond England's reach.
Photos: Stunning cricket stadiums around the world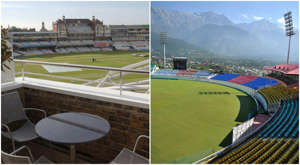 Watch: 'Vijay has grown in stature as batsman'